Япония

Укио Катаяма

Katayama, Ukyo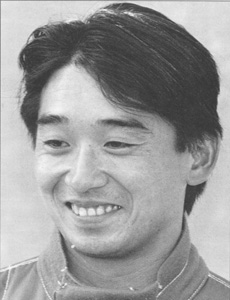 (c) 'Who is Who' by Steve Small, 2000
Сезонов в Ф1:

Лет в Ф1:

6

Гран При:

Старты:

94*

*не стартовал:

5

Победы:

- подряд:

Подиумы:

- подряд:

Поул-позиции:

- подряд:

Первый ряд:

- подряд:

Быстрые круги:

- подряд:

Лучший финиш:

Лучший старт:

5

Дубли:

Хет-трики:

Лидирование старт/финиш:

Большие шлемы:

Круги:

- лидирования:

Километры:

- лидирования:

Очки:

- за один сезон:
Год

Команда

Шасси
1992
Central Park Venturi Larrousse

Venturi Larrousse LC92
1993
Tyrrell Racing Organisation

Tyrrell 020C

Tyrrell 021
1994
Tyrrell Racing Organisation

Tyrrell 022
1995
Nokia Tyrrell Yamaha

Tyrrell 023
1996
Tyrrell Yamaha

Tyrrell 024
1997
Minardi Team

Minardi M197
This diminutive Japanese driver first ventured to Europe some time before he entered Grand Prix racing with Larrousse in 1992, for he tried his hand at Formule Renault in France in 1986 and the French Formula 3 series in 1987 after winning junior 1600 single-seater championships at home, taking the Tsukuba class B title in 1983 and the Suzuka FFJ 1600 crown in 1984.
From 1988 he concentrated on racing in his national F3000 series, finally becoming champion in 1991, though he did come over to drive the uncompetitive Footwork briefly at the beginning of 1989.
Given his F1 opportunity, Katayama was certainly committed. A possible first World Championship point was lost in Canada when he buzzed the engine, but his lack of strength and stamina seemed to count against him. With the faith of his sponsor Cabin intact, Ukyo moved to Tyrrell with Yamaha engines for 1993. Sadly the season was not a happy one, with the promise of the new V10 being compromised by the shortcomings of the chassis, and poor Katayama was involved in a seemingly endless catalogue of spins in a desperate attempt to make up for its failings.
Just about everyone was writing off the little Japanese in terms of a Grand Prix career, but he blossomed in 1994. The new Tyrrell 022 was a much better chassis and taking fifth place in the season's opening race at Interlagos can have done his confidence no harm. Despite the fact that he scored points on only two more occasions that year, his performances deserved more. He qualified fifth and ran in third at Hockenheim before throttle trouble, and then put in two storming drives at Monza and Jerez which went unrewarded.
Katayama's standing in the Grand Prix fraternity had risen immensely after his splendid season so it must have been crushingly disappointing for Ukyo to be cast back into the role of also-ran once more in 1995, when Tyrrell failed to make the progress they expected. It must also be said that the arrival of Mika Salo certainly placed him under pressure.
Ukyo stayed with the team for a fourth season in 1996, largely, it is thought, because of the substantial backing of Mild Seven. His form was more competitive, but health problems eventually blunted his motivation, especially after a dispiriting run of retirements in mid-season. It was surprising, therefore, when he decided to continue in F1 with Minardi in 1997, but given the need to adapt to the different language and culture he performed respectably. Tellingly, though, Ukyo was outshone by his novice team-mate Jarno Trulli and he came to the conclusion that it was time to step down and let a younger Japanese driver carry the hopes of his nation.
Katayama has since spent more of his time on his other passion of mountain-climbing, but he still races for Toyota, taking second place in both the Le Mans 24 Hours and the Fuji 1000 Km in 19C9 with their potent GT-One prototype.
(c) 'Who is Who' by Steve Small, 2000