Италия

Алессандро Наннини

Nannini, Alessandro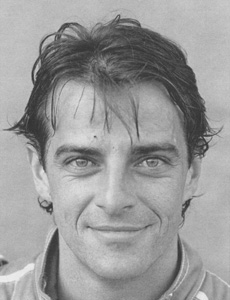 (c) 'Who is Who' by Steve Small, 2000
Сезонов в Ф1:

Лет в Ф1:

5

Гран При:

Старты:

76*

*не стартовал:

3

Победы:

- подряд:

Подиумы:

- подряд:

2

Поул-позиции:

- подряд:

Первый ряд:

- подряд:

Быстрые круги:

- подряд:

Лучший финиш:

Лучший старт:

3

Дубли:

Хет-трики:

Лидирование старт/финиш:

Большие шлемы:

Круги:

- лидирования:

21

Километры:

- лидирования:
Год

Команда

Шасси
1986
Minardi Team

Minardi M185B

Minardi M186
1987
Minardi Team

Minardi M187
1988
Benetton Formula Ltd

Benetton B188
1989
Benetton Formula Ltd

Benetton B188

Benetton B189
1990
Benetton Formula Ltd

Benetton B189B

Benetton B190
The beaming countenance and charming manner of Alessandro Nannini were among the more pleasing aspects of life in the Formula 1 paddock in the late eighties. Certainly it was Grand Prix racing's loss when his career was so devastatingly wrecked by a helicopter accident in which his right arm was severed. Surgeons were able to re-attach the limb but controlling an F1 car was now beyond him and the popular Italian's misfortune seemed all the more cruel since his Grand Prix prospects had been at their zenith.
Sandro began his racing activities off road with a Lancia Stratos, before turning to circuit racing in 1981 in Formula Italia. He then took a big jump into Formula 2 with Minardi in 1982, replacing the team's previous star, Michele Alboreto, who had moved into F1 with Tyrrell. Nannini soon proved himself a worthy successor and by the end of the season he had taken a second place at Misano. In 1983 Minardi produced a promising but initially unworkable new car, and Nannini had to resort to the old chassis to take another second place, this time at the Nürburgring. By 1984, still loyal to the team, Sandro's F2 career was really treading water, but everyone had seen the talent and Lancia signed him to drive for their sports car team between 1984 and 1986.
Having dispensed with the services of Pierluigi Martini, Minardi entered two cars in 1986, with Sandro very much the number two (in theory at least) to the experienced Andrea de Cesaris. He was to spend two seasons with the little team, which in truth had little hope of success. However, Sandro made his mark and, unlike a number of other Grand Prix talents, managed to escape to a frontline team before too many seasons at the back of the field could dull his edge. Chosen to partner Thierry Boutsen at Benetton, he proved more than a match for the Belgian, making the rostrum on two occasions. Nannini was thrust into the position of team leader in 1989 and took some time to adjust to the new situation, but once the new Ford engine arrived his season began • to take off. He won the Japanese GP on a technical knock-out after Senna was excluded following his tête-à-tête with Prost, and then took a fine second to Boutsen's Williams in the rain-soaked Australian GP.
In 1990 Sandro was joined by the experienced and cunning Nelson Piquet who immediately established a rapport with John Barnard in developing the B190. Having been somewhat overshadowed, Nannini suddenly found his form again at Hockenheim, where he led until finally giving best to Senna. The battle with the Brazilian was rejoined in Hungary, where Ayrton crassly elbowed the Benetton out of second place, ending Sandro's chances of a win. Certainly the Italian's star was in the ascendant, and there was reportedly a Ferrari contract being bandied about, if not for 1991, then certainly for some time in the future.
It was all to prove academic after the helicopter accident, but Nannini bravely fought back, to the admiration and great pleasure of the motor racing world. In 1992 he raced an Alfa Romeo successfully in the Italian touring car championship, before proving that he was not in the Alfa team on sentiment alone with some fine displays in the 1993 German series, backing his team-mate Larini superbly as they defeated the Mercedes on home territory.
After a blindingly good start to 1994, the problems of developing the second evolution Alfa Romeo told on Nannini, whose performances became somewhat erratic, but he bounced back to form in 1996, winning seven rounds of the marathon 26-race ITC series to finish third in the championship.
With the collapse of the ITC, Nannini moved into the FIA GT series for 1997 with a works Mercedes CLK-GTR, but it was a mixed year in which only four second-place finishes were achieved. Although rumours linked him with BMW's Le Mans efforts, Sandro has not raced since.
(c) 'Who is Who' by Steve Small, 2000