Франция

Жан-Пьер Жабуи

Jabouille, Jean Pierre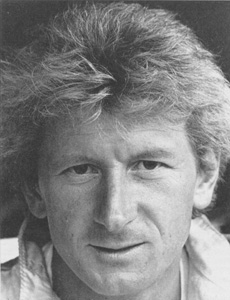 (c) 'Who is Who' by Steve Small, 2000
Сезонов в Ф1:

Лет в Ф1:

8

Гран При:

Старты:

49*

*не стартовал:

7

Победы:

- подряд:

Подиумы:

- подряд:

Поул-позиции:

- подряд:

2

Первый ряд:

- подряд:

4

Быстрые круги:

- подряд:

Лучший финиш:

Лучший старт:

1

Дубли:

Хет-трики:

Лидирование старт/финиш:

Большие шлемы:

Круги:

- лидирования:

180

Километры:

- лидирования:
Год

Команда

Шасси
1974
Frank Williams Racing Cars

Iso Marlboro FW
Team Surtees

Surtees TS16
1975
Elf Team Tyrrell

Tyrrell 007
1977
Equipe Renault Elf

Renault RS01
1978
Equipe Renault Elf

Renault RS01
1979
Equipe Renault Elf

Renault RS01

Renault RS10
1980
Equipe Renault Elf

Renault RE20
1981
Equipe Talbot Gitanes

Talbot-Ligier JS17
Success was a long time coming for this popular Frenchman who, while never one to take the eye, certainly knew how to put the machinery at his disposal to the best use.
With no previous experience, Jean-Pierre competed in the R8 Renault Gordini series in 1966 and won a few races, earning an invitation to drive in French F3 in a team with the more seasoned Philippe Vidal. The F3 scene was very competitive, but Jabouille made his mark in 1968 when he ran and maintained his own car, keeping out of trouble and earning enough prize money from one race to make it to the next. The series that year was dominated by Cevert, but Jean-Pierre won five races to finish runner-up and gain an end-of-year Formula 2 ride with Matra at Hockenheim.
Alpine offered him a contract for 1969 as number two to Depailler, and he stayed with the team as a test and development driver over the next few seasons, his rather fragmented racing programme doing little to further his ambitions. There were outings for Pygmée in F2 in 1970 and for Elf-Tecno the following season, when he finished second at Pau, and Jabouille also tried his hand at sports cars, taking a splendid second place in the Paris 1000 Km in a Ferrari 512S. The Frenchman's career seemed to be stuck in something of a rut in 1972 when he received decidedly 'second best' treatment in the Elf/John Coombs team, and made his feelings known. When he was given a March 722, things improved and he took second place at Mantorp Park. His lot was much the same in 1973, when much of his time was given over to the development of the Alpine A440 sports car, but he was loaned to Matra for Le Mans, sharing the third-placed car with Jaussaud.
In 1974 Jabouille made a couple of unsuccessful attempts to qualify for a Grand Prix with Williams and Surtees, but concentrated on the same mix as the year before, only this time with more success. In Formula 2 he won his first race at Hockenheim and, racing the Alpine, he finished runner-up in the European 2-litre series. Seconded to Matra for Le Mans again, he finished third once more, this time with Migault. Determined to improve upon his somewhat patchy record of success in Formula 2, Jabouille took the brave step of constructing his own chassis for 1975 with the support of Elf. He lost out to his great chum Laffite in the championship but, thanks to his connections with Elf, he at least had the consolation of a decent Grand Prix opportunity, qualifying the Tyrrell for the French GP. It was a popular triumph when Jean-Pierre finally clinched the Formula 2 title in 1976 with three wins, and no one begrudged the Parisian his hard-earned triumph.
This goal achieved, Jabouille then undertook the development work on the F1 Renault turbo project, accepting the early disappointments with equanimity as failure heaped upon failure over the first two seasons until the glorious moment for France and Renault when the car finally came good -fittingly at Dijon - in 1979. Although overshadowed by the sparkling Arnoux in 1980, Jean-Pierre took a shrewd and well-judged win at the Österreichring before a crash in Montreal after a suspension failure left him with badly broken legs. Having already agreed to join Ligier for 1981, he made it back into the cockpit for the start of the season, but it soon became painfully obvious that he was far from fit and, with his leg injuries slow to heal, he decided to retire in mid-season.
Missing the thrill of competition, Jean-Pierre was soon back on the circuits, racing in the French Supertourisme series. His vast engineering and development experience later made a valuable contribution to Peugeot's successful sports car racing programme, and in 1993 he shared the third-placed car at Le Mans, before succeeding Jean Todt at the head of the French company's motor sport division as they prepared to enter Grand Prix racing as engine supplier to McLaren in 1994. It was to prove a torrid baptism for Peugeot, the newcomers perhaps underestimating the level of technology required to compete at the highest level. Certainly partnering McLaren, themselves in a trough after so many seasons of greatness, made the task even harder, although a parting of the ways less than twelve months later can have benefited neither concern. Eddie Jordan was delighted to step in and embrace the French giant but, after another troubled and inconclusive year in 1995, it was Jabouille's head that rolled when victory seemed no nearer.
In 1997 he formed his own very successful sports car team, initially running a Porsche 911 GT1 for Mauro Baldi and Emmanuel Collard, and latterly a Ferrari 333SP, with which Baldi and Laurent Redon took an outright win at Spa in 1999 in the International Sports Racing Series.
(c) 'Who is Who' by Steve Small, 2000