Австралия

Алан Джонс

Jones, Alan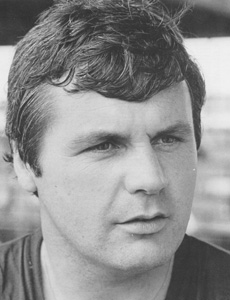 (c) 'Who is Who' by Steve Small, 2000
| | | |
| --- | --- | --- |
| Родился: | 02.11.1946 | Мельбурн, Виктория |
Сезонов в Ф1:

Лет в Ф1:

12

Гран При:

Старты:

116*

*не стартовал:

1

Победы:

- подряд:

3

Подиумы:

- подряд:

5

Поул-позиции:

- подряд:

3

Первый ряд:

- подряд:

4

Быстрые круги:

- подряд:

2

Лучший финиш:

Лучший старт:

1

Дубли:

Хет-трики:

2

Лидирование старт/финиш:

Большие шлемы:

Круги:

- лидирования:

589

Километры:

- лидирования:
Год

Команда

Шасси
1975
Custom Made Harry Stiller Racing

Hesketh 308
Embassy Racing with Graham Hill

Hill GH1
1976
Durex Team Surtees

Surtees TS19
Durex/Theodore Team Surtees

Surtees TS19
1977
Shadow Racing Team

Shadow DN8
1978
Williams Grand Prix Engineering

Williams FW06
1979
Albilad-Saudia Racing Team

Williams FW06

Williams FW07
1980
Albilad-Williams Racing Team

Williams FW07

Williams FW07B
1981
Albilad-Williams Racing Team

Williams FW07C
TAG Williams Racing Team

Williams FW07C
1983
Arrows Racing Team

Arrows A6
1985
Team Haas (USA) Ltd

Lola THL1
1986
Team Haas (USA) Ltd

Lola THL1

Lola THL2
Tough and downright bloody-minded Alan Jones may have been, but once he had established himself in the Williams team there were few to argue with the Australian's methods. Endowed with immense physical strength and bucket loads of bravery, he became perhaps the 'ground-effect' era's most skilled practitioner with a driving style that appeared brutal at times, but certainly brought results.
The son of Stan Jones, a famous fifties Australian racer, young Alan left school to work in his father's Holden dealership, racing a Mini and then an old Cooper before coming to England in 1967 only to find that even a Formula Ford drive was out of his reach. Undaunted, he was back in 1970 with fellow racing aspirant Brian McGuire and the Aussie pair set about running a couple of F3 Brabhams financed by buying and selling second-hand cars. Money was tight, with Alan and his wife Beverley living a hand-to-mouth existence to pay for the racing programme, but by 1973 Jones had a foot on the ladder to the top with a DART-entered GRD, taking second place in the John Player championship. Then came a setback as the team folded, leaving Alan with no drive for 1974 until one Harry Stiller came to the rescue. He ran the Australian in Formula Atlantic, and then at the end of the year Jones made a big impression in a one-off F5000 drive for John MacDonald.
Alan stepped up to Formula 1 in 1975 with Stiller's Hesketh, but the team managed only three Grands Prix before its owner packed his bags and went abroad for tax reasons, leaving Alan high and dry. Graham Hill then invited him to join the Embassy team in place of the injured Rolf Stommelen, and he brought the car into fifth place at the Nürburgring before the German was fit to resume. Fortunately, MacDonald found Jones a seat in his RAM F5000 car while he continued to look for a Formula 1 ride. After a sensational drive to second place in the 1976 Race of Champions at the wheel of a Surtees Alan was placed under contract for the season, but relations soon became strained between team boss and driver, with Jones more interested in his US F5000 programme with Theodore, which brought wins at Mosport and Watkins Glen. He ended the F1 season with fourth place at Mount Fuji, but without the prospect of a Grand Prix ride after a complete breakdown of communications with Surtees.
Then in 1977 tragedy worked in his favour. When Tom Pryce was killed in South Africa Alan took over the vacant seat at Shadow and seized the opportunity brilliantly, winning in Austria and scoring points finishes with some aggressive drives. Frank Williams, rebuilding his team in the wake of the Walter Wolf fiasco, saw Jones as just the sort of pragmatic charger he needed for 1978 and, at the wheel of Patrick Head's no-nonsense machine, the Aussie regularly put himself in among the leaders, often dogging the omnipotent Lotus 79s. Eleventh place in the championship was in no way a reflection of the team's competitiveness that year, but Alan had the satisfaction of also making his mark in Can-Am, taking the title in the Haas/Hall Lola T333.
The following season marked the true blossoming of Alan Jones the racing driver. The new ground-effect Williams FW07 proved that the imitator had leapfrogged the innovator, and in Alan's hands the car was simply stunning. A spate of retirements in the first half of the year torpedoed his title hopes, but four wins from five starts gave a fair indication of his late-season dominance. Nothing was left to chance in 1980 as Jones squeezed every ounce of potential from the car. He never once eased up, and certainly look no prisoners, but the title was won with crushing dominance. There was no let-up in 1981 either, as he headed towards self-imposed retirement; he still raced as if that first Grand Prix win had not yet been achieved, finishing on a high note with a lights-to-flag win at Caesars Palace.
Perhaps the story should have ended there. But after racing Porsches back in Australia, and despite a broken leg sustained in a riding accident, Jones was tempted back in 1983. In his all-too-brief spell with Arrows, he took third in the Race of Champions, and then raced at Long Beach, before pulling out when he was unable to agree a contract.
The terms offered by Haas Lola proved sufficiently tempting to bring him back to the Grand Prix arena late in 1985. Both technically and administratively, the project was something of a fiasco, leaving Alan to pick his way through the 1986 season with no more than occasional glimpses of his racing past. Wisely there were no further attempts to extend his Grand Prix career, Jones preferring to keep his hand in 'down-under' in touring cars.
In 1995 he was still winning occasional races in a Holden Commodore, and as the profile of this form of racing in Australia rose enormously Alan found major sponsorship from Marlboro. He formed his own team in 1996, running Ford Falcons, but by mid-season he had lost this substantial backing and took the decision to race only in selected events thereafter.
(c) 'Who is Who' by Steve Small, 2000