Швеция

Стефан Йоханссон

Johansson, Stefan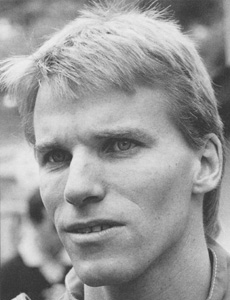 (c) 'Who is Who' by Steve Small, 2000
Сезонов в Ф1:

Лет в Ф1:

12

Гран При:

Старты:

79*

*не стартовал:

24

Победы:

- подряд:

Подиумы:

- подряд:

2

Поул-позиции:

- подряд:

Первый ряд:

- подряд:

Быстрые круги:

- подряд:

Лучший финиш:

Лучший старт:

2

Дубли:

Хет-трики:

Лидирование старт/финиш:

Большие шлемы:

Круги:

- лидирования:

3

Километры:

- лидирования:
Год

Команда

Шасси
1980
Shadow Cars

Shadow DN11
1983
Spirit Racing

Spirit 201C
1984
Toleman Group Motorsport

Toleman TG184
Tyrrell Racing Organisation

Tyrrell 012
1985
Scuderia Ferrari SpA SEFAC

Ferrari 156/85
Tyrrell Racing Organisation

Tyrrell 012
1986
Scuderia Ferrari SpA SEFAC

Ferrari F1-86
1987
Marlboro McLaren International

McLaren MP4-3
1988
Ligier Loto

Ligier JS31
1989
Moneytron Onyx

Onyx ORE-1
1990
Monteverdi Onyx Formula One

Onyx ORE-1
1991
Automobiles Gonfaronaises Sportives

AGS JH25
Footwork Grand Prix International

Footwork FA12

Footwork FA12C
Bright, bubbly and immensely likeable, Stefan Johansson had gathered together all the credentials required to take him to the top of Grand Prix racing. Somehow, though, it never quite happened for him despite golden opportunities with two front-running teams.
Stefan's father raced Mini-Coopers, and the youngster was soon competing in karts before moving up the Swedish racing ladder in various third-hand single-seaters which he frequently had to drive above and beyond their limit to gain a modicum of success. He first hit the headlines in 1976 when still a complete novice by managing to shunt current Formula 3 big-shot Riccardo Patrese out of a European championship round. Stefan's F3 progress stuttered on over the next few seasons, with eyebrows raised over his wild and sometimes not so wonderful driving, but he eventually began to make some solid progress before having to return home when his money ran out.
It was in 1979 that things started to fall into place, for after a poor start to his British F3 championship campaign with a Chevron, a switch to March chassis seemed to work wonders and Stefan was on the pace thereafter. Then came a quite unexpected chance with the Shadow team at the beginning of 1980. In retrospect Stefan shouldn't have taken up the offer for his reputation inevitably suffered when he failed to qualify in Argentina and Brazil, but at least he was able to come back, to a seat in the top Project Four F3 team and went on to win the Vandervell championship after a great tussle with Kenneth Acheson. Understandably on a high, he moved into Formula 2 with a Toleman and finished fourth in the final standings, gaining victories at Hockenheim and Mantorp Park. Joining the Spirit-Honda team for 1982, Johansson looked a good bet for championship honours, but it wasn't to be his year as bad luck seemed to dog his heels throughout the season.
Stefan moved into Formula 1 with Spirit and Honda in 1983, and by general consensus the Swede did a fine job with a far from sorted machine, but he found himself out of work when Honda abandoned the project to move to Williams. Johansson decided to drive anything and everything in 1984, travelling the globe to race in an effort to prove his worth, and it worked. Tyrrell called him in to replace the injured Brundle before political problems forced the team's withdrawal, and then Toleman gave him an opportunity and were sufficiently impressed to make plans to run him in 1985. In the event the team were unable to obtain tyres, which in truth worked in Stefan's favour, for he was available to take over from Arnoux at Ferrari just one race into the 1985 season. This was his main chance and he grabbed it with some gutsy race performances, bringing the car home regularly to earn a contract for 1986.
His second season was fraught with endless technical problems, but the ever-smiling Swede plugged away, and he was lucky enough to be given a second top-line chance with McLaren in 1987. Again some of his races were excellent, but too often he qualified poorly, leaving himself much to do to retrieve the situation once the racing started. The decision to bring Ayrton Senna in to partner Alain Prost for 1988 saw Johansson seeking employment elsewhere and he could hardly have found a worse berth than Ligier. The season was a write-off and things looked little better in 1989 with the new Onyx outfit, but to Stefan's credit he helped to establish the team's credibility with a terrific third place in Portugal. Just to show there is no such thing as loyalty in Grand Prix racing, poor Johansson was dumped just two races into the 1990 season in favour of the well-financed Foitek.
Desperate to stay in Formula 1, Stefan signed to drive for AGS in 1991, but when the team changed hands he found himself redundant once more, and a few outings for Footwork in place of the injured Caffi did him no favours as the team were in the midst of a crisis not of their own making with the ill-fated Porsche engine.
For 1992, Johansson found a niche for himself in Indy Car racing with Tony Bettenhausen's small team. Over the next four seasons he was generally a midfield runner, but the acquisition of an up-to-date Reynard for 1996 at last gave Stefan a realistic chance of success. In the event it was a largely disappointing year for the Swede and at the end of it he was so disillusioned that he didn't even bother to look for another ride. Johansson soon found enjoyment in his racing again, however, when he won the 1997 Sebring 12 Hours in Team Scandia's Ferrari 333SP, and things got even better when he shared Joest Racing's Le Mans-winning Porsche WSC95 with Alboreto and Kristensen.
Although he continues to race in selected sports car events, of late most of Stefan's time has been spent setting up and running an ever-improving Indy Lights team. Plans are already in place for Johansson Motorsports to graduate to the CART series, possibly as early as 2000.
(c) 'Who is Who' by Steve Small, 2000