Финляндия

Джей-Джей Лехто

Lehto, J J

Jyrki Järvilehto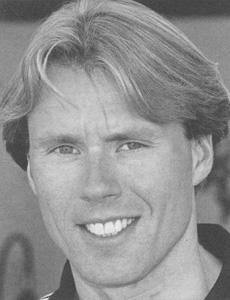 (c) 'Who is Who' by Steve Small, 2000
Сезонов в Ф1:

Лет в Ф1:

6

Гран При:

Старты:

62*

*не стартовал:

8

Победы:

- подряд:

Подиумы:

- подряд:

Поул-позиции:

- подряд:

Первый ряд:

- подряд:

Быстрые круги:

- подряд:

Лучший финиш:

Лучший старт:

4

Дубли:

Хет-трики:

Лидирование старт/финиш:

Большие шлемы:

Круги:

- лидирования:

Километры:

- лидирования:

Очки:

- за один сезон:
Год

Команда

Шасси
1989
Moneytron Onyx

Onyx ORE-1
1990
Monteverdi Onyx Formula One

Monteverdi ORE-2

Onyx ORE-1

Onyx ORE-2
1991
Scuderia Italia SpA

Dallara BMS-191
1992
Scuderia Italia SpA

Dallara BMS-192
1993
Sauber

Sauber C12
1994
Mild Seven Benetton Ford

Benetton B194
PP Sauber AG

Sauber C13
Involved in motor sport since taking up karting at the age of six, JJ built up a tremendous record in the junior formulae, winning the Scandinavian FF1600 championship in 1986 before coming to England in 1987 to take the British and European FF2000 titles.
His career carefully nurtured and guided by the shrewd hands of Keke Rosberg, Lehto moved into Formula 5 in 1988 with the Pacific Racing team that had brought him his FF2000 success. After a devastating start to the season he cruised to yet another championship, with a total of eight wins and only a late-season charge from Gary Brabham by way of serious competition.
Lehto and Pacific found things tougher when they moved up to F3000 together, however, with the Finn finding only modest success (and being somewhat overshadowed by team-mate Eddie Irvine) before replacing the out-of-favour Bertrand Gachot at Onyx late in 1989. This was to prove his salvation, for a sparkling qualifying performance in the Spanish Grand Prix effectively cemented his place in the team. The following season was largely wasted as the once promising little team fell into the hands of Peter Monteverdi and then folded after the Hungarian GP.
Then followed a two-year deal with Scuderia Italia. The first season, with Judd engines, was generally encouraging, with the team making progress, and JJ scored his first podium finish at Imola, but the switch to Ferrari engines in 1992 was to prove dispiriting and Lehto's once sky-high reputation was starting to be questioned. Certainly his career had not yet produced the success widely expected, but he was still highly thought of, and joined the Sauber team for 1993. Early-season promise soon evaporated when internal politics divided the team into two camps, but perhaps more tellingly teammate Karl Wendlinger was looking the better long-term prospect.
Given his F1 record, JJ was seen as fortunate to gain a chance at Benetton in 1994, and it seemed certain to be his best-ever opportunity to make the big breakthrough to the front rank. Unfortunately it all went horribly wrong when a testing crash left him with fractured neck vertebrae and his confidence never fully recovered. Inconsistent qualifying performances led to his being replaced by Jos Verstappen, and when he did get a return, due to Schumacher's enforced absence, he was slower than his inexperienced team-mate. Perhaps it might have been different for JJ if he had been put into a front-line team much earlier in his career, or maybe he just wasn't all he was cracked up to be in the first place...
In 1995 he took up the challenge of the DTM/ITC with Opel, but without doubt the season's high spot was his win at Le Mans with Yannick Dalmas and Masanori Sekiya in a McLaren F1 GTR. Indeed, sports car racing was to bring a welcome upturn in fortunes for Lehto. In 1997, driving a Schnitzer-run McLaren F1 GTR, the Finn won four rounds outright (at Hockenheim, Helsinki, Spa and Mugello) and was easily the best of the drivers challenging the might of the silver Mercedes.
Shrewd management brought Lehto a chance to take a crack at CART in 1998, JJ joining veteran team owner Carl Hogan to race a Reynard-Mercedes in which, surprisingly perhaps, he shone on the ovals but struggled somewhat on the road courses. All seemed set fair for a continuation of this partnership until he was unceremoniously dumped just before the start of the 1999 season. Poor Lehto's career seemed to lie in tatters, but once again sports cars proved to be his salvation. A win in the Sebring 12 Hours for BMW led to a contract to race Schnitzer's BMW V12 LM in the American Le Mans Series, where he formed a strong partnership once more with Steve Soper, winning at Sears Point, Laguna Seca and Las Vegas.
(c) 'Who is Who' by Steve Small, 2000