Великобритания

Эдди Эрвайн

Irvine, Eddie

Irvine, Edmund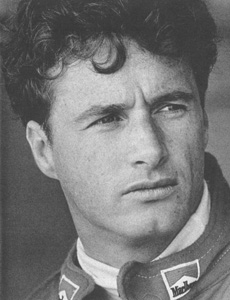 (c) 'Who is Who' by Steve Small, 2000
| | | |
| --- | --- | --- |
| Родился: | 10.11.1965 | Ньютаунардс, Северная Ирландия |
Сезонов в Ф1:

Лет в Ф1:

10

Гран При:

Старты:

145*

*не стартовал:

3

Победы:

- подряд:

2

Подиумы:

- подряд:

4

Поул-позиции:

- подряд:

Первый ряд:

- подряд:

Быстрые круги:

- подряд:

Лучший финиш:

Лучший старт:

2

Дубли:

Хет-трики:

Лидирование старт/финиш:

Большие шлемы:

Круги:

- лидирования:

156

Километры:

- лидирования:
Год

Команда

Шасси
1993
Sasol Jordan

Jordan 193
1994
Sasol Jordan

Jordan 194
1995
Total Jordan Peugeot

Jordan 195
1996
Scuderia Ferrari SpA

Ferrari F310 (648)
1997
Scuderia Ferrari Marlboro

Ferrari F310B (648/2)
1998
Scuderia Ferrari Marlboro

Ferrari F300 (649)
1999
Scuderia Ferrari Marlboro

Ferrari F399 (650)
2000
Jaguar Racing

Jaguar R1
2001
Jaguar Racing

Jaguar R2
2002
Jaguar Racing

Jaguar R3
Eddie Irvine's bold, but ultimately unsuccessful, attempt to wrest the drivers' championship from Mika Häkkinen not only saved the 1999 season from McLaren domination but also gave the Ulsterman the platform to show the talents that had for so long been subjugated to the needs of Michael Schumacher.
Many onlookers were surprised at his emergence, but Eddie's early career had promised a great deal, from his beginnings in the British and Irish FF1600 series. Driving a works Van Diemen, he won both the RAC British and Esso FF1600 championships in 1987, amassing 14 victories, and to crown his year Irvine also took the Brands Hatch Formula Ford Festival in convincing style. Moving up to Formula 5 in 1988, Eddie found winning a tougher proposition; he managed eight top-three placings but just could not break the dominance of J J Lehto and Gary Brabham.
His graduation to F3000 the following season with Pacific found the team struggling, but Irvine got stuck in and never gave up. His reward was a move to Eddie Jordan's team in 1990 and he rapidly developed into a front-runner, winning at Hockenheim and finishing third in the championship. Subsequently opting to continue his career in the Japanese F3000 series, he finished sixth in the final table in 1991 and 1992, and was very unfortunate to lose the 1993 championship to Kazuyoshi Hoshino after scoring more points than the veteran. Highly thought of by Toyota, Irvine drove for the company in Japan in 1992 and also at Le Mans, both in 1993, when he was fourth and set fastest lap, and 1994, when he came second.
Eddie was given his F1 chance by Jordan at Suzuka in 1993, and rarely can a Grand Prix debut have brought so much controversy. As, revelling in the tricky conditions, he battled with Damon Hill for sixth place, he first balked and then had the temerity to repass the race leader, Ayrton Senna, who was attempting to lap him; in the closing stages he punted Derek Warwick off to claim his first championship point; and then he suffered a physical and verbal assault from the irate Brazilian after the race. It certainly moved the self-assured Ulsterman to centre stage, if only for a weekend.
Signed for a full season of Grand Prix racing with Jordan in 1994, Irvine was soon embroiled in further controversy. Blamed for a four-car pile-up in Brazil, he harshly received a one-race ban. Quite reasonably, Eddie appealed and was sent away with his punishment increased three-fold! A less resilient character than the Ulsterman may have suffered a loss of confidence, but he bounced back all the stronger, a late-season drive to fourth place at Jerez being the best of a number of fine displays.
In 1995 Irvine matured even further to outshine team-mate Barrichello more often than not. His performances in qualifying were particularly impressive but it still came as a mild shock when it was announced that Eddie would be joining Michael Schumacher at Ferrari in 1996.
This was to prove the chance of a lifetime for Irvine, who was astute enough to accept his subordinate role to the German in the team on the sound basis that a spell at Maranello could only improve his own standing as a driver. His first season brought little in terms of worthwhile finishes nor was he given sufficient testing to enable him to back his team leader as effectively as he would have wished, but he carved a comfortable and profitable niche for himself, wearing an air of casual indifference or open defiance depending upon his mood.
The 1998 season saw an even more confident Eddie raise his game, and he not only became a reliably consistent points scorer but also had the look of a genuine contender for victory should the opportunity arise. However, few people anticipated that the opening race of 1999 at Melbourne would bring that first Grand Prix win and that he would then be sucked into the vortex of a thrilling championship battle with the McLarens of Häkkinen and Coulthard. Picking up Ferrari's challenge after Schumacher's unfortunate Silverstone accident, Irvine realistically assessed his situation and took the fight to the McLaren pair with great tenacity, and was predictably consummate in waging a war of mind-games.
In the end, of course, Eddie came up just short and had to give best to Häkkinen in Japan. There was, by way of consolation, a multi-million-pound move to Jaguar for 2000 and the chance to emerge from Schumacher's shadow and prove he has what it takes as a team leader in his own right.
(c) 'Who is Who' by Steve Small, 2000