Бразилия

Роберто Морено

Moreno, Roberto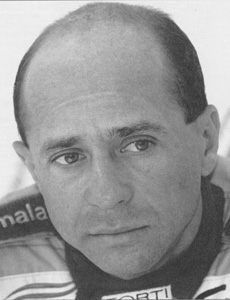 (c) 'Who is Who' by Steve Small, 2000
| | | |
| --- | --- | --- |
| Родился: | 11.02.1959 | Рио-де-Жанейро |
Сезонов в Ф1:

Лет в Ф1:

14

Гран При:

Старты:

41*

*не стартовал:

35

Победы:

- подряд:

Подиумы:

- подряд:

Поул-позиции:

- подряд:

Первый ряд:

- подряд:

Быстрые круги:

- подряд:

Лучший финиш:

Лучший старт:

5

Дубли:

Хет-трики:

Лидирование старт/финиш:

Большие шлемы:

Круги:

- лидирования:

Километры:

- лидирования:

Очки:

- за один сезон:
Год

Команда

Шасси
1982
John Player Team Lotus

Lotus 91
1987
Team El Charro AGS

AGS JH22
1989
Coloni SpA

Coloni FC188B

Coloni FC189
1990
Benetton Formula Ltd

Benetton B190
Euro Brun Racing

Euro Brun ER-189

Euro Brun ER-189B
1991
Camel Benetton Ford

Benetton B190B

Benetton B191
Team 7UP Jordan

Jordan 191
SCM Minardi Team

Minardi M191
1992
Andrea Moda Formula

Andrea Moda S921
1995
Parmalat Forti Ford

Forti FG01
I doubt if there is a driver featured in this book with more resilience than Roberto Moreno. Over the past two decades plenty of talented drivers have, at best, seen their careers end up in racing cul-de-sacs or found themselves with no drives at all. The Brazilian has faced both these hurdles with seemingly endless regularity, but has still managed, by a combination of unquenchable optimism, huge application and no little ability, to remain much in demand.
A childhood friend and karting companion of Nelson Piquet, Roberto followed the future World Champion to Europe in 1979; he soon made a big impact in a Royale, and then in 1980 won 15 races and the British FF1600 championship in a Van Diemen, A testing contract with Lotus gave Moreno the lifeline to sustain a Formula 3 career, while a victory in the Australian GP with a Ralt (beating Piquet and Jones) at the end of 1981 raised his profile greatly. He started 1982 winning in Formula Atlantic in the USA before having a disastrous outing for Lotus at Zandvoort, where he failed to qualify, which handicapped his career for a number of years. In 1984 he finished second to team-mate Thackwell in the Formula 2 championship, but a chance of a Formula 1 return with Toleman foundered when the team failed to tie up a tyre deal. This led Roberto to try his hand at Indy Car racing with Rick Galles, and while results were disappointing the little Brazilian certainly impressed.
Returning to Europe in 1987, Moreno was back with Ralt in F3000, but his luck was out. Leading round after round, his car always seemed to hit trouble and he only managed to win one race, at Enna. Fortune did smile with a return to Grands Prix with the little AGS team which yielded a point in the Australian GP, but with no chance of racing with them in 1988 due to a lack of funds Moreno was forced to stay in F3000, and showed his talent by clinching the championship with a virtually unsponsored Reynard, winning four rounds.
Buoyed by a testing contract with Ferrari, Roberto took up a drive with Coloni, then joined EuroBrun, only for the team to fold. Dramatically, after a run of non-qualifications, he was then given the Benetton seat in place of the injured Nannini, and a sensational debut in Japan saw him finish second to team-mate Piquet and gain a well-earned contract for 1991. His big season was something of an anti-climax, however, and when Michael Schumacher was snatched from Jordan, Roberto found himself turfed out of the team, ironically after his best race of the year at Spa. After seeing out the season with Jordan and Minardi, Moreno was back at square one in 1992, with the hapless Andrea Moda outfit, though he did brilliantly to qualify the car at Monaco. When the team were finally thrown out of the championship Roberto was left with no option but to find a ride in Italian touring cars, but in 1993 he was enjoying his racing again with an Alfa in the French Supertourisme championship.
It was quite a surprise when it was announced that Roberto would partner Pedro Diniz in the new Forti Corse F1 team in 1995, but the all-Brazilian driver pairing were forced to spend most of their races looking in their mirrors as the leaders lapped them with monotonous regularity. In 1996, after a ten-year absence, Roberto returned to Indy Car racing with the underfinanced Payton-Coyne Racing. Predictably his professionalism brought its reward with a superb third place in the US 500 at Michigan, the team's best-ever finish. Initially without a ride for 1997, Roberto was soon in action as a replacement for the injured Christian Fittipaldi at Newman-Haas. The fact that he outqualified team-mate Michael Andretti three times in six races raised a few eyebrows, but no one else, it seemed, shared the Brazilian's innate self-confidence.
The following season began with two races for Project Indy before Moreno quit, and it seemed that his only future lay in the Indy Racing League. Indeed he started 1999 in that category with a sixth place at Phoenix before another call into CART action as a substitute for Mark Blundell at PacWest. Roberto immediately established a great rapport with the team and helped to refocus their efforts before taking on an even more rewarding stand-in role at Newman-Haas. Once again Moreno stepped in for the unfortunate Fittipaldi and drove splendidly, taking a career-best second place at Laguna Seca. It seems Roberto's efforts have been recognised at last, as 'Supersub' finally gets a full-time ride with Patrick Racing for 2000.
(c) 'Who is Who' by Steve Small, 2000