Великобритания

Стирлинг Мосс

Moss, Stirling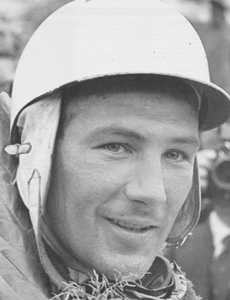 (c) 'Who is Who' by Steve Small, 2000
| | | |
| --- | --- | --- |
| Родился: | 17.09.1929 | Уэст-Кенсингтон, Лондон |
Сезонов в Ф1:

Лет в Ф1:

11

Гран При:

Старты:

66*

*не стартовал:

12

Победы:

- подряд:

3

Подиумы:

- подряд:

3

Поул-позиции:

- подряд:

5

Первый ряд:

- подряд:

6

Быстрые круги:

- подряд:

3

Лучший финиш:

Лучший старт:

1

Дубли:

Хет-трики:

3

Лидирование старт/финиш:

Большие шлемы:

1

Круги:

- лидирования:

1177

Километры:

- лидирования:
Год

Команда

Шасси
1951
HW Motors Ltd

HWM 51
1952
Connaught Engineering

Connaught A Type
English Racing Automobiles Ltd

ERA G
HW Motors Ltd

HWM 52
1953
Connaught Engineering

Connaught A Type
Cooper Car Co

Cooper Special
Cooper Special Mk 11
1954
A E Moss

Maserati 250F
Equipe Moss

Maserati 250F
Officine Alfieri Maserati

Maserati 250F
1955
Daimler Benz AG

Mercedes-Benz W196

Mercedes-Benz W196 Str.
1956
Officine Alfieri Maserati

Maserati 250F
1957
Officine Alfieri Maserati

Maserati 250F
Vandervell Products Ltd

Vanwall VW (57)
1958
RRC Walker Racing Team

Cooper T43
Vandervell Products Ltd

Vanwall VW (58)
1959
British Racing Partnership

BRM P25
RRC Walker Racing Team

Cooper T51
Ecurie Maarsbergen

Porsche 718 RSK
1960
RRC Walker Racing Team

Cooper T43

Cooper T51

Lotus 18
Reventlow Automobiles Inc

Scarab
1961
RRC Walker Racing Team

Cooper T53

Ferguson P99

Lotus 18
UDT Laystall Racing Team

Lotus 18
RRC Walker Racing Team

Lotus 18/21

Lotus 21
The long career and many brilliant deeds of Stirling Moss far outstrip the space available to describe them here, and his successes are also far too numerous to list. Thus a broad brush must be used to give an impression of this patriotic and ultra-professional driver, who had a clear idea of his own worth. Without vanity, he quite soundly reasoned that the World Championship which the British public were so desperate for him to win was utterly meaningless as a measure of a driver's abilities. Painstaking and thorough in his approach, in his prime Stirling's mastery of the skills of his profession was absolute. Capable of driving just about any machine with equal excellence, Moss never gave less than 100 per cent and, no matter what the situation, he simply never gave up.
His career began in 1947 with a BMW 328, but he was soon scrapping it out in the rough and tumble of 500 cc racing with a Cooper-JAP. In 1950 he scored his first major success, winning the Tourist Trophy in a Jaguar XK120, and during the next three seasons he drove a variety of cars - HWM, Formula 3 Kieft, Frazer-Nash and Jaguar - sampling success in all of them. Only the ERA C-Type was a complete failure, and by 1953 Stirling's talents were coveted by Ferrari. Actually Moss had his eyes fixed on a seat with Mercedes-Benz, but Neubauer was not yet convinced that the youngster was ready. So for the 1954 season Moss bought a Maserati 250F and promptly took third place at Spa. Later in the year, he accepted the offer of a works car, and duly led the Mercedes of Fangio at Monza until the oil tank split. He was then signed by Mercedes for the 1955 season alongside the Maestro. In Grands Prix he watched and learned much from his august partner, scoring a famous victory in the British GP in the July sunshine at Aintree, and he also won the Mille Miglia and the Targa Florio in the silver sports cars. Unfortunately the Le Mans disaster prompted Mercedes' withdrawal from the sport, and Stirling joined Maserati as number one driver in 1956. Despite wins at Monaco and Monza, retirements elsewhere cost him dear and the championship went to Fangio and Ferrari. It was a very productive year overall, however, with no fewer than 16 race wins in the 250F, the Maserati 300TS and the Vanwall among others.
His patriotism was at last rewarded when Vanwall offered him a machine worthy of his talents in 1957, and in the British GP Moss fulfilled a long-held ambition by giving a green car victory in a World Championship Grand Prix after taking over Brooks' sister entry. There were further wins at Pescara and Monza, and hopes were high for the championship in 1958. He started the season with a quite brilliant win in Rob Walker's little Cooper before resuming the fight in Vandervell's machines. Once again the unreliability of the car torpedoed Moss's personal title chances but, with Brooks and Lewis-Evans backing him up, the team took the constructors' title before withdrawing from Grand Prix racing at the season's end.
By now Moss had ceased to worry unduly about the championship. Certainly Ferrari would have given anything to sign him, but he preferred the comfortable ambience of Walker's little team, with Rob himself offering discreet guidance and Alf Francis fettling the cars. Stirling possibly hindered his chances by switching about a bit too often, surmising that the BRP BRM would be better suited to Reims and Aintree, but he won in Portugal and Italy in the Walker Cooper. In 1960 Stirling had the choice of a Cooper and the new Lotus 18, which he used to win the Monaco GP, but in practice for the Belgian GP his Lotus shed a wheel, leaving him suffering from serious back injuries. Characteristically, he set himself impossible targets for his comeback and returned in time to take another win at the end of the year at Riverside.
In 1961 we saw the true genius of Moss at Monaco and particularly the Nürburgring, where he defeated the shark-nose Ferrari 156 V6 cars of Phil Hill and Taffy von Trips. These victories were inevitably just outcrops of a seam of success that ran through the season, into the winter months at Nassau, and then across the world early in 1962 in Australia and New Zealand. On his return to Britain, Moss drove the pale-green UDT-entered Lotus to seventh in the Lombank Trophy before heading down to Goodwood for the Easter Monday meeting. Why he crashed is still not clear, but his car was wrecked and Stirling was hospitalised with serious head injuries. His recuperation was to be a slow one this time. Almost a year later he tried a car in a private test but his fears were realised. The sharp edge of his reflexes had gone, and wisely he decided he would not race again, thus leaving intact memories of a driver who always competent the peak of his powers. Stirling then launched himself into myriad business ventures, many of which kept him in touch with the sport. In the late seventies he was tempted back to the track, mainly for fun, in historic cars and saloons.
With the new millennium approaching, Stirling, who had just celebrated his seventieth birthday, was given a knighthood in the 2000 New Year's Honours. It was a fitting confirmation of the high esteem in which this truly great driver is held.
(c) 'Who is Who' by Steve Small, 2000