Великобритания

Найджел Мэнселл

Mansell, Nigel

Mansell, Nigel Ernest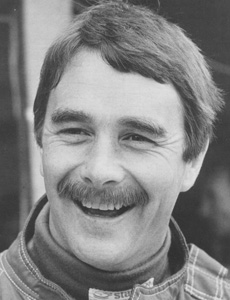 (c) 'Who is Who' by Steve Small, 2000
| | | |
| --- | --- | --- |
| Родился: | 08.08.1953 | Богтон, Аптон-он-Северн, Уорчестершир |
Сезонов в Ф1:

Лет в Ф1:

16

Гран При:

Старты:

187*

*не стартовал:

7

Победы:

- подряд:

5

Подиумы:

- подряд:

7

Поул-позиции:

- подряд:

6

Первый ряд:

- подряд:

15

Быстрые круги:

- подряд:

4

Лучший финиш:

Лучший старт:

1

Дубли:

Хет-трики:

5

Лидирование старт/финиш:

Большие шлемы:

4

Круги:

- лидирования:

2088

Километры:

- лидирования:
Год

Команда

Шасси
1980
Team Essex Lotus

Lotus 81B
1981
Team Essex Lotus

Lotus 81B
John Player Team Lotus

Lotus 87
Team Essex Lotus

Lotus 87
John Player Team Lotus

Lotus 88B
1982
John Player Team Lotus

Lotus 87B

Lotus 91
1983
John Player Team Lotus

Lotus 92

Lotus 93T

Lotus 94T
1984
John Player Team Lotus

Lotus 95T
1985
Canon Williams Honda Team

Williams FW10
Williams FW10B
1986
Canon Williams Honda Team

Williams FW11
1987
Canon Williams Honda Team

Williams FW11B
1988
Canon Williams Team

Williams FW12
1989
Scuderia Ferrari SpA SEFAC

Ferrari F1-89 (640)
1990
Scuderia Ferrari SpA

Ferrari F1-90 (641)
Ferrari F1-90B (641/2)
1991
Canon Williams Team

Williams FW14
1992
Canon Williams Team

Williams FW14B
1994
Rothmans Williams Renault

Williams FW16

Williams FW16B
1995
Marlboro McLaren Mercedes

McLaren MP4-10B
If you look at it objectively, there were two Nigel Mansells. One belonged to sections of the motor racing press, who saw him as the whingeing, ungracious 'chip-on-the-shoulder Brit' who courted success and disaster in equal measure but was actually a brilliant racing driver, good for endless column inches and therefore a lucrative source of income. The second Mansell belonged to the 'man in the street', who didn't give a damn about the scribblings of the journalists, but was content merely to revel in the many scintillating displays served up by one of the most brave, committed and entertaining drivers of his age, a man who still retained the common touch even if he was a superstar. In truth, of course, Mansell was a mixture of all these things, it really just depends on your perspective. I prefer to concentrate on the latter persona, for his remarkable deeds in a racing car are of primary concern in a book of this nature.
Mansell's story is well chronicled, but his dogged refusal to give up when the early part of his career seemed to be leading nowhere marked him down as a potential champion, even if his results in Formula 3 at the time indicated otherwise. The man most responsible for helping Nigel's career over that crucial first hurdle was none other than Colin Chapman, who knew a 'good 'un' when he saw one and placed him in the Lotus team as a test driver. When given his Grand Prix debut in Austria, Mansell endured acute discomfort from petrol which leaked into his cockpit to tough it out until the engine failed, and this was the stuff that Lotus needed as they slipped from their pedestal in the early eighties.
Certainly there were still rough edges, and Mansell made plenty of mistakes, but there were virtues. He absolutely gave his all, in contrast to team-mate de Angelis who could lose heart when his car was not performing. When Chapman died of a sudden heart attack in December 1982, it was a crushing blow to Nigel, not least because he had lost his greatest believer. His level of competitiveness was raised when the team received their new Renault turbo-powered, Gerard Ducarouge-designed car midway through the following season, as he demonstrated in the European GP at Brands Hatch, but he endured a generally unhappy time in 1984. A probable win in the rain at Monaco was thrown away when he slithered into the Armco and there were many at that stage who doubted if he would ever win a Grand Prix.
His move to Williams in 1985 changed everything. Soon coming to terms with Keke Rosberg, Nigel broke his duck at last, and continued his new-found form into the 1986 season, putting new team-mate Nelson Piquet in the shade with a series of brilliant drives to take five Grand Prix wins. The championship seemed to be there for the taking but a gaffe in the penultimate round in Mexico when he failed to put the car into gear on the grid was to cost him dear. Now under pressure at the final race in Adelaide, poor Nigel had the race covered and the championship within his grasp until a tyre failure sent him crashing out. Undaunted, he predictably bounced back in 1987, this time clocking up six wins in the Williams-Honda, but a practice crash at Suzuka handed the title to team-mate Piquet. The Williams team then lost their Honda engines to McLaren, and Nigel was forced to spend a year in purgatory with the Judd-powered car, though in the rain at Silverstone he drove quite brilliantly into second place.
Accepting a massive offer from Maranello, Mansell entered Ferrari folklore with a first-time-out win in Brazil, and carried the fight to McLaren with captivating brio. His win in Hungary after a stunning bit of opportunism in traffic was the highlight of a brilliant season which was soured somewhat after a skirmish with Senna in Portugal led to his suspension from the Spanish GP a week later. Greater disenchantment was to follow in 1990, when Alain Prost joined the Ferrari payroll. The little Frenchman hi-jacked the team's attentions with four early-season wins, prompting Mansell to announce his retirement. An offer from Williams to return to Didcot in 1991 was enough to persuade him to continue, and it was a decision he was not to regret. Driving as well as ever before, Mansell's slow start to the season eventually counted against him, for despite a mid-season burst of five wins, punctuated by a heart-breaking pit-stop fiasco in Portugal, Nigel was unable to overhaul Senna in the race for the title.
In 1992 Nigel finally got the job done. With what was undeniably the best car, he fairly scorched away with the championship, taking five straight wins at the start of the season. Apart from an ill-judged clash with Senna in Canada, he hardly put a foot wrong and thoroughly earned his World Championship. Sadly relations with Williams had deteriorated to the point that an agreement could not be reached for Mansell to continue in 1993 and, with the parties seemingly unable (or unwilling) to find a compromise, he headed off to the States and a new life in Indy Car racing with the Newman-Haas Lola.
Proving all the doubters wrong, Nigel not only won the PPG Cup at his first attempt but - a crash at Phoenix apart - made light of the black art of racing on ovals to such effect that he was almost omnipotent. Mansell was very unlucky to miss out on a first-time win in the Indy 500 at the last gasp when a full-course yellow saw him outfumbled by the wily Fittipaldi. Perhaps more importantly, however, Nigel had found a new environment in which he felt appreciated, and this undoubtedly showed in his contented demeanour. Sadly it was not to last. Penske wheeled out a new car in 1994 which left everyone else trailing in its wake, and Nigel's motivation, such a crucial part of his success, appeared to be less than total. The chance to return to Grand Prix racing in the wake of Senna's death proved irresistible but, despite an end-of-season win at Adelaide, Williams decided to stick with Damon Hill and David Coulthard for 1995.
In hindsight, perhaps, a fully charged Mansell may have been a better choice to challenge Schumacher's dominance. Instead a multi-million-dollar marriage of convenience was forged with Marlboro McLaren Mercedes which ended in farce when he first failed to fit properly in the car, and then gave up when the expensively redesigned machine failed to meet his expectations. This rather sad postscript to Mansell's Grand Prix career was gleefully pounced upon by his detractors, while, apart from a handful of over-hyped touring car appearances for Ford in the BTCC during 1998, his legions of loyal fans have since been left to pin their hopes on ill-founded rumours of a comeback.
(c) 'Who is Who' by Steve Small, 2000