Италия

Нино Фарина

Farina, Nino

Farina, Dr. Giuseppe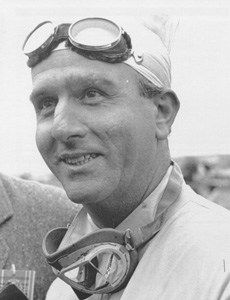 (c) 'Who is Who' by Steve Small, 2000
| | | |
| --- | --- | --- |
| Родился: | 30.10.1906 | Турин |
| Умер: | 30.06.1966 | Огебель, Шамбери, Франция |
Сезонов в Ф1:

Лет в Ф1:

7

Гран При:

Старты:

33*

*не стартовал:

3

Победы:

- подряд:

Подиумы:

- подряд:

5

Поул-позиции:

- подряд:

Первый ряд:

- подряд:

7

Быстрые круги:

- подряд:

2

Лучший финиш:

Лучший старт:

1

Дубли:

Хет-трики:

1

Лидирование старт/финиш:

Большие шлемы:

Круги:

- лидирования:

336

Километры:

- лидирования:
Год

Команда

Шасси
1950
SA Alfa Romeo

Alfa Romeo 158
1951
SA Alfa Romeo
Alfa Romeo 159A
Alfa Romeo 159B
Alfa Romeo 159M
1952
Scuderia Ferrari

Ferrari 500
1953
Scuderia Ferrari

Ferrari 500
1954
Scuderia Ferrari

Ferrari 553 Squalo

Ferrari 625
1955
Scuderia Ferrari

Ferrari 555 Supersqualo

Ferrari 625

Lancia Ferrari D50
1956
Bardahl/Ferrari
Kurtis Kraft 500D
Giuseppe 'Nino' Farina was very much his own man, a private person, who did not make any great attempts to mix and guarded his private life jealously. He even played down his achievement in becoming World Champion in 1950, refusing to get involved in the razzmatazz which followed.
By the time he won the title, he was one of the most senior campaigners still regularly active, having made his competition debut in the Aosta-St Bernard hill-climb as far back as 1932. It was a chastening experience for he crashed and ended up in hospital, but it was to be only the first of many accidents sustained in a long career by this tough, aristocratic Italian who seemed totally indestructible.
After driving a Maserati with little success, his first break came when he raced an Alfa Romeo under the tutelage of the great Nuvolari. At that time the red cars were outclassed by the mighty German machines and the young Farina often ran out of road in his desperate attempts to keep pace. He did, however, win the Naples GP in 1937 and was Italian champion in the years 1937-39, with further successes in the Alfa Romeo 158 at the Antwerp GP, Coppa Ciano and Prix de Berne. He also gave a fantastic display at the 1939 Swiss GP with the underpowered Alfa, leading many faster cars before giving way. Having won the Tripoli GP, Farina was probably reaching his peak when the war suspended all racing activity, but in 1946 he returned to immediate effect, winning the GP des Nations at Geneva. Enzo Ferrari had great regard for his ability, Farina excelling on fast courses with his imperious, upright, arms-at-length driving style.
In 1948 he drove an independent Maserati, winning at Monaco, Geneva and Mar del Plata, and he continued with the car into the following season, when he won the Lausanne GP and finished second in the International Trophy, but also drove for Ferrari, winning the Rosario GP in a Tipo 166.
When Alfa Romeo returned to action in 1950 Farina joined Fangio and Fagioli in the classic 158s and, keeping a cool head and showing tremendous courage, took the first-ever World Championship for drivers. In 1951 he remained with Alfa and won the Belgian GP, but was outshone by Fangio, and he was to find the same problem when he joined Ferrari the following year. With Ascari sweeping all before him, 'Nino' was left in his wake, picking up wins only in the minor GPs at Naples and Monza. He was none too happy to play second fiddle , but was generally unable to match the searing pace set by his team-mate, although he did take a brilliant win in the German GP after losing a wheel. When Ascari moved to Lancia for 1954, Farina sniffed another title chance after a bright start to the season which included a win in the Syracuse GP, but after crashing in the Mille Miglia he recovered only to be involved in a very nasty incident at Monza when his car caught fire, leaving the driver with badly burned legs.
He bravely returned in 1955, needing morphine to complete the Argentine GP, in which he shared two cars, and also took points at Monaco and Spa. His injuries caused him to announce his retirement at the end of the season, but he was soon back in a half-hearted attempt to qualify at Indianapolis, before yet another accident in practice at the Monza Supercortemaggiore race, which left him with a broken collar-bone. Recovered once more, he returned to Indy, but after his car was crashed with fatal results by a young American, Keith Andrews, he lost interest and retired for good. It was ironic that after surviving so many racing accidents, Farina should lose his life in a road crash in 1966.
(c) 'Who is Who' by Steve Small, 2000