Аргентина

Хуан-Мануэль Фанхио

Fangio, Juan Manuel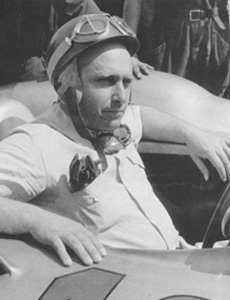 (c) 'Who is Who' by Steve Small, 2000
| | | |
| --- | --- | --- |
| Родился: | 24.06.1911 | Балькарсе, Буэнос-Айрес |
| Умер: | 17.07.1995 | Балькарсе, Буэнос-Айрес |
Сезонов в Ф1:

Лет в Ф1:

9

Гран При:

Старты:

51*

*не стартовал:

5

Победы:

- подряд:

3

Подиумы:

- подряд:

6

Поул-позиции:

- подряд:

4

Первый ряд:

- подряд:

9

Быстрые круги:

- подряд:

3

Лучший финиш:

Лучший старт:

1

Дубли:

Хет-трики:

7

Лидирование старт/финиш:

Большие шлемы:

3

Круги:

- лидирования:

1354

Километры:

- лидирования:
Год

Команда

Шасси
1950
SA Alfa Romeo

Alfa Romeo 158
1951
SA Alfa Romeo
Alfa Romeo 159A
Alfa Romeo 159B
Alfa Romeo 159M
1953
Officine Alfieri Maserati

Maserati A6GCM
1954
Officine Alfieri Maserati

Maserati 250F
Daimler Benz AG

Mercedes-Benz W196

Mercedes-Benz W196 Str.
1955
Daimler Benz AG

Mercedes-Benz W196

Mercedes-Benz W196 Str.
1956
Scuderia Ferrari

Lancia Ferrari D50
1957
Officine Alfieri Maserati

Maserati 250F
1958
Novi Auto Air Conditioner
Kurtis Kraft 500F
Dayton Steel
Kurtis Kraft 500G
Juan Manuel Fangio

Maserati 250F
Scuderia Sud Americana

Maserati 250F
Fangio will always be 'the Maestro' and justifiably so. For all his phenomenal achievements in Grand Prix racing -five World Championships and 24 wins from just 51 starts - it was as much the way he conducted himself outside the cockpit which has created an aura that exists to this day.
His origins were humble. The son of an Italian immigrant family, he grew up in Argentina in a motoring environment, working in a garage from the age of 11 to supplement the family income. He saved everything he could towards the purchase of a Model T Ford, which he raced secretly before switching to a Ford V8 special and the real beginnings of his competition career. Supported by the people of his home town, Balcarce, he acquired a Chevrolet and won the 1940 Gran Premio del Norte, a 5,900 mile road race, scoring his first major success. Throughout the next seven years he raced in these marathons with a Chevrolet, often competing with 'Los Gálvez' for the top honours.
When Varzi, Villoresi, Farina and Wimille were invited to appear in Libre events in 1948, Fangio was among their local opposition, and performed so well that he was sponsored for a brief trip to Europe in 1948 with Gálvez, driving a Simca-Gordini at Reims before returning home with a Maserati 4CLT.
For 1949 he was back in Europe and, at the age of 38, enjoyed a staggering debut season, winning his first race at San Remo, and following it up with wins at Perpignan, Marseilles, Pau, Albi and Monza. This led to an invitation to join the Alfa Romeo team in 1950 and he eventually finished second in the World Championship to Farina, despite winning three of the six races. He also won at Pescara, Geneva and San Remo in the Alfa, and at Pau and Angoulême in a Maserati. After handling the pre-war Mercedes in the early-season Libre events back in Argentina, Fangio then took the first of his five titles in 1951, before Alfa withdrew from competition.
In 1952, the newly crowned champion started the year in imperious form on his home continent, winning six Libre events in Argentina, Brazil and Uruguay, before returning to Europe to drive for Maserati. However, he crashed at the Monza GP and was lucky to escape with his life, suffering concussion and a broken vertebra in his neck when he was thrown from the car. He convalesced in Balcarce for the rest of the season and had leisure to ponder the thin dividing line between glory and disaster, but it did not prevent him from undertaking an even bigger racing schedule in 1953. He drove Maserati's A6GCM to victory in the Italian and Modena GPs and also took the opportunity to return to his roots by winning the Carrera Panamericana road race in a works Lancia.
His stature was unrivalled and Mercedes-Benz made it their top priority to sign him when they re-entered racing in 1954. While the cars were being prepared, he continued to drive for Maserati, winning the first two races of the season before scoring another four wins in the silver machine. The combination of Fangio's sublime talent and German technology was overwhelming, and if the car lasted he generally won. Such was his mastery that it is thought he allowed team-mates Kling and Moss to takes victories at AVUS and Aintree respectively, though he never admitted it. Despite being a relatively old man in Grand Prix terms by this stage, he had all the resources necessary to maintain his dominant position, his seemingly inexhaustible talents equal to the demands of any situation. If there was a corner that needed to be taken flat out, then Fangio would do it; his physical strength and stamina allowed him to cope with broiling heat or pouring rain; and his powers of concentration enabled him to annihilate the opposition when his car ran well, or nurse a sick machine to the chequered flag when lesser mortals would have given up.
Fangio also had the acumen to choose the best machinery available and then make the best possible use of it. Even an uncomfortable year at Scuderia Ferrari in 1956, where he could have been undermined by the young Italian pretenders, did not prevent him taking a fourth World Championship, but he moved back to Maserati for 1957 and, with the 250F in the final stages of its useful development, took his fifth and perhaps finest championship win, highlighted by one of Grand Prix racing's greatest-ever performances at the Nürburgring, where he overhauled Hawthorn and Collins to win a sensational German GP, having gambled that a pit stop for fresh tyres would pay off rather than run non-stop as did the Ferraris. His personal standards were such that at each track he set out to better his previous performances there. He was the World Champion and it was expected, but at the Italian GP even he could not defeat Stirling Moss, by now nearly his equal as a driver. With the advantage of driving one of the emerging Vanwalls, Moss repeated the win at Pescara, and the writing was on the wall for Fangio. With no wish to return to Ferrari and with Maserati winding down their operation, his thoughts were perhaps turning to retirement, but in the event he was to race on into 1958 as an independent, selecting his races. After a fourth place in the Argentine GP he took his final win in the Libre Buenos Aires GP. He was then tempted to Indianapolis to take part in the famous 500 and, despite being given a car which was far from new, duly passed his qualification tests, but he was unhappy with the machine. Perhaps fortuitously, he was forced to return home to deal with an urgent matter relating to his garage business and thus missed the race, which was marred by tragedy after a multiple crash on the first lap.
For Fangio there was to be just one more Grand Prix, and it was perhaps one of his best. Coming home fourth, he could have been lapped right at the finish by the winner Hawthorn, who chose to spare him this indignity. However, the spectators were unaware that Fangio had raced without the benefit of a clutch from early on. With the engine turning at 8,000 rpm, 'the Maestro' relied on his ears to judge when to change gear throughout the race in a remarkable display which showed his legendary empathy with his machinery. He went home to Balcarce never to return as a driver, deciding that the time was right for him to stop. Of course his presence graced the circuits on many further occasions, and he held a magnetic attraction for young and old alike, who recognised they were rubbing shoulders not only with a legendary racing driver, but also with a man of great sincerity and generosity of heart to whom the sport owes a great debt.
(c) 'Who is Who' by Steve Small, 2000