Италия

Джанкарло Физикелла

Fisichella, Giancarlo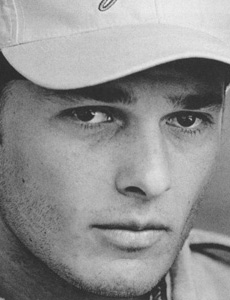 (c) 'Who is Who' by Steve Small, 2000
Сезонов в Ф1:

Лет в Ф1:

14

Гран При:

Старты:

229*

*не стартовал:

2

Победы:

- подряд:

Подиумы:

- подряд:

2

Поул-позиции:

- подряд:

Первый ряд:

- подряд:

2

Быстрые круги:

- подряд:

Лучший финиш:

Лучший старт:

1

Дубли:

Хет-трики:

Лидирование старт/финиш:

Большие шлемы:

Круги:

- лидирования:

214

Километры:

- лидирования:
Год

Команда

Шасси
1996
Minardi Team SpA

Minardi M195B
1997
Benson & Hedges Total Jordan Peugeot

Jordan 197
1998
Mild Seven Benetton Playlife

Benetton B198
1999
Mild Seven Benetton Playlife

Benetton B199
2000
Mild Seven Benetton Playlife

Benetton B200
2001
Mild Seven Benetton Renault

Benetton B201
2002
DHL Jordan Honda

Jordan EJ12
2003
Benson & Hedges Jordan Ford

Jordan EJ13
2004
Sauber Petronas

Sauber C23
2005
Mild Seven Renault F1 Team

Renault R25
2006
Mild Seven Renault F1 Team

Renault R26
2007
ING Renault F1 Team

Renault R27
2008
Force India F1 Team

Force India VJM01 (Spyker F8-VIIB)
2009
Scuderia Ferrari Marlboro
Ferrari F60B (660)
Force India F1 Team

Force India VJM02
A quiet and open-minded Italian, Fisichella was surrounded by cars from an early age when he played among the machines in his father's garage workshop. By the time he was ten he was competing in the national Minikart series and he soon progressed through the karting ranks, becoming runner-up in both the World and Intercontinental Championship series, only misfortune denying him the ultimate prize.
Moving up to Italian F5 in 1992, Fisichella spent two seasons learning his trade before switching to the official RC Motorsport team. Giancarlo then simply scorched away from the opposition, winning ten of the twenty rounds of the series and adding the prestigious one-off Monaco and Macau races to his impressive CV.
Obviously a talent to watch, Fisichella was snapped up by Minardi on a long-term contract and given the test driver role for 1995 while he gained experience and polished his racecraft in the ITC with an Alfa Romeo 156. Another full season in the high-tech category was successfully completed in 1996, but of greater significance was his Grand Prix baptism with Minardi. Joining the rather more seasoned Pedro Lamy in the Faenza squad, Fisichella immediately showed the speed to eclipse his team-mate, but the young lions blotted their copybooks by colliding on the opening lap at Monaco when points were there for the taking. Fisichella was obliged to make way for Giovanni Lavaggi after the British GP, but his stock was high enough for him to be placed in the Jordan team for 1997 alongside rookie Ralf Schumacher. Certainly it was Giancarlo who looked the brighter prospect with some mature and accomplished performances and the fact that his season tailed off somewhat was no barrier to the young Italian's transfer to Benetton after a contract wrangle between Jordan and Flavio Briatore was settled in court.
Fisichella undoubtedly brought a new sense of purpose to Benetton in 1998 and his two second places in Monaco and Montreal showed that here was a potential Grand Prix winner of the future. His second term presented a similar picture: occasional outstanding performances mixed with lacklustre showings when he failed to cut the mustard.
Ironically his long-term contract could be a double-edged sword. Already comfortably ensconced in a multi-million-dollar lifestyle, the pleasant, easy-going Roman has yet to produce the goods on a consistent basis. When everything is right he shows the skills to deliver, but such is the pace of Formula 1 that he could rapidly find himself surplus to requirements if he fails to progress.
(c) 'Who is Who' by Steve Small, 2000