Аргентина

Хосе-Фройлан Гонзалес

González, José Froilan

Gonzalez, Jose Froilan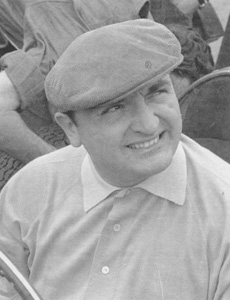 (c) 'Who is Who' by Steve Small, 2000
Сезонов в Ф1:

Лет в Ф1:

11

Гран При:

Старты:

26*

*не стартовал:

1

Победы:

- подряд:

Подиумы:

- подряд:

5

Поул-позиции:

- подряд:

Первый ряд:

- подряд:

4

Быстрые круги:

- подряд:

Лучший финиш:

Лучший старт:

1

Дубли:

Хет-трики:

Лидирование старт/финиш:

Большие шлемы:

Круги:

- лидирования:

272

Километры:

- лидирования:
Год

Команда

Шасси
1950
Scuderia Achille Varzi

Maserati 4CLT/48
1951
Scuderia Ferrari

Ferrari 375
José Froilan González

Talbot Lago T26C-GS
1952
Officine Alfieri Maserati

Maserati A6GCM
1953
Officine Alfieri Maserati

Maserati A6GCM
1954
Scuderia Ferrari

Ferrari 553 Squalo

Ferrari 625
1955
Scuderia Ferrari

Ferrari 625
1956
Officine Alfieri Maserati

Maserati 250F
Vandervell Products Ltd

Vanwall VW (56)
1957
Scuderia Ferrari

Lancia Ferrari 801
1960
Scuderia Ferrari

Ferrari 256
González was invariably tagged 'the Bull of the Pampas' by the press and the name perfectly described the vast bulk of this unlikely looking racing driver. However, he was called Pepe by his friends, who knew him as a kind-hearted, good-natured soul, despite his sometimes fearsome facade.
A surprisingly keen sportsman for one of his physique, González was a fair soccer player, swimmer and cyclist before he was old enough to begin a competition career racing motor cycles and then production cars. He caught the eye in 1949 at the wheel of a Maserati four-cylinder found for him by Fangio and joined his compatriot in Europe in 1950, driving a Maserati without luck in the championship races but taking a second place in the Albi GP.
His breakthrough came in 1951 when he defeated the visiting Mercedes-Benz team in both the Libre races at Buenos Aires in a Ferrari 166, and he began his proper Grand Prix career as a works driver for Ferrari. His style, hunched over the wheel, hard on the throttle, sliding the car to the limits of the track - and beyond on many occasions - was far from pretty, but no one could argue with his speed, and he soon gained immortality by defeating the works Alfa Romeos in the 1951 British GP, becoming the first driver to win a World Championship Grand Prix for the Scuderia. González also won the non-title Pescara GP before signing for Maserati for 1952, a season which saw him race in only one Grand Prix, although he also handled the brutish BRM V16, winning the Goodwood Trophy, and Vandervell's Thinwall Ferrari, in which he took the Richmond Trophy. He continued with Maserati as Fangio's team-mate in 1953, but was in the shadow of his great friend and rival before a crash in practice for a sports car race at Lisbon sidelined him for three months with a fractured vertebra.
Signed by Ferrari for 1954, González enjoyed his finest season, taking his 625 to another glorious win for the team over the for once hapless Mercedes, as well as claiming wins in the non-title International Trophy and Bari and Bordeaux GPs. His year also saw four wins in sports cars, including Le Mans, where he shared the winning Ferrari with Trintignant, before a practice crash in the Tourist Trophy left him with an injured arm. He returned home to Argentina and, apart from a visit to his beloved Silverstone to race the Vanwall in 1956 which ended with driveshaft failure at the start, mainly restricted his racing to home territory. His guest appearances in his home Grands Prix showed there was still considerable fire in his belly and he duelled with Ascari's Lancia for the lead in 1955 before finishing second, but after the 1957 race he was content just to take part in his Chevrolet-engined Ferrari, turning his attention more to his motor business.
(c) 'Who is Who' by Steve Small, 2000