США

Дэн Герни

Gurney, Dan

Gurney, Daniel Sexton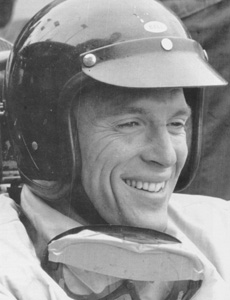 (c) 'Who is Who' by Steve Small, 2000
| | | |
| --- | --- | --- |
| Родился: | 13.04.1931 | Порт-Джефферсон, Нью-Йорк |
Сезонов в Ф1:

Лет в Ф1:

12

Гран При:

Старты:

86*

*не стартовал:

4

Победы:

- подряд:

Подиумы:

- подряд:

5

Поул-позиции:

- подряд:

2

Первый ряд:

- подряд:

7

Быстрые круги:

- подряд:

Лучший финиш:

Лучший старт:

1

Дубли:

Хет-трики:

Лидирование старт/финиш:

Большие шлемы:

Круги:

- лидирования:

191

Километры:

- лидирования:
Год

Команда

Шасси
1959
Scuderia Ferrari

Ferrari 256
1960
Owen Racing Organisation

BRM P48
1961
Porsche System Engineering

Porsche 718/2

Porsche 787
1962
Autosport Team Wolfgang Seidel

Lotus 24
Porsche System Engineering

Porsche 804
1963
Brabham Racing Organisation

Brabham BT7
1964
Brabham Racing Organisation

Brabham BT7
1965
Brabham Racing Organisation

Brabham BT11
1966
Anglo American Racers

Eagle T1G
1967
Anglo American Racers

Eagle T1G
1968
Brabham Racing Organisation

Brabham BT24
Anglo American Racers

Eagle T1G

McLaren M7A
1970
Bruce McLaren Motor Racing

McLaren M14A
Some drivers seem to exude a natural warmth, and by their demeanour both on and off the track firmly entrench themselves in the hearts of motor racing fans across the globe. Dan Gurney comes into this category. Standing at Paddock Bend at the start of the 1968 British Grand Prix, I remember spontaneously cheering loudly with the rest as he set off in grim but hopeless pursuit of the field, Lady Luck having left him stranded on the line. This minor moment serves to underline how universally popular the tall American was and still is to this day, not only for his many fine achievements but also for his stature as one of the sport's least affected and most enthusiastic participants.
The son of an opera singer, Gurney revelled in the environment of his Riverside youth, taking little interest in his studies, but enjoying the illicit drag racing around the local strips. After National Service he began his competition career in 1955 with a Triumph TR2, before building his reputation with a Porsche. By 1957 Dan was running a Ferrari entered by Frank Arciero, and was so successful that Luigi Chinetti arranged for him to race at Le Mans and Reims in 1958. In both races his co-driver crashed the car, but Dan had shown sufficient promise to be offered a test with Ferrari late that year.
Signing a contract with the wily Commendatore for the 1959 season which bound him tightly, Gurney soon proved to be a major asset, particularly after the acrimonious departure of Behra, scoring points in three of his four Grands Prix. The strictures of Maranello were such that Dan decided to join BRM for 1960, but it was an unhappy year with the car woefully unreliable - made even worse by a freak accident at Zandvoort in which a small boy was killed when Dan's brakes failed and the car crashed. Joining Porsche for 1961, Gurney found that the four-cylinder car was reliable (he finished all but one of his 14 Formula 1 races) but not quite capable of winning. He stayed on for 1962 and gained some reward with the flat-eight car, winning his first Grand Prix at Rouen and then the non-title race at Solitude. This was to be the pinnacle of Porsche's achievements as a manufacturer in Formula 1, as they withdrew at season's end, leaving Dan to join Jack Brabham as the team's number one driver for Formula 1, but free to continue his sports and USAC programme which had begun so promisingly in 1962. Again it was so near yet so far in Grands Prix as Gurney repeatedly challenged Jim Clark et al. over the next three seasons but was almost invariably frustrated by niggling problems which restricted him to just two victories. It seems ironic that after his departure to build his own Eagle racers the Brabham should have come good and won the World Championship for the next two seasons.
Gurney's Anglo American Racers car looked superb in its dark-blue livery, but stood no chance of success until its punchless four-cylinder Climax engine was replaced by the complex but potent Weslake unit. By 1967 this was a truly competitive proposition and Dan took victories in the Race of Champions and the Belgian GP before the onslaught of Cosworth power eventually overwhelmed the project. June of that year was kind to Dan, who also shared a Ford GT40 with A J Foyt to win the Le Mans 24 Hours. By now Gurney was extending his efforts to Can-Am and USAC, and after winning the Rex Mays 100 at Riverside in 1967 he finished second in the Indianapolis 500 the following season as well as winning at Mosport and Riverside again.
Formula 1 seemed a thing of the past in 1969 as Dan developed his USAC programme, finishing second at Indy yet again but winning at Donnybrooke. The following year he won at Sears Point and was third at Indy, before stepping into the breach at McLaren following Bruce's tragic death in a testing accident at Goodwood. After being away Dan never really found the pace in Formula 1, but he won two of the three Can-Am rounds he contested before problems over conflicting oil contracts precipitated his departure from the team. Realising that perhaps his best days were now behind him, he retired from racing, his place in the USAC team being filled by Bobby Unser, who was to bring Eagle so much success in the seventies. Happily Dan was not tempted to return full-time, but he couldn't resist a one-off NASCAR outing in 1980 at his home track of Riverside, where he lay a superb third before gearbox trouble.
Gurney continued to enter his Eagles in USAC and had the satisfaction of winning Indy at last, as a constructor if not as a driver, with Gordon Johncock and Bobby Unser scoring victories in 1973 and 1975 respectively. Dan eventually withdrew from single-seater racing, concentrating successfully on IMSA with the backing of Toyota throughout the early nineties.
In 1996 he re-entered the CART arena in partnership with the Japanese car giant, but the four-year alliance has brought little but disappointment for Gurney and his hard-working team at Santa Anna. The slow development of the Toyota powerplant, increasingly uncompetitive Goodyear tyres and the lack of a front-line driver are just some of the reasons that the Eagle has failed to soar to the heights that the partners were expecting.
(c) 'Who is Who' by Steve Small, 2000