Франция

Рене Арну

Arnoux, René

Arnoux, René Alexandre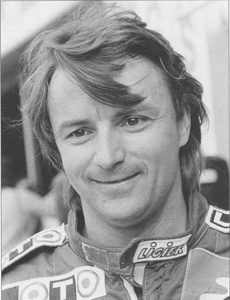 (c) 'Who is Who' by Steve Small, 2000
| | | |
| --- | --- | --- |
| Родился: | 04.07.1948 | Поншарра, Гренобль |
Сезонов в Ф1:

Лет в Ф1:

12

Гран При:

Старты:

149*

*не стартовал:

15

Победы:

- подряд:

2

Подиумы:

- подряд:

4

Поул-позиции:

- подряд:

3

Первый ряд:

- подряд:

6

Быстрые круги:

- подряд:

2

Лучший финиш:

Лучший старт:

1

Дубли:

Хет-трики:

Лидирование старт/финиш:

Большие шлемы:

Круги:

- лидирования:

507

Километры:

- лидирования:
Год

Команда

Шасси
1978
Automobiles Martini

Martini Mk23
Team Surtees

Surtees TS20
1979
Equipe Renault Elf

Renault RS01

Renault RS10
1980
Equipe Renault Elf

Renault RE20
1981
Equipe Renault Elf

Renault RE20B

Renault RE30
1982
Equipe Renault Elf

Renault RE30B
1983
Scuderia Ferrari SpA SEFAC

Ferrari 126C2B

Ferrari 126C3
1984
Scuderia Ferrari SpA SEFAC

Ferrari 126C4
1985
Scuderia Ferrari SpA SEFAC

Ferrari 156/85
1986
Equipe Ligier

Ligier JS27
1987
Ligier Loto

Ligier JS29B

Ligier JS29C
1988
Ligier Loto

Ligier JS31
1989
Ligier Loto

Ligier JS33
Arnoux's early career was rich with promise. Winning the Shell Volant award set him on his way in Formule Renault, but Rene switched to Elf in 1974 when an opportunity arose to race their Formula 2 car, taking fourth place at Nogaro on his debut. In 1975 he competed in Formule Super Renault, winning the championship, before undertaking a full season of Formula 2 with an Elf-backed works Martini-Renault.
He was the fastest man around and came agonisingly close to taking the championship, scoring three wins (at Pau, Enna and Estoril) and six fastest laps but eventually lost out to Jabouille. Resolved to iron out the errors which had cost him so dear in 1976, Arnoux was back the following season and again won three races (at Silverstone, Pau and Nogaro), deservedly taking the coveted title.
The little Martini team, which had enjoyed enviable success in the junior formulae for many years, ambitiously moved into Formula 1 for 1978 and Arnoux was naturally entrusted with their neat Cosworth-powered car, but the underfinanced project was doomed from the start, leaving the GP novice to scratch around for drives from mid-season. He did a couple of races for Surtees, who would dearly have loved to have got his hands on him earlier, for after running a string of second-raters here at last he could see gold. However, Rene was destined for greater things, joining Renault for 1979.
Teamed with his old rival Jabouille, the still shy newcomer began to assert himself from mid-season onwards, and looked a serious championship prospect at the start of 1980. Consecutive wins in Brazil and South Africa proved sadly illusory, but the game little Frenchman never gave up the struggle although his car repeatedly let him down.
Unfortunately for Arnoux, his nemesis in the shape of Alain Prost joined the team for 1981, immediately pushing the unhappy incumbent to the margins. He bounced back in 1982 to something like his best, all but matching Prost's speed, but not his measured performances. When he won the French GP in defiance of team orders it seemed that a split was inevitable, and sure enough he moved to Ferrari for 1983. Driving in typically forceful style, Arnoux mounted a serious championship bid on the back of three mid-season wins, but eventually fell just short.
In 1984 his performances became increasingly inconsistent and, despite an absolutely brilliant drive at Dallas, there were times when he seemed totally uninterested. It was a situation that could not last and early in 1985 an 'amicable' separation was agreed. Joining Ligier for 1986, Arnoux showed brief flashes of his old form in the Renault-powered car but, when he voiced criticism in the press of the Alfa engine the team had arranged to use the following season, the Italian concern immediately terminated the project. The team was then obliged to adapt their new design to accept the Megatron engine, and suffered the inevitable consequences. Things got even worse in 1988 with the totally disastrous JS31, which was perhaps one of the most evil-handling machines of recent times.
Although no longer a contender, Arnoux blithely drove on as if he were, but by now the summit of his ambitions was a desperate search for the championship point or two that would keep his team out of the pre-qualifying trap. His ever-increasing lack of track manners and general cussedness caused mounting consternation among his fellow drivers, and by the time he retired at the end of 1989 the halcyon days of the early eighties were all but forgotten.
The Frenchman finally made a return to the track in 1994, finishing 12th at Le Mans in a Dodge Viper. He was back in 1995 with a Ferrari 333SP, but much of his time has been spent acting as a driver coach and adviser to wealthy Brazilian hopeful Pedro Diniz in his attempt to carve out a top-flight Grand Prix career, and acting as a Grand Prix summariser on Italian TV.
(c) 'Who is Who' by Steve Small, 2000