Новая Зеландия

Майк Такуэлл

Thackwell, Mike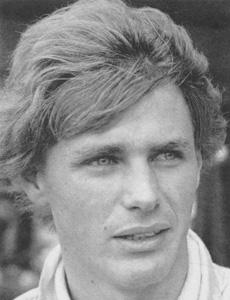 (c) 'Who is Who' by Steve Small, 2000
Сезонов в Ф1:

Лет в Ф1:

5

Гран При:

Старты:

1*

*не стартовал:

4

Победы:

- подряд:

Подиумы:

- подряд:

Поул-позиции:

- подряд:

Первый ряд:

- подряд:

Быстрые круги:

- подряд:

Лучший финиш:

Лучший старт:

24

Дубли:

Хет-трики:

Лидирование старт/финиш:

Большие шлемы:

Круги:

- лидирования:

Километры:

- лидирования:
In 1980, at the age of 19, Thackwell became the youngest-ever starter in a World Championship Grand Prix, when he left the grid at Montreal only to be involved in a multiple collision which halted the race. Mike's car was hors de combat and the race restarted without him. So there's the conundrum: technically, did he start or not? In the event, it was to be nearly four years before another Grand Prix chance came his way, and by that time his career had lost momentum - and the driver, perhaps, the necessary determination.
Mike's early career was meteoric. In 1979, aged just 18, he contested the Vandervell F3 series in a works March, finishing third in the championship with five wins. In 1980 he raced the ICI March 802, putting in some brilliant drives without gaining the reward he deserved, turned down the chance to race the works Ensign, practised an Arrows at Zandvoort, and then joined the Tyrrell team for Montreal.
A hot favourite for the Formula 2 title in 1981, Thackwell started the season with a win at Silverstone, but a heavy crash at Thruxton left him on crutches and his title hopes evaporated. Ron Tauranac, unconvinced about Mike's fitness, dropped him from the F2 team just before the start of the 1982 season, and his confused driver was left in the lurch, eventually scraping a deal together which saw him living from race to race. Fortunately the New Zealander was back in the Ralt fold for 1983, though a slowish start meant he had to play second fiddle to team-mate and champion-elect Palmer. However, 1984 was to be his year and, showing a new resolve, he dominated proceedings, winning seven of the 11 rounds, taking six poles and nine fastest laps, and leading an incredible 408 of the 580 laps run.
Still without a Formula 1 ride, and eyeing Indy Car racing, Thackwell moved somewhat unwillingly into F3000 with Ralt in 1985. Having proved beyond doubt that he was the best driver in the series but failed to clinch the title through sheer bad luck, he understandably felt dissatisfied with his lot and refused to commit himself to a full season in 1986. When he did compete, notably at Pau, he showed what talent was being wasted,
subsequently running around - albeit quite successfully - in endurance racing with Sauber and Brun before a brief reunion with Ralt in F3000 in 1988. Disillusioned, he then walked away from the sport before the age of 30.
(c) 'Who is Who' by Steve Small, 2000