Франция

Морис Тринтиньян

Trintignant, Maurice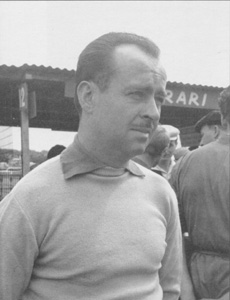 (c) 'Who is Who' by Steve Small, 2000
| | | |
| --- | --- | --- |
| Родился: | 30.10.1917 | Сент-Сесиль-ле-Винь, Воклюз |
| Умер: | 13.02.2005 | Ним |
Сезонов в Ф1:

Лет в Ф1:

15

Гран При:

Старты:

81*

*не стартовал:

10

Победы:

- подряд:

Подиумы:

- подряд:

2

Поул-позиции:

- подряд:

Первый ряд:

- подряд:

Быстрые круги:

- подряд:

Лучший финиш:

Лучший старт:

3

Дубли:

Хет-трики:

Лидирование старт/финиш:

Большие шлемы:

Круги:

- лидирования:

78

Километры:

- лидирования:
Год

Команда

Шасси
1950
Equipe Gordini

Simca Gordini Type 15
1951
Equipe Gordini

Simca Gordini Type 15
1952
Ecurie Rosier

Ferrari 166
Equipe Gordini

Gordini Type 16

Simca Gordini Type 15
1953
Equipe Gordini

Gordini Type 16
1954
Scuderia Ferrari

Ferrari 553 Squalo
Ecurie Rosier

Ferrari 625
Scuderia Ferrari

Ferrari 625
1955
Scuderia Ferrari

Ferrari 555 Supersqualo

Ferrari 625
1956
Automobiles Bugatti

Bugatti T251
Vandervell Products Ltd

Vanwall VW (56)
1957
Scuderia Ferrari

Lancia Ferrari 801
1958
Owen Racing Organisation

BRM P25
RRC Walker Racing Team

Cooper T43

Cooper T45
Scuderia Centro Sud

Maserati 250F
1959
RRC Walker Racing Team

Cooper T51
1960
David Brown Corporation

Aston Martin DBR5/250
RRC Walker Racing Team

Cooper T51
Scuderia Centro Sud

Cooper T51
1961
Scuderia Serenissima

Cooper T43

Cooper T51
De Tomaso 001
1962
Rob Walker Racing Team

Lotus 24
1963
Scuderia Centro Sud

BRM P57
Reg Parnell Racing

Lola Mk4
Lola Mk4A

Lotus 24
1964
Maurice Trintignant

BRM P57
Maurice was the youngest of the five sons of a prosperous vineyard owner and followed three of his brothers into racing. Despite the death of Louis at Péronne in 1933, he could not resist the urge to try his hand at the sport five years later at the wheel of the Bugatti used by his unfortunate sibling. He took it to fifth place in the Pau GP, and won the 1939 GP des Frontieres at Chimay before the war caused the cessation of racing activities. When the first post-war motor race was held in the Bois de Boulogne, Trintignant was there with his trusty Bugatti. Unfortunately his car suffered fuel starvation which was later found to have been caused by rat droppings des petoules) left in the tank from its wartime lay-up. This was the cause of much merriment and Maurice was henceforth given the sobriquet le Petoulet', which he accepted in fine spirit.
He soon replaced the Bugatti with an Amilcar, winning at Avignon in 1947, and after half a season in the Gersac team's Delage joined the Simca Gordini team. The 1948 season started well with wins at Perpignan and Montlhéry, but he was seriously injured in the tragic Swiss GP at Bremgarten in which three drivers were killed. Maurice was more fortunate. He spun his car and was flung into the middle of the track and only split-second reactions by the approaching Farina, Bira and Manzon enabled them to miss his unconscious body, the three brave pilots eliminating themselves in avoidance. In hospital Maurice's life hung by a thread as he lay in a coma for eight days. At one stage he was pronounced dead, but his pulse returned and a slow recovery began. He was back in action at the beginning of 1949 for Simca, winning the Circuit des Ramparts at Angoulême. Showing no ill-effects from his accident, Trintignant remained with Gordini to the end of the 1953 season, taking the little pale-blue car to victories at Geneva in 1950, Albi and Cadours in 1951 and Cadours again in 1953, the year he was crowned racing champion of France. The Gordinis were, of course, notorious for their fragility, and in World Championship Grands Prix he could achieve no better than three fifth places.
After winning the Buenos Aires GP in Rosier's Ferrari, he joined the works team for the bulk of 1954, which brought an immediate improvement in results. Regularly placing in World Championship events, Trintignant won F1 races at Caen and Rouen and was second at Syracuse and Bari. He also shared the winning 4.9-litre Ferrari with González to win the Le Mans 24-hour race. In 1955 a steady drive at Monaco brought him his first-ever World Championship win, and in sports cars he won the Messina 10 Hours with Castellotti. He continued to race the Scuderia's sports cars successfully in 1956, winning the Agadir, Dakar and Swedish GPs. But in Formula 1 the picture was less happy, Trintignant having a dismal time in the Vanwall and the ambitious but ill-fated Bugatti. He drove less frequently in 1957, but won the F2 Coupe de Vitesse at Reims in Ferrari's Dino V6, and took third in the Moroccan GP in BRM's P25.
Maurice was back at the forefront again in 1958 when, with Rob Walker's little Cooper, he won the Monaco GP once more and also took victories at Pau and Clermont Ferrand. He was to enjoy his two-year association with the Walker equipe and, despite being 'number two' to Moss, provided them with some excellent Grand Prix results in 1959, as well as another victory at Pau. After finishing second at Le Mans in the Aston Martin that year, Maurice found his outings with David Brown's Formula 1 team in 1960 restricted by the project's myriad problems and he was forced to find rides with Centro Sud. He also ran his own Cooper in Formula 2 that season, plenty of solid placings bringing excellent remuneration. He was also awarded the Legion d'honneur for his services to French motor racing, but he had no intention of resting on his laurels. After a thin time in 1961, he was back with Rob Walker in 1962 following the Goodwood accident which was to end the career of Stirling Moss. Though now past his best, Trintignant could still teach Jim Clark a thing or two, as he showed when he took a third win at Pau.
Maurice raced very little in 1963 and retirement seemed imminent, but he purchased a BRM V8 for 1964 and drove exceedingly well in the German GP to be classified fifth, thus taking two championship points at the age of 47. Although this was his final season in Grands Prix, his farewell came at Le Mans in 1965, ending a remarkable career during which - his Bremgarten crash apart - he had perhaps been one of the safest drivers around. Rarely involved in accidents, his mechanical sympathy ensured a great many finishes, which was much appreciated by team managers.
In his final race 'Le Petoulet' drove a Ford GT, which was quite a long way down the chain of motor racing evolution from a Type 35 GP Bugatti, and the cause of his retirement from the 24 Hours certainly wasn't rat droppings!
(c) 'Who is Who' by Steve Small, 2000