Франция

Патрик Тамбэ

Tambay, Patrick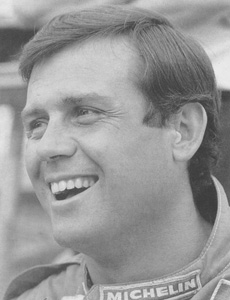 (c) 'Who is Who' by Steve Small, 2000
Сезонов в Ф1:

Лет в Ф1:

10

Гран При:

Старты:

113*

*не стартовал:

11

Победы:

- подряд:

Подиумы:

- подряд:

2

Поул-позиции:

- подряд:

2

Первый ряд:

- подряд:

5

Быстрые круги:

- подряд:

Лучший финиш:

Лучший старт:

1

Дубли:

Хет-трики:

Лидирование старт/финиш:

Большие шлемы:

Круги:

- лидирования:

193

Километры:

- лидирования:
Год

Команда

Шасси
1977
Theodore Racing Hong Kong

Ensign N177
Team Surtees

Surtees TS19
1978
Löwenbräu Team McLaren

McLaren M26
Marlboro Team McLaren

McLaren M26
1979
Marlboro Team McLaren

McLaren M26
Löwenbräu Team McLaren

McLaren M28
Marlboro Team McLaren

McLaren M28

McLaren M29
1981
Equipe Talbot Gitanes

Talbot-Ligier JS17
Theodore Racing Team

Theodore TY01 (Shadow DN12)
1982
Scuderia Ferrari SpA SEFAC

Ferrari 126C2
1983
Scuderia Ferrari SpA SEFAC

Ferrari 126C2B

Ferrari 126C3
1984
Equipe Renault Elf

Renault RE50
1985
Equipe Renault Elf

Renault RE60

Renault RE60B
1986
Team Haas (USA) Ltd

Lola THL1

Lola THL2
Easy-going and impeccably mannered, the general consensus is that Patrick was just too nice a guy to succeed in the cut-throat world of Grand Prix racing. Certainly the cosmopolitan Frenchman had a lot of talent, but maybe he lacked the single-minded determination which is a crucial part of any true champion's armoury.
Patrick's career got off to the brightest of starts when he won the Pilote Elf scheme, which was the passport to Formule Renault in 1973. Finishing runner-up in the series, he leap-frogged straight into the European F2 championship with the Elf team for 1974 and won a round at Nogaro to cap a consistent first season at this level. A seat in the Elf-backed works March team the following year should have brought Tambay more success than a singleton victory. Although he scored four second places to take the runner-up position in the series, Worryingly he was involved in a series of silly accidents. Competing in the series with Elf backing for a third year in 1976 but this time running a Martini chassis, he once again scored just a single victory - remarkably, like his two previous wins, it came at Nogaro - but finishing third in the championship was regarded as a failure by the French oil company, who dropped him in favour of Didier Pironi.
Tambay's career was in limbo at the start of 1977 until he was offered the Carl Haas/Jim Hall Can-Am car in place of the badly injured Brian Redman. Though the opposition was in the main modest, he made the most of the opportunity and won six of the seven rounds in which he competed to take the championship easily. His luck had turned for the better for, after a fiasco at Dijon where he was dumped into a Surtees at short notice in a desperate attempt to get him into the race, he finally made his Grand Prix debut in Teddy Yip's Ensign at Silverstone. Given the previous poor reliability record of the N177, the inexperienced Tambay did well to score points in three races, and even a massive practice crash at Monza failed to dent the Frenchman's new-found confidence.
Joining the McLaren team in 1978 should have seen Patrick make the big breakthrough, but unfortunately their star was temporarily on the wane, and although he took five points-scoring finishes that year his second season was something of a disaster. Failing to qualify at both Zolder and Monaco was the nadir of a year in which McLaren plumbed the depths. So in 1980 he was back across 'the pond', making hay in Can-Am once more and taking a second title in the Carl Haas Lola T530.
Teddy Yip still had faith in the Frenchman and signed him for his Theodore F1 outfit for 1981. A sixth place in the US GP first time out was way beyond the little team's expectations, but Patrick performed so well in the car subsequently that he was an obvious candidate to replace Jean-Pierre Jabouille when he decided to retire from Ligier in mid-season. However, Tambay's short stay with the French team was a desperately unhappy one, ending in a string of accidents which could have beached his Grand Prix career for good.
In motor racing one man's misfortune is another's opportunity, however, and in the saddest of circumstances Patrick was brought into the Ferrari line-up in place of the late Gilles Villeneuve. He soon found his feet and after yet another dreadful setback for the team at Hockenheim, when Pironi was injured so terribly in practice, he rose to the occasion magnificently by winning the race. For the rest of the season he carried the weight of the team manfully despite a painful back problem which caused him to miss two races. Tambay was joined by Rene Arnoux for 1983, and the two Frenchmen had the equipment to launch a championship assault. Although Arnoux came closer in terms of results, Patrick's all-round performances were the more convincing, and it was a major surprise when he was the one released at the end of the year to make way for Alboreto.
Moving to Renault for the 1984 season, Tambay failed to find any sort of continuity as minor problems constantly undermined his efforts. This led to an inconsistency which was scarcely helped by the introduction of the disappointing RE60 in 1985. Patrick made a solid start but the car could never be persuaded to offer a truly satisfactory level of performance on a regular basis, which must have driven both Tambay and Warwick to distraction as they gave their all. At the end of the year the Renault factory team closed their doors to lick their wounds, leaving Tambay seeking employment once more. He found it with the Haas Lola team, who were embarking on a full season with the Ford turbo engine. As an exercise in wasting money, this was as good as any, and both Tambay and Alan Jones were forced to spend the season in midfield mediocrity before the team folded.
Subsequently Patrick joined the TWR Jaguar team for the 1989 season, gaining some good placings with Jan Lammers. He has since worked in Grand Prix racing once more, both as a TV commentator and, briefly during 1994, in a PR role with the now defunct Larrousse team.
(c) 'Who is Who' by Steve Small, 2000