Франция

Ален Прост

Prost, Alain

Prost, Alain Marie Pascal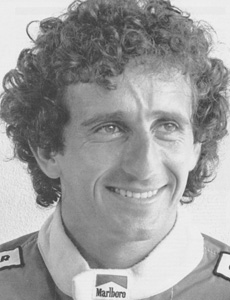 (c) 'Who is Who' by Steve Small, 2000
| | | |
| --- | --- | --- |
| Родился: | 24.02.1955 | Лоретт, Сен-Шамон, Сент-Этьен |
Сезонов в Ф1:

Лет в Ф1:

14

Гран При:

Старты:

198*

*не стартовал:

4

Победы:

- подряд:

4

Подиумы:

- подряд:

7

Поул-позиции:

- подряд:

7

Первый ряд:

- подряд:

16

Быстрые круги:

- подряд:

2

Лучший финиш:

Лучший старт:

1

Дубли:

Хет-трики:

8

Лидирование старт/финиш:

Большие шлемы:

Круги:

- лидирования:

2683

Километры:

- лидирования:
Год

Команда

Шасси
1980
Marlboro Team McLaren

McLaren M29B

McLaren M29C

McLaren M30
1981
Equipe Renault Elf

Renault RE20B

Renault RE30
1982
Equipe Renault Elf

Renault RE30B
1983
Equipe Renault Elf

Renault RE30C

Renault RE40
1984
Marlboro McLaren International

McLaren MP4-2
1985
Marlboro McLaren International

McLaren MP4-2B
1986
Marlboro McLaren International

McLaren MP4-2C
1987
Marlboro McLaren International

McLaren MP4-3
1988
Honda Marlboro McLaren

McLaren MP4-4
1989
Honda Marlboro McLaren

McLaren MP4-5
1990
Scuderia Ferrari SpA

Ferrari F1-90 (641)
1991
Scuderia Ferrari SpA

Ferrari F1-91 (642)

Ferrari F1-91B (643)
1993
Canon Williams Team

Williams FW15C
When Alain Prost retired at the end of 1993, his record stood at four World Championships, a total of 51 Grand Prix wins and nearly 800 points from 199 starts. Simple mathematics tell the story: an average of four points from every Grand Prix. Yet despite these staggering statistics, there are plenty of fans who wouldn't give the Frenchman the time of day. Perhaps only Stewart can divide opinion so sharply, and the issues were much clearer in his case, being centred on safety. But as the years roll by, Alain will rightly be lauded as one of the sport's absolute greats. Certainly a decade or two hence there will be few, if any, followers of motor racing who will be able to understand the current dismissive attitude of an ill-informed minority towards his wonderful achievements.
Prost's car racing career had been set on a stellar path from the start. After racing karts in the company of Cheever and Patrese he turned to cars in 1975, enrolling at the Winfield school. He won the traditional Pilote Elf prize of a car for the following season's Formule Renault series and certainly put it to good use, winning 12 of 15 races. Promotion to Formule Super Renault duly followed, and eight wins later that trophy went on the Prost mantelpiece as well. He moved into Formula 3 in 1978, but the Martini MK21B-Renault was not truly competitive until a close-season revamp saw the car emerge as the MK27. Alain proved virtually unbeatable with it, taking the European and French titles and the all-important Monaco F3 race. He was ready for Formula 1, and McLaren were the first takers.
In 1980 the team were not in great shape and on the point of total transition, but Prost was unfazed and scored points in his first two Grands Prix. Even in that first season the traits that later served him so well were there: the smooth driving style, the willingness to speak his mind honestly and a genuine concern about the sport and its image. The chance to join Renault for 1981 was too good to turn down and Prost moved in to completely flummox partner Arnoux. Alain scored three wins that year and two more were added in 1982, but there could have been many others if the Renault had not let him down so often. It was largely thanks to Prost that the RE30B had reached such a competitive position, and he was just as formidable a force in 1983 with its successor. Apart from an error at Zandvoort he hardly put a foot wrong, yet still the championship slipped through his fingers at the very last. Renault and the French press pointed the finger of blame at a bemused Prost, who took the only course of action possible and high-tailed it to McLaren, who knew better than to look a gift horse in the mouth. While the Renault F1 effort slid into oblivion over the next two seasons, Alain was busy winning the small matter of 12 Grands Prix. In 1984 he lost out to Niki Lauda by just half a point, but finally cracked it to become the first French World Champion in 1985.
With Williams-Honda dominant in 1986, few gave Alain any hope of retaining his crown, but he hung in, picking up every point possible and coaxing four wins from the McLaren-TAG to steal the title in Adelaide. The following year even Prost's powers were unable to halt the Williams steamroller, but he did overtake Jackie Stewart's long-standing total of Grand Prix wins in Portugal. Then in 1988 Prost too had Honda power, but with the Japanese V6 came Ayrton Senna. That first season saw a McLaren carve-up, with the pair winning all but one of the 16 races. Senna had the edge and Prost, at times nonplussed, had to settle for second-best for once. It was a different story in 1989; Alain raised his game and the battle was on, especially after a steady deterioration in the drivers' relationship. The title was settled in the Frenchman's favour when he subtly chopped the Brazilian at Suzuka. It was truly an awful way to decide a championship, and yet history repeated itself in 1990, except that Alain was now on the receiving end as Senna drove into the back of his Ferrari at the start. This wiped out a season's truly brilliant endeavour by Prost, who had moved into his new environment and immediately given the Italian team a real sense of purpose. Unfortunately this was not to be maintained in 1991, when Maranello politics and intrigue reached new heights, with Prost locked in bitter off-track arguments. When it finally arrived, the new 643 was disappointing and by the season's end the Frenchman had been fired for his outspoken views.
Disillusioned, he took a year's sabbatical from the cockpit, despite massive pressure to join Ligier. This move left him plenty of time to weigh up his options and by mid-1992 he had tied up a deal to race for Williams in 1993, expecting to partner Nigel Mansell. Of course it is now history that Nigel chose to vacate his seat, leaving Prost in a very strong position to take his fourth World Championship. In a no-win situation, Alain got the job done in his usual undramatic style, his season yielding thirteen pole positions and another seven wins. With the prospect of Ayrton Senna joining the team in 1994, Prost concluded that he just didn't need the aggravation, and announced that he was going to retire at the end of the season.
There were tempting opportunities to reconsider. He tested a McLaren-Peugeot early in 1994, but eventually confirmed his decision to retire. In the aftermath of Senna's death he declared that he would not race again but in 1995 he tested for McLaren once more, subsequently joining the team in a test and advisory capacity. With a new era already dawning in Formula 1, Alain then took on a huge new challenge with his purchase of the Ligier team, which was renamed Prost Grand Prix prior to the start of the 1997 season. Alain immediately set about a major overhaul of the underperforming French constructor, moving its base from Magny Cours to the outskirts of Paris.
Like Jackie Stewart, he is an exacting taskmaster, expecting, perhaps unrealistically, his drivers to match his own standards, and three seasons as a team owner have already taught Prost that any success will have to be earned the hard way.
(c) 'Who is Who' by Steve Small, 2000