Италия

Рикардо Патрезе

Patrese, Riccardo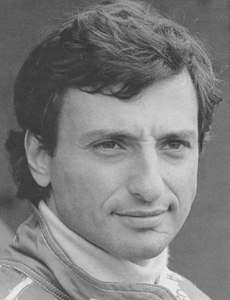 (c) 'Who is Who' by Steve Small, 2000
Сезонов в Ф1:

Лет в Ф1:

17

Гран При:

Старты:

255*

*не стартовал:

7

Победы:

- подряд:

Подиумы:

- подряд:

4

Поул-позиции:

- подряд:

3

Первый ряд:

- подряд:

7

Быстрые круги:

- подряд:

3

Лучший финиш:

Лучший старт:

1

Дубли:

Хет-трики:

Лидирование старт/финиш:

Большие шлемы:

Круги:

- лидирования:

568

Километры:

- лидирования:
Год

Команда

Шасси
1977
Shadow Racing Team

Shadow DN8
1978
Arrows Racing Team

Arrows A1

Arrows FA1
1979
Warsteiner Arrows Racing Team

Arrows A1B

Arrows A2
1980
Warsteiner Arrows Racing Team

Arrows A3
1981
Ragno Arrows Beta Racing Team

Arrows A3
1982
Parmalat Racing Team

Brabham BT49C

Brabham BT49D

Brabham BT50
1983
Fila Sport

Brabham BT52

Brabham BT52B
1984
Benetton Team Alfa Romeo

Alfa Romeo 184T
1985
Benetton Team Alfa Romeo

Alfa Romeo 184T

Alfa Romeo 185T
1986
Motor Racing Developments

Brabham BT54

Brabham BT55
1987
Motor Racing Developments

Brabham BT56
Canon Williams Honda Team

Williams FW11B
1988
Canon Williams Team

Williams FW12
1989
Canon Williams Team

Williams FW12C

Williams FW13
1990
Canon Williams Renault

Williams FW13B
1991
Canon Williams Team

Williams FW14
1992
Canon Williams Team

Williams FW14B
1993
Camel Benetton Ford

Benetton B193A

Benetton B193B
At the end of the 1995 season, the curtain finally fell on the Formula 1 career of Riccardo Patrese, during which he had competed in a staggering total of 256 World Championship Grands Prix. During the 17 seasons that he had spent racing at the highest level, he had matured from a wild and cocksure enfant terrible into a contented and charming elder statesman, happy still to be part of the scene which had changed so much during his marathon innings.
A former karting whizz-kid who took the world title in 1974, Patrese moved into cars the following season in Formula Italia. He finished runner-up to Bruno Giacomelli and then embarked on a full season of Formula 3 in 1976. The ensuing fierce battle with Conny Andersson for the European championship went all the way to a bitter final round before the title fell to the Italian. Riccardo then enjoyed a successful year in Formula 2 with a Chevron but before long he had been propelled into the Shadow team to replace Zorzi. While his off-track demeanour ruffled a few feathers, there was certainly no doubting his talent behind the wheel. Patrese was part of the new breakaway Arrows team at the start of 1978 and he was sensationally quick, leading comfortably in South Africa until an engine failure robbed him of a deserved victory. Unfortunately his driving still had some rough edges, and in the emotional aftermath of Peterson's accident at Monza Riccardo was targeted for blame. The treatment he received would have broken a lesser man, but he simply got on with the job, although in retrospect staying loyal to Arrows could have been his biggest mistake. From 1979 through to 1981 he struggled to find sustained success with cars which showed occasional promise that remained unfulfilled, and secretly he must have regretted turning down the tempting opportunities he was offered in 1978.
A move to Brabham found him in a truly competitive environment, but a lucky win at Monaco was the highlight of an inconclusive year, disfigured by a rash of mistakes. It was a similar story in 1983, Riccardo tossing away victory at Imola early in the season yet signing off from the Brabham team with a perfect display at Kyalami to show what might have been. He certainly had time to ponder his wasted chances over the next few years as he became caught in a depressing downward spiral, struggling with the Benetton-sponsored Alfa for two seasons before returning to a Brabham team that was beginning its terminal decline. At least he had been able to savour the taste of success in his role as a works driver for Lancia Martini with wins at Silverstone and the Nürburgring in 1982, Kyalami in 1984 and Spa a year later.
When he was picked for the second Williams drive, most observers felt Patrese was extremely lucky to have been given such an opportunity, and he certainly failed to pull up any trees with the Judd-engined car in 1988. However, the following season, with Mansell off to Ferrari and Renault power at his disposal, a rejuvenated Riccardo appeared. Relaxed and confident, he forged an excellent working relationship with Patrick Head and was largely responsible for the development work which was to bring the Didcot team back to the top of the pile. Certainly he was unlucky not to win at least two races that year, but he put that to rights in 1990 with an emotional win at Imola, helping to erase his painful memories of 1983. Even the return of Mansell in 1991 - which Patrese took with great equanimity - failed to blunt his spirit, and he gave as good as he got, particularly in the first half of the season. Victories in Mexico and Portugal set the seal on what was probably his best-ever year. Statistically the following season, when he was runner-up to Mansell in the World Championship, was more successful, but his performances were less convincing, and he was very fortunate to escape unharmed after a horrifying coming-together with Berger at Estoril, but showed his steel by bouncing back with a win at Suzuka.
Accepting a lucrative contract with Benetton for 1993, Riccardo found it difficult to rediscover his recent sparkling form. A depressing early-season run was arrested by midsummer, but by then the Benetton management had already decided to dispense with the services of Grand Prix racing's most experienced campaigner.
Riccardo subsequently took a well-paid drive in German Super Touring with Ford, but the Mondeo was never more than a midfield runner. Apart from a one-off return to Le Mans with Nissan in 1997, Patrese has since eased himself into comfortable and well-deserved retirement.
(c) 'Who is Who' by Steve Small, 2000