Швеция

Ронни Петерсон

Peterson, Ronnie

Peterson, Bengt Ronnie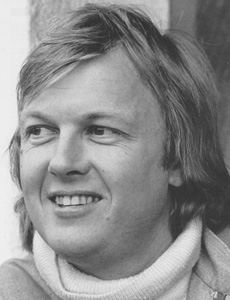 (c) 'Who is Who' by Steve Small, 2000
| | | |
| --- | --- | --- |
| Родился: | 14.02.1944 | Эребру |
| Умер: | 11.09.1978 | Милан, Италия |
Сезонов в Ф1:

Лет в Ф1:

9

Гран При:

Старты:

122*

*не стартовал:

11

Победы:

- подряд:

2

Подиумы:

- подряд:

4

Поул-позиции:

- подряд:

4

Первый ряд:

- подряд:

8

Быстрые круги:

- подряд:

2

Лучший финиш:

Лучший старт:

1

Дубли:

Хет-трики:

1

Лидирование старт/финиш:

Большие шлемы:

Круги:

- лидирования:

707

Километры:

- лидирования:
Год

Команда

Шасси
1970
Antique Automobiles Racing Team

March 701
Colin Crabbe Racing

March 701
1971
STP March Racing Team

March 711
1972
STP March Racing Team

March 721

March 721G

March 721X
1973
John Player Team Lotus

Lotus 72D

Lotus 72E
1974
John Player Team Lotus

Lotus 72E

Lotus 76
1975
John Player Team Lotus

Lotus 72E
1976
John Player Team Lotus

Lotus 77
March Engineering

March 761
Theodore Racing

March 761
1977
Elf Team Tyrrell

Tyrrell P34
1978
John Player Team Lotus

Lotus 78

Lotus 79
Everybody loved Ronnie. Whatever your allegiances, the big blond Swede was the entertainer of the early seventies, thrilling everyone with his astonishing car control. Just watching him drift a Lotus 72 through the old Woodcote Corner was worth the price of admission alone. With all that natural talent, he should surely have been a World Champion, but sadly luck decreed otherwise.
Ronnie was Swedish karting champion between 1963 and 1966 and then switched to Formula 3, at first in a home-brewed special before acquiring a Tecno for 1968. This proved to be a wise move as he took his national championship, and gained a place in the works F3 team for the following year. At this time his big rival was compatriot Reine Wisell, and he and Ronnie were to have many duels in the 1-litre F3 formula. Peterson won the prestigious Monaco race during a successful 1969 season which brought the offer of a three-year contract with March from 1970. He gained some valuable experience in his first year with the Colin Crabbe-entered F1 car and ran a full season of Formula 2 guided by Malcolm Guthrie.
Promoted to the full works teams the following season, he quickly established himself as one of the world's leading talents, scoring four second places in Grands Prix to finish as runner-up in the World Championship, while in Formula 2 he displayed Rindt-like qualities to take the European championship with five wins. Locked into the final year of his March deal, Peterson was lumbered with the hopeless 721X in 1972 and things improved only marginally when the hastily cobbled-together 721G was pressed into service. His racing in F2 was limited by a successful sports car programme for Ferrari; teamed with Schenken, he won at Buenos Aires and the Nürburgring and took four second places.
Ronnie joined Lotus for 1973 but his slow start to the season eventually counted against him when a late burst of four wins took him into third place in the championship. So dominant was his form that team-mate Emerson Fittipaldi opted for McLaren for 1974, allowing Jacky Ickx to partner Peterson. The season was desperately disappointing because of the difficulties experienced with the new Lotus 76, but the compensation for the Swede's army of admirers was the opportunity to savour his sublime driving talent a little longer at the wheel of the now aged Lotus 72E. Wins at Monaco, Dijon and Monza were the stuff of true genius. Peterson was forced to soldier on in the old faithful during 1975 while a new car was prepared, and he could no longer compensate for its deficiencies. Unfortunately, when the Type 77 was introduced at the opening race of 1976 it appeared to be another lemon, and then Ronnie contrived to collide with new team-mate Mario Andretti. This was the final straw for Peterson, who engineered a move back to March for the rest of the season. In the underfinanced little team's car he managed to score a brilliant win at Monza, before being tempted to Tyrrell for 1977. However, the six-wheeler was just not suited to Ronnie's style, and he was regularly outpaced by team-mate Depailler. By the end of the year his reputation had been seriously dented, but salvation was nigh. Colin Chapman took him back, albeit strictly as number two to Andretti, to race the superb Lotus 79.
Keeping his word, Peterson was content to play the support role in the team. Mario headed for his deserved championship win and Ronnie picked up the crumbs, in the shape of wins in South Africa and Austria. However, tragedy lay around the corner. At Monza he became embroiled in a first-lap multiple crash, which left him suffering from severe leg injuries. Worse was to come, for once in hospital complications set in. He slipped into a coma and within hours he was gone. The sense of disbelief was matched only by the grief felt throughout motor racing. For Lotus, what should have been a time of great joy became instead a period of hollow celebration.
(c) 'Who is Who' by Steve Small, 2000