Финляндия

Мика Хаккинен

Häkkinen, Mika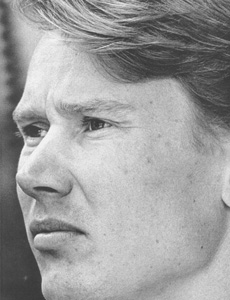 (c) 'Who is Who' by Steve Small, 2000
| | | |
| --- | --- | --- |
| Родился: | 28.09.1968 | Хельсинки |
Сезонов в Ф1:

Лет в Ф1:

11

Гран При:

Старты:

161*

*не стартовал:

6

Победы:

- подряд:

3

Подиумы:

- подряд:

6

Поул-позиции:

- подряд:

6

Первый ряд:

- подряд:

7

Быстрые круги:

- подряд:

3

Лучший финиш:

Лучший старт:

1

Дубли:

Хет-трики:

5

Лидирование старт/финиш:

Большие шлемы:

2

Круги:

- лидирования:

1488

Километры:

- лидирования:
Год

Команда

Шасси
1991
Team Lotus

Lotus 102B
1992
Team Lotus

Lotus 102B

Lotus 102D

Lotus 107
1993
Marlboro McLaren

McLaren MP4-8
1994
Marlboro McLaren Peugeot

McLaren MP4-9
1995
Marlboro McLaren Mercedes

McLaren MP4-10

McLaren MP4-10B

McLaren MP4-10C
1996
Marlboro McLaren Mercedes

McLaren MP4-11
1997
West McLaren Mercedes

McLaren MP4-12
1998
West McLaren Mercedes

McLaren MP4-13
1999
West McLaren Mercedes

McLaren MP4-14
2000
West McLaren Mercedes

McLaren MP4-15
2001
West McLaren Mercedes

McLaren MP4-16
Mika has always seemed bound for great things. With the benefit of long-term sponsorship and the guiding hand of Keke Rosberg, he negotiated the slippery slope to the top in very short order and still showed the patience to bide his time when necessary. After sustaining very serious head injuries in practice for the Australian GP at the end of 1995, Häkkinen came back with his appetite undiminished and eventually fulfilled his early promise by taking successive World Championships with McLaren-Mercedes in 1998 and 1999.
A multiple karting champion in his native Finland, winner of three FF1600 titles in 1987, and GM Lotus Euroseries champion in 1988, Häkkinen had a pretty impressive CV to take into the 1989 Formula 3 season. Initially things went wrong. Having opted to stay with the Dragon team that had served him so well in 1988, he found himself way off the pace, but he persevered and when he switched to the WSR squad for the prestigious Cellnet F3 race at the end of the season he promptly won it.
A deal was then concluded for 1990 and Mika never looked back, winning a total of 12 races at home and abroad. He took the British F3 championship, and before the year was out had a Formula 1 seat with Lotus. In his first season in Grand Prix racing, the confident young Finn impressed everyone with his car control in a chassis that was never a match for the best scoring points in only his third race. The following season, with a much better car, the team on the up and Ford HB engines, Mika firmly established himself in the top echelon, extracting the very maximum from the sleek Lotus 107.
Now came an unexpected chance that Häkkinen wisely grabbed. With Senna prevaricating over his contract at McLaren, Ron Dennis lost little time in signing Mika as cover in case the Brazilian should carry out his threat not to race. In the end Senna
contested the full season, and Mika was left sitting on the sidelines, waiting patiently for his opportunity, which finally came when Michael Andretti headed back home. In his first race, in Portugal, Mika out-qualified his master, and lay third until he ran wide and into the barrier. In his next race, in Japan, he was more circumspect, settling for a career-best third place in wildly fluctuating weather and track conditions.
For 1994, Häkkinen assumed the McLaren team leadership in the wake of Senna's departure for Williams. However, the optimism engendered by a new liaison with Peugeot soon evaporated and his year was spent in frustration which sometimes turned into desperation, such was his desire to succeed. Ill-advised first-corner moves at Monaco and Hockenheim saw him eliminated, the latter indiscretion earning him a one-race ban. A much-heralded partnership with Mercedes Benz for 1995 brought promise of a new dawn for McLaren's sagging fortunes, but once more the team were never really on the pace, although Mika drove superbly in a handful of races, taking second places at Monza and Suzuka. His performance in Japan was all the more admirable since he had undergone an appendectomy only ten days earlier, missing the previous weekend's Pacific GP.
Less than a fortnight after that sparkling performance came disaster in Adelaide: Mika was very close to losing his life and only prompt action saved him. The fun-loving Finn made a miraculously swift return, and after a shaky start soon proved he had lost none of the blinding speed he had always shown in the past. Indeed the 1996 season was the one in which Mika established himself as a bona fide number one driver; all that was missing was the breakthrough Grand Prix victory that the driver and team had been working so hard to achieve over the past three years.
That win came in the opening race of the 1997 season at Melbourne, but unfortunately for the Finn it was David Coulthard's name that went into the record books. Undeterred, Mika continued to knock on the door, shrugging aside the heartbreak of a late, late retirement when leading the British Grand Prix to bounce back with more determination than ever. He had to wait until the season's finale at Jerez before taking the top step of the podium, and in the event the victory was somewhat hollow in that both Jacques Villeneuve and David Coulthard allowed Häkkinen through to the chequered flag.
By 1998, however, his time had come. After Coulthard had stood by a pre-race agreement to allow the Finn to take first place in the Australian Grand Prix, Mika then scorched away from his team-mate to begin a thrilling championship battle with Michael Schumacher. Wins in Brazil, Spain, Monaco, Austria and Germany were topped by perhaps his greatest triumph, at the Luxembourg Grand Prix, when he pulled out a top-drawer performance to defeat his Ferrari rival. His championship clincher in Japan was to be a much easier win after Schumacher had stalled his car at the start.
Back-to-back titles are notoriously hard to achieve and being the hot favourite for a repeat championship seemed to take its toll on both McLaren and Häkkinen. Brilliant performances were interspersed with inexplicable lapses by both driver and team, who, it seemed, were going to lose the championship despite Schumacher's enforced absence after his Silverstone shunt.
In the end, Mika's fluctuating title battle with Eddie Irvine and Ferrari was won with a truly dominant performance in Japan. And, while there was some sympathy for the underdog Irishman who had run the Finn so close, the general consensus was that the right man had claimed the World Championship crown.
(c) 'Who is Who' by Steve Small, 2000