Великобритания

Майк Хоторн

Hawthorn, Mike

Hawthorn, John Michael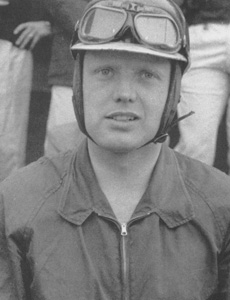 (c) 'Who is Who' by Steve Small, 2000
| | | |
| --- | --- | --- |
| Родился: | 10.04.1929 | Мексборо, Йоркшир |
| Умер: | 22.01.1959 | Гуилфорд, Суррей |
Сезонов в Ф1:

Лет в Ф1:

7

Гран При:

Старты:

45*

*не стартовал:

4

Победы:

- подряд:

Подиумы:

- подряд:

3

Поул-позиции:

- подряд:

2

Первый ряд:

- подряд:

7

Быстрые круги:

- подряд:

3

Лучший финиш:

Лучший старт:

1

Дубли:

Хет-трики:

1

Лидирование старт/финиш:

Большие шлемы:

1

Круги:

- лидирования:

225

Километры:

- лидирования:
Год

Команда

Шасси
1952
A H M Bryde

Cooper T20
LD Hawthorn

Cooper T20
1953
Scuderia Ferrari

Ferrari 500
1954
Scuderia Ferrari

Ferrari 553 Squalo

Ferrari 625
1955
Scuderia Ferrari

Ferrari 555 Supersqualo

Ferrari 625

Lancia Ferrari D50
Vandervell Products Ltd

Vanwall VW (55)
1956
Owen Racing Organisation

BRM P25
Officine Alfieri Maserati

Maserati 250F
Owen Racing Organisation

Maserati 250F
Vandervell Products Ltd

Vanwall VW (56)
1957
Scuderia Ferrari

Lancia Ferrari 801
1958
Scuderia Ferrari

Ferrari Dino 246
Blond and debonair, Hawthorn was in the vanguard of the new wave of English talent which came to the fore in Grand Prix racing in the early fifties, and to him fell the signal honour of becoming Great Britain's first-ever World Champion driver.
His rise was meteoric, Mike winning a championship Grand Prix barely two years after his circuit racing debut in a Riley in 1951. During that first full season he won the Leinster Trophy and the Ulster Handicap as well as the Brooklands Memorial Trophy for his consistent successes throughout the year at Goodwood, and for 1952 he took delivery of one of the new Cooper-Bristols, which had been purchased for him by a family friend, Bob Chase. The team would be run by his father Leslie. The season started well with F2 and Libre wins at the Goodwood Easter meeting before he headed for the Continent and fourth place on his Grand Prix debut at Spa. Certainly the car was quite useful, but Mike coaxed far, far more from it than anyone else with his uninhibited driving.
A minor meeting at Boreham saw a fantastic display of his ability. In pouring rain he left the great Villoresi floundering in his 4.5-litre Ferrari until the track dried and the little Cooper was overhauled. The Italian went back to Italy to report to Ferrari that he had unearthed a new British star. Arriving at Modena for the late-season Grand Prix, Mike was invited to drive for the Scuderia in 1953, and had plenty of time to consider the offer as he crashed the Cooper in practice and found himself hospitalised. He duly joined Ferrari's star-studded line-up and wisely took things easy to begin with, watching and learning from his more experienced team-mates.
It was to be a magnificent first season for the Englishman abroad, and he finished every championship Grand Prix bar one in the points, the highlight being a glorious victory, over Fangio no less, in the French GP at Reims after a wheel-to-wheel battle to the flag. Beyond the World Championship, Hawthorn won the International Trophy and the Ulster Trophy at Dundrod, while in sports cars he took the Spa 24 Hours with Farina, his achievements earning him a BRDC Gold Star. The 1954 season began badly when he crashed at Syracuse and received serious burns to his arms and legs, and there was then a furore over his exemption from National Service due to a kidney ailment followed by the death of his father in a road accident. Mike decided that it would be impossible to run the family garage business if he stayed at Maranello so, after signing off with a win at Pedralbes, he looked forward to racing for Vanwall in 1955, but the new car needed development and Mike was seriously unimpressed with the disarray of Vandervell's organisation. Even in victory he was followed by controversy, for when he won the Le Mans 24 Hours for Jaguar with Ivor Bueb he found the finger of blame pointed towards him as the unwitting instigator of the tragedy which killed more than eighty people. Some semblance of order was restored with an end-of-season return to Ferrari by way of the Lancia team which they had just taken over, and a splendid drive for Jaguar in the Tourist Trophy.
His desire to honour his contract with the sports car team for 1956 meant Mike had to join BRM for Formula 1, and the cars' unreliability restricted him to just a handful of outings. Hawthorn decided that for success he must drive for an Italian team, and he was welcomed back to Ferrari to drive alongside his great mate Peter Collins. The atmosphere, so strained in 1956, was completely changed with Mike's return and soon he was back to his consistent best. The magnificent Fangio bestrode the 1957 season in his Maserati, but when the Argentinian retired early in 1958 the title was there to be taken. Ironically the threat to Ferrari came from Vanwall, who had been so shambolic during Mike's brief tenure as a driver. He paced himself brilliantly, taking risks when necessary but making sure that he finished at all costs. The death of Collins in the German GP hit him very hard and, with Musso and Lewis-Evans also having lost their lives that year, Hawthorn, newly crowned as World Champion, announced his retirement.
Mike was planning both marriage and an expansion of his garage business when, on a rainy January morning in 1959, he lost control of his potent Jaguar near Guildford and was killed instantly when it wrapped itself around a tree.
(c) 'Who is Who' by Steve Small, 2000