Великобритания

Джеймс Хант

Hunt, James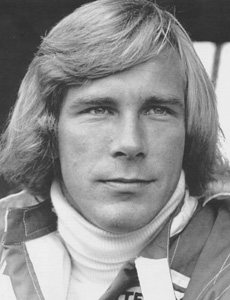 (c) 'Who is Who' by Steve Small, 2000
| | | |
| --- | --- | --- |
| Родился: | 29.08.1947 | Белмонт, Саттон, Суррей |
| Умер: | 15.06.1993 | Уимблдон, Лондон |
Сезонов в Ф1:

Лет в Ф1:

7

Гран При:

Старты:

92*

*не стартовал:

6

Победы:

- подряд:

2

Подиумы:

- подряд:

3

Поул-позиции:

- подряд:

3

Первый ряд:

- подряд:

6

Быстрые круги:

- подряд:

2

Лучший финиш:

Лучший старт:

1

Дубли:

Хет-трики:

2

Лидирование старт/финиш:

Большие шлемы:

Круги:

- лидирования:

634

Километры:

- лидирования:
Год

Команда

Шасси
1973
Hesketh Racing

March 731
1974
Hesketh Racing

Hesketh 308
March 731G
1975
Hesketh Racing

Hesketh 308B

Hesketh 308C
1976
Marlboro Team McLaren

McLaren M23B
1977
Marlboro Team McLaren

McLaren M23B

McLaren M26
1978
Löwenbräu Team McLaren

McLaren M26
Marlboro Team McLaren

McLaren M26
McLaren M26E
1979
Olympus Cameras Wolf Racing

Wolf WR7

Wolf WR8
Some drivers are cut out for the big stage, and undoubtedly James Hunt was a prime example. Here was a man who, having been quick but not at all convincing in his early career, took to Grand Prix racing like the proverbial 'duck to water', confounding his critics who had given him the unkind but not entirely inappropriate nickname of 'Hunt the Shunt'.
Though the son of a Surrey stockbroker, James had to finance his early racing career largely from his own pocket, stacking the shelves in his local Sainsbury's in order to race his Mini before moving into Formula Ford in 1968 with an Alexis and then a Merlyn Mk11Ain 1969. Midway through the season James moved up to F5 with a Brabham BT21B, but found the competition hot gaining success only in Libre events at Brands Hatch.
It was during the 1970 season, when he was equipped with a Lotus 59, that people began to sit up and take notice, and not only because of his wins at Rouen and Zolder, for late in the season he was involved in a last-corner collision with Dave Morgan which saw the irate James exact pugilistic retribution on the spot. His penchant for attracting controversy followed him into the 1971 season, which was littered with accidents and mechanical gremlins, but once again he proved beyond doubt that when trouble stayed away he was a serious contender. March certainly thought so as they signed him for their STP-backed works car in 1972, but the team fell apart and as luck would have it James joined forces with Lord Hesketh's Dastle F3 team. Almost immediately Hesketh took the plunge into Formula 2 and Hunt placed the team's car on the front row at the Salzburgring in his first race. After a really good drive he was forced to pull out with engine trouble, but crucially James had proved to himself that he was good enough. In the next race he gave a superb display at Oulton Park to finish third and there was now no stopping the upward momentum of 'young Master James'.
Third place in the 1973 Race of Champions with a hired Surtees convinced Lord Hesketh that Hunt had the talent for the big time, and James proved his faith was not misplaced, putting in some sensational performances once the team had acquired a March 731, with his drives at Zandvoort and Watkins Glen, where he dogged the Lotus of Ronnie Peterson, standing out. The Hesketh bandwagon was really gathering pace by now, and in 1974 the team launched their own car, which proved an immediate success, with Hunt winning the International Trophy before embarking on an up-and-down Grand Prix season which was marred by trivial mechanical failures and some misjudgements on the part of the driver, but contained some race-performance gems, such as in Austria where he drove from 18th after a pit stop to third at the finish. His reputation was such that Dan Gurney invited him over to the States to drive his Eagle in US F5000 for three races, his best result being a second at the Monterrey GP. He also sampled sports cars, taking fourth at the Nürburgring 750 Km with Schuppan and Bell in John Wyer's Gulf-Ford.
That Hunt was a top-drawer racer was finally confirmed in 1975 when he drove the Hesketh to a magnificent win in the Dutch GP, defeating Lauda's Ferrari. To prove it was no fluke, Hunt took three second places that year before the financial burden of running the team independently became too great for its aristocratic patron. Briefly James looked to be without a drive for 1976, but with Fittipaldi's sudden defection to his family's Copersucar-backed project, Hunt found himself installed alongside Jochen Mass at McLaren. It was to be a season of high drama, controversy and courage, which saw James and his great pal Niki Lauda fight it out for the championship in a fashion which captured the imagination of the world at large and was surely instrumental in increasing the sport's popularity during subsequent years. James soon asserted his number one status in the team by claiming pole in Brazil and then winning the Race of Champions and International Trophy. His first Grand Prix win for McLaren was contentious, Hunt being re-instated after a post-race disqualification in Spain, but a victory in France kept him in touch, and then came the famous British GP at Brands. Hunt, having been taken out by Regazzoni in a first-corner melee, won the restarted race but was then disqualified. His championship chances seemed over, but after Lauda's fiery accident at the Nürburgring James had an outside chance. By the time the Austrian had bravely returned to the cockpit, Hunt had made inroads into his points lead, and once on a roll he proved difficult to resist with two brilliant wins in Canada and the US. The showdown in Japan was hyped more intensely than anything ever seen before, and while his rival withdrew Hunt stayed out on a flooded track to take third place and the coveted championship.
James was now a public figure way beyond the confines of the sport, and perhaps this began to affect his racing. In 1977 he still put in some superb performances to win at Silverstone, Watkins Glen and Fuji, but his refusal to appear on the rostrum at the final race showed the more petulant side to his nature. The ground-effect Lotus was by this time in the ascendancy and McLaren were slow to follow this route, which left Hunt struggling in 1978, though it has to be said the driver's apparent lack of motivation certainly didn't help matters. Feeling a move would be beneficial for all concerned, Hunt switched to Walter Wolf for one final season in 1979, but the car proved difficult to handle and James seemed generally disinclined to give his all when there was little chance of outright success. Abruptly, and with no regrets, he quit the cockpit after the Monaco GP.
Another career was soon to open up for the extremely articulate and self-opinionated Hunt. He joined Murray Walker in the BBC's commentary booth to form a wonderful partnership and would enliven many a dreary race with his astute and pithy comments. By the early nineties, despite well-publicised money worries, Hunt's roller-coaster personal life had at last become settled, and it was a great shock when he died in 1993 after a massive heart attack at the age of 45.
(c) 'Who is Who' by Steve Small, 2000