Австрия

Ники Лауда

Lauda, Niki

Lauda, Andreas Nikolaus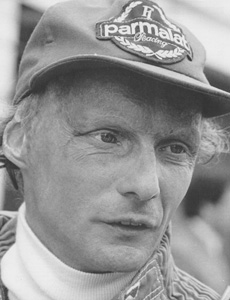 (c) 'Who is Who' by Steve Small, 2000
Сезонов в Ф1:

Лет в Ф1:

15

Гран При:

Старты:

170*

*не стартовал:

12

Победы:

- подряд:

3

Подиумы:

- подряд:

9

Поул-позиции:

- подряд:

6

Первый ряд:

- подряд:

7

Быстрые круги:

- подряд:

2

Лучший финиш:

Лучший старт:

1

Дубли:

Хет-трики:

3

Лидирование старт/финиш:

Большие шлемы:

2

Круги:

- лидирования:

1624

Километры:

- лидирования:
Год

Команда

Шасси
1971
STP March Racing Team

March 711
1972
STP March Racing Team

March 721
Clarke-Mordaunt-Guthrie Racing

March 721G
STP March Racing Team

March 721G

March 721X
1973
Marlboro BRM

BRM P160C

BRM P160D

BRM P160E
1974
Scuderia Ferrari SpA SEFAC

Ferrari 312B3
1975
Scuderia Ferrari SpA SEFAC

Ferrari 312B3

Ferrari 312T
1976
Scuderia Ferrari SpA SEFAC

Ferrari 312T

Ferrari 312T2
1977
Scuderia Ferrari SpA SEFAC

Ferrari 312T2
1978
Parmalat Racing Team

Brabham BT45C

Brabham BT46

Brabham BT46B
Brabham BT46С
1979
Parmalat Racing Team

Brabham BT46

Brabham BT48

Brabham BT49
1982
Marlboro McLaren International

McLaren MP4B
1983
Marlboro McLaren International

McLaren MP4-1C

McLaren MP4-1E
1984
Marlboro McLaren International

McLaren MP4-2
1985
Marlboro McLaren International

McLaren MP4-2B
There are some who try to buck the system but usually fail, and others who play the game and manipulate it to their own ends. Niki Lauda managed to do both, with the adroitness of his off-track political and business manoeuvrings being matched only by that of his driving and racecraft, which saw him win three world titles.
After a couple of seasons in which he struggled to make an impression in Formula 3 and sports cars, with a Porsche 908, Lauda took a bank loan to finance a season of Formula 2 in a semi-works March and a one-off drive in his home GP in 1971. Although his results were hardly inspiring there were fleeting glimpses of his talent. Already the quiet self-confidence was there, as was the inner determination to overcome every setback, and he effectively mortgaged himself to the hilt to buy a seat in the works March team alongside Ronnie Peterson for 1972. To say the F1 season was disastrous is almost an understatement, and the dreadful 721X proved absolutely hopeless. Fortunately the F2 March 722 was competitive, at least allowing Niki to compete with his peers. His win in the spring John Player F2 race at Oulton Park was one indication of his potential, his ability to closely match Peterson's testing times another, but March discarded him right at the end of the year, and he virtually saved his career by joining BRM for 1973 in a pay-as-you-race deal which he knew it would be difficult to honour.
When Lauda managed to overshadow his team-mates in the early races, took his first championship points at Zolder and held third place in the Monaco GP, he was able to put his contract problems behind him, but only by locking himself into a three-year deal. There were a few successful touring car races for BMW which proved quite lucrative, but most important was the fact that he had been targeted by Ferrari for 1974. Contract or not, there was no way Louis Stanley was going to stop Niki heading for Maranello, and the young Austrian wriggled his way out of the deal. Displaying typical pragmatism, he set about his new task at Ferrari with a huge programme of testing and constant development which paid immediate dividends. There were a couple of wins and four second places, but a mid-season dip in form cost him his title chance.
For a driver in his first year with a front-line team he had performed admirably, but Lauda was privately convinced that in 1975 the title would be his, and once the transverse-gearbox car was introduced there was no stopping him. Nine pole positions and five Grand Prix wins (complemented by victory in the International Trophy) saw the Austrian sweep to his first championship, and 1976 showed every sign of going the same way until the fiery crash at the Nürburgring which so nearly took his life. Though badly burned around the head, Niki returned to defend his title just weeks later and the fact that he ultimately failed to retain his crown was largely irrelevant, despite the dreadful treatment the Italian press meted out to him after his decision to pull out of the Japanese GP. Even at Ferrari there were doubters who thought he had lost his bottle, however, and Reutemann was brought into the team, much to Lauda's annoyance.
Inwardly Niki must have relished the challenge, and with a perfect blend of aggression and circumspection he all but humiliated his new team-mate the following season to prove to the hierarchy that he was still the boss. A second title was duly won and, with a characteristic lack of sentiment, Lauda then announced that he was moving to Brabham. His two years with the team brought only limited success, Niki winning the Swedish GP in the notorious fan car and the Italian GP in 1978, and the non-title Dino Ferrari Trophy at Imola the following season. At Montreal that year, he tried the new Cosworth BT49 in practice and made the shock decision to retire then and there.
He stayed away for two years, during which he built up his airline business, before being tempted back in 1982. Perhaps it was his ego, the money, or maybe just the challenge of proving the inevitable doubters wrong. One thing was for sure: once he had demonstrated to himself that the speed was still there, he wasn't going to mess around. There was a job to be done in developing John Barnard's innovative McLaren MP4 and Niki was just the man to do it. True, there were occasional lapses and lacklustre performances in the Cosworth car, but once his attention turned to the TAG turbo-powered machine at the end of 1983 Lauda was fully focused. He needed to be for 1984, when he was joined by Alain Prost. Using all his experience, the wily Lauda hung on to the Frenchman's tail and eventually took his third World Championship by the narrowest of margins after a fabulous year. His final season perhaps went according to expectation, as the still hungry Prost forced the pace, while Niki was happy to adopt a more tactical approach. Unfortunately the season was blighted by unreliability, but at Zandvoort we saw Lauda the racer one last time, as he kept his number one McLaren in front of Prost's sister-car in a Formula 3-style battle to the finish.
This time Niki stayed retired, but in 1992 he was invited to act as a consultant to Ferrari as they attempted to recapture the glory days which had been gone for so many years. It has been a long and sometimes painful process of reconstruction for Maranello, with Michael Schumacher seen as the final piece of the jigsaw. Niki, however, is no longer part of the management structure but, after successfully receiving a kidney transplant, he regularly attends Grands Prix in a commentary role for Austrian television.
(c) 'Who is Who' by Steve Small, 2000