Мексика

Педро Родригес

Rodriguez, Pedro

Rodriguez de la Vega, Pedro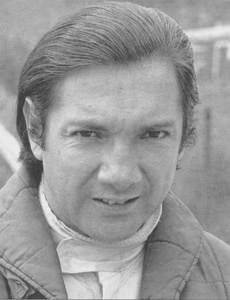 (c) 'Who is Who' by Steve Small, 2000
| | | |
| --- | --- | --- |
| Родился: | 18.01.1940 | Мехико |
| Умер: | 11.07.1971 | трасса Норисринг, Германия |
Сезонов в Ф1:

Лет в Ф1:

9

Гран При:

Старты:

55*

*не стартовал:

5

Победы:

- подряд:

Подиумы:

- подряд:

2

Поул-позиции:

- подряд:

Первый ряд:

- подряд:

Быстрые круги:

- подряд:

Лучший финиш:

Лучший старт:

2

Дубли:

Хет-трики:

Лидирование старт/финиш:

Большие шлемы:

Круги:

- лидирования:

85

Километры:

- лидирования:
Год

Команда

Шасси
1963
Team Lotus

Lotus 25
1964
North American Racing Team

Ferrari 156 Aero
1965
North American Racing Team

Ferrari 1512
1966
Team Lotus

Lotus 33
Ron Harris-Team Lotus
Lotus 44
1967
Cooper Car Co

Cooper T81

Cooper T81B

Cooper T86
1968
Owen Racing Organisation

BRM P126

BRM P133

BRM P138
1969
Reg Parnell Racing Ltd

BRM P126
Scuderia Ferrari SpA SEFAC

Ferrari 312/68
North American Racing Team

Ferrari 312/69
Scuderia Ferrari SpA SEFAC

Ferrari 312/69
1970
Owen Racing Organisation

BRM P153
Yardley Team BRM

BRM P153
1971
Yardley Team BRM

BRM P153

BRM P160
Pedro Rodriguez looked just great in a late-sixties Grand Prix car. His head seemed perpetually laid right back, and you could clearly see his eyes staring through the big aviator goggles as he went about his work. Aesthetics aside, that his talent went largely unregarded in Formula 1 is something of a mystery, and it was only right at the end of his life that his legend was forged.
Two years older than his brother Ricardo, Pedro was racing bikes by the age of 12 and a Jaguar XK120 by the time he was 15. He was soon joined by his sibling and the pair became notorious for their daring exploits in the late fifties. Attracting the attention of Luigi Chinetti, Pedro began racing his NART Ferraris, taking second place in the 1958 Nassau Trophy. The brothers eventually came to Europe and set about building a brilliant reputation in Chinetti's Ferraris, winning both the Nürburgring and Paris 1000 Km in 1961.
The death of Ricardo in Mexico at the end of 1962 was a devasting blow for Pedro, who nevertheless carried on racing, but was largely restricted to North America during 1963 and 1964. There were wins at Daytona in the GT class in 1963, and outright in 1964, sharing a GTO with Phil Hill. There were also end-of-year F1 drives for Lotus and Ferrari, but no offers of permanent Grand Prix employment came his way, so the little Mexican stuck it out in sports car racing, taking the occasional single-seater opportunities he was given. For the 1967 South African GP, Pedro was offered a works Cooper drive, but no deal beyond that. In a race of high attrition, he drove steadily to score a surprise win, a feat which eluded even Rindt during his spell with the team. Rodriguez was naturally then taken on for the rest of the year, but the car was rapidly becoming uncompetitive, and he did well just to scrape the odd point thereafter. His season was also interrupted by injury when an accident at Enna in the F2 Protos left him with a broken foot.
Pedro joined BRM in 1968 and, after an unsuccessful Tasman series, started the season in fine form, taking a memorable second place in the Race of Champions when he sliced through the field after being left at the start. After a rather lucky second place at Spa, the season slid into mediocrity as the team lost their way, and it was Pedro who paid the price, making way for John Surtees in 1969. As luck would have it, that was to be a terrible year at Bourne, and Pedro was fortunate to be out of the firing line, racing Tim Parnell's semi-works machine until he accepted an offer to drive the equally disappointing Ferrari.
Rodriguez had become much in demand as a sports car driver following his 1968 Le Mans victory with Bianchi in John Wyer's Ford GT40. He drove for both Ferrari and Matra the following year, before returning to Wyer in 1970. He was also back at BRM, and this time they had come up with a really good car in the P153. There were two races that year which Pedro would leave as a legacy to the portfolio of great motor racing performances. At Brands Hatch, driving the fearsome Gulf Porsche 917, he produced an unforgettable display in the rain to win the 1000 Km by a five-lap margin, and then in the Belgian GP at Spa he drove a masterful race, almost to the point of perfection, to beat Amon's March. He would score no more Grand Prix victories, only a win in the 1971 Rothmans Trophy at Oulton Park, but he continued to drive the Porsche with a fearlessness that was frightening. In 1971 Rodriguez won the Daytona 24 Hours, Monza 1000 Km and Spa 1000 Km with Jack Oliver, and the Österreichring 1000 Km with Richard Attwood to confirm his position as sports car racing's leading exponent.
Pedro lived for racing, and could not refuse the offer of a drive in an Interserie round at Norisring. Driving Herbert Muller's Ferrari 512M, Rodriguez crashed heavily when a tyre was thought to have deflated. The car burst into flames and when the driver was finally released he was found to have succumbed to multiple injuries.
(c) 'Who is Who' by Steve Small, 2000