Аргентина

Карлос Рейтеманн

Reutemann, Carlos

Reutemann, Carlos Alberto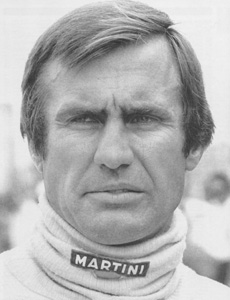 (c) 'Who is Who' by Steve Small, 2000
| | | |
| --- | --- | --- |
| Родился: | 12.04.1942 | Санта-Фе |
Сезонов в Ф1:

Лет в Ф1:

11

Гран При:

Старты:

146

Победы:

- подряд:

Подиумы:

- подряд:

8

Поул-позиции:

- подряд:

2

Первый ряд:

- подряд:

3

Быстрые круги:

- подряд:

Лучший финиш:

Лучший старт:

1

Дубли:

Хет-трики:

1

Лидирование старт/финиш:

Большие шлемы:

Круги:

- лидирования:

649

Километры:

- лидирования:
Год

Команда

Шасси
1972
Motor Racing Developments

Brabham BT34

Brabham BT37
1973
Motor Racing Developments

Brabham BT37

Brabham BT42
1974
Motor Racing Developments

Brabham BT44
1975
Martini Racing

Brabham BT44B
1976
Martini Racing

Brabham BT45
Scuderia Ferrari SpA SEFAC

Ferrari 312T2
1977
Scuderia Ferrari SpA SEFAC

Ferrari 312T2
1978
Scuderia Ferrari SpA SEFAC

Ferrari 312T2

Ferrari 312T3
1979
Martini Racing Team Lotus

Lotus 79
1980
Albilad-Williams Racing Team

Williams FW07B
1981
Albilad-Williams Racing Team

Williams FW07C
TAG Williams Racing Team

Williams FW07C
1982
TAG Williams Racing Team

Williams FW07C
Carlos Reutemann was certainly the enigma of his times. Picturing some of his majestic Grand Prix wins, it seems impossible to believe that here was anything other than a World Champion. Yet there were days when his performance was so lacklustre that you would cringe with embarrassment at his feeble showing. That was the contradiction of this deep-thinking perfectionist who was ultimately unable to summon from within himself the consistency which must underpin any championship success.
Carlos was a cattle-rancher's son from Santa Fe, Argentina, who began racing in 1965. Competing mainly in saloons such as Ford Torinos, he soon became one of the country's top talents, gaining some valuable single-seater experience in the 1968 Temporada Formula 2 series. In 1970 he was chosen by the Automovil Club Argentine for a sponsored season in Europe racing a Brabham BT30. The year passed relatively uneventfully, with Carlos learning a great deal and taking the occasional top-six finish. Returning home, he served notice of his talent by taking an aggregate third place in the non-championship Argentine GP in an elderly McLaren M7C. Back in Europe for another season of Formula 2, Reutemann really came good in the latter stages of the year. Although he won only at Hockenheim, there were plenty of brilliant performances and he finished runner-up to Ronnie Peterson in the final standings.
Having newly acquired the Brabham team, Bernie Ecclestone signed Carlos for 1972 and the Argentinian was to make a sensational GP debut at Buenos Aires, putting the hitherto unloved Brabham BT54 on pole position before finishing seventh. Reutemann then won the non-title Brazilian GP at Interlagos to underline his vast promise, but his momentum was broken soon after his return to Europe when a nasty crash at Thruxton in the F2 Rondel Brabham left him with a crushed ankle. This injury proved troublesome and slow to mend, which knocked his confidence for the rest of that year.
The 1973 season saw him back in the groove, particularly once the new BT42 was introduced. There were flashes of brilliance and he soon became a regular top-six finisher. With the superb BT44 at his disposal at the start of 1974, Reutemann launched a ferocious opening onslaught, leading the first two Grands Prix before encountering problems, and then winning the third, at Kyalami. But, just as suddenly, his form then vanished before mysteriously reappearing when he won the Austrian GP with a stunning performance. There was another victory at Watkins Glen which prompted thoughts that a World Championship bid was on the cards for the following season, but once again he flattered to deceive. Winning the German GP was the high-point, but he seemed unsettled by the competitive presence of new team-mate Carlos Pace. Things took a turn for the worse in 1976, when Brabham became involved in the Alfa engine project. The powerplant was woefully unreliable, and Reutemann soon became fed up with the situation. He engineered his way out of his contract to join Ferrari, who were anxious to find a replacement for the recently injured Niki Lauda, but in the event Carlos raced only at Monza due to the Austrian's amazing recovery. Despite a win in the Brazilian GP at the beginning of 1977, Reutemann was completely overshadowed by Lauda, who with total disdain took great delight in heaping any little humiliation he could upon the Argentinian.
With the Rat's two-fingered departure at the end of the year, Carlos was promoted to lead the Ferrari challenge in 1978, and his form certainly improved, Reutemann taking four wins including a brilliantly judged performance to outwit Lauda at Brands Hatch. Despite this success, he found himself unwanted by Ferrari and joined Lotus in 1979, which was in hindsight the worst possible move. The new Lotus 80 was a technical nightmare and Reutemann stuck resolutely with the 79, with which, to be fair, he put in some brilliant performances which went largely unregarded. Frank Williams still had faith in him and for 1980 Carlos was included in the team alongside Alan Jones. It was a mystery that a driver of such experience should take such a long time to come to terms with his situation; a win at Monaco was achieved by caution and he seemed content to let Jones force the pace as the Australian charged towards his well-deserved championship. The following season saw a far more aggressive Reutemann. He took the FOCA-only South African GP and then embarked on an early-season run of brilliant performances to put himself in a seemingly impregnable position. Then, almost inevitably, came the slump. The title went down to the line at Las Vegas, and Carlos set himself for glory with an utterly brilliant lap to put the car on pole. But once the lights went green Reutemann, his confidence punctured by a mysterious handling problem encountered in the warm-up, just seemed to fade away. A season's work appeared to be tossed away without so much as a whimper as Nelson Piquet snatched the title by a point.
Reutemann was back in 1982, but perhaps the roll of the dice at Caesars Palace still weighed heavily on the mind of this introspective and complex man. Just two races into the season, he suddenly retired for reasons that have never really been explained. An enigma to the end.
(c) 'Who is Who' by Steve Small, 2000