Австрия

Йохен Риндт

Rindt, Jochen

Rindt, Karl-Jochen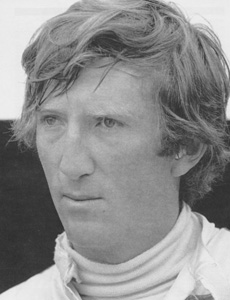 (c) 'Who is Who' by Steve Small, 2000
| | | |
| --- | --- | --- |
| Родился: | 18.04.1942 | Майнц-на-Рейне, Германия |
| Умер: | 05.09.1970 | Милан, Италия |
Сезонов в Ф1:

Лет в Ф1:

7

Гран При:

Старты:

60*

*не стартовал:

9

Победы:

- подряд:

4

Подиумы:

- подряд:

4

Поул-позиции:

- подряд:

Первый ряд:

- подряд:

5

Быстрые круги:

- подряд:

Лучший финиш:

Лучший старт:

1

Дубли:

Хет-трики:

1

Лидирование старт/финиш:

Большие шлемы:

Круги:

- лидирования:

387

Километры:

- лидирования:
Год

Команда

Шасси
1964
RRC Walker Racing Team

Brabham BT11
1965
Cooper Car Co

Cooper T73

Cooper T77
1966
Cooper Car Co

Cooper T81
1967
Cooper Car Co

Cooper T81

Cooper T81B

Cooper T86
1968
Brabham Racing Organisation

Brabham BT24

Brabham BT26
1969
Gold Leaf Team Lotus

Lotus 49B

Lotus 63
1970
Gold Leaf Team Lotus

Lotus 49C

Lotus 72

Lotus 72C
You really needed to see Rindt in action to appreciate his genius. The little skittering Formula 2 cars were thrown to the limits of their adhesion as he almost danced them to win after win. Then his phenomenal skill took the huge overweight Cooper-Maserati into undreamed-of angles as the unwieldy beast was driven with such ferocity that, inevitably perhaps, finishes were few and far between.
Although Rindt had been around in Formula Junior and taken part in the non-championship 1963 Austrian GP, his potential remained hidden until he burst upon an unsuspecting British public at a big Formula 2 race at Crystal Palace in 1964. Sensationally he defeated the established aces of the day in the formula that was to become largely his personal domain in future years. With the Zeltweg race part of the championship calendar that year, Rindt hired Rob Walker's Brabham. Though he retired in the race, Jochen was keen to drive for Walker's equipe in 1965, but while Rob greatly admired the Austrian's talents he felt his career would be better nurtured at Cooper.
His first season with the team was spent learning the ropes under the tutelage of Bruce McLaren, and success was found more regularly in Formula 2, although his big win that year was at Le Mans where he took a NART-entered Ferrari 250LM to an unlikely victory with Masten Gregory. Cooper's competitiveness was restored in 1966 when Jochen emerged as a true front-runner, although he was pushed aside somewhat by the mid-season arrival of John Surtees. Signing a three-year deal with Cooper proved to have been a big mistake when Rindt was trapped in a poor car in 1967, but he spent his energies making up for it in Formula 2, taking Roy Winkelmann's Brabham to nine victories and four second places from 15 starts.
Joining a Brabham team fresh from two World Championships should have been the passport to well-deserved Grand Prix success for Rindt but, alas, it was not to be. The latest Repco engine proved to be hopelessly unreliable and Jochen was left with just a couple of third places at the end of the year. He also had a shot at Indianapolis in the team's BT25-Repco, but his race ended in retirement. Rindt's Formula 2 success continued unabated, but the lack of Grand Prix success led him to accept a drive at Lotus alongside Graham Hill for the 1969 season. Although he had equal status with the new World Champion, it soon became clear during the Tasman series that he had the edge, Jochen winning races at Christchurch and Warwick Farm.
The European season started badly for Rindt when he crashed in the Spanish GP after the massive rear aerofoil collapsed, putting him into hospital. He was back to his best by the British GP, where he fought a glorious duel with Stewart's Matra before minor problems dropped him from contention. He could not be denied much longer, however, taking his long-awaited maiden Grand Prix victory at Watkins Glen. Although Colin Chapman had supplied Rindt with a car worthy of his talents, theirs was an uneasy alliance. Jochen would dearly have liked to have returned to Brabham - now a competitive force again - but in the end lashings of money, the promise of total number-one status and a ground-breaking new car for 1970 held sway.
After starting the year in the old Lotus 49, taking second in the Race of Champions, Rindt gave the sensational-looking Lotus 72 its debut in Spain. However, it still needed some development and for Monaco Jochen was back in the old car. It was here he took perhaps his most famous victory, his incredible late-race charge forcing Jack Brabham into a final-corner error. The new 72 was finally considered fully raceworthy at Zandvoort and Jochen scored the first of four successive wins which put him within touching distance of the title. At Brands Hatch he was very lucky, as Brabham ran out of fuel on the last lap, but at Hockenheim he and Jacky Ickx gave a wonderful display of high-speed artistry. Having previously agreed places on the circuit where overtaking manoeuvres were acceptable, both drivers fought a great battle within those parameters. At the finish Chapman, who by now had grown much closer to Rindt than had seemed possible a year before, offered his congratulations. 'A monkey could have won in your car today,' was Jochen's retort. Then came Monza. There were rumours of retirement, for Jochen had lost close friends Bruce McLaren and Piers Courage in accidents in the preceding months. However, during practice 'something broke' on the car, which veered at enormous speed into the barrier. The front of the Lotus was totally destroyed and poor Rindt was pronounced dead on arrival at hospital in Milan. A month later at Watkins Glen, the inexperienced Emerson Fittipaldi took the Lotus 72 to a surprise victory, thus ensuring that Rindt became the sport's first and to date, thankfully, only posthumous World Champion.
(c) 'Who is Who' by Steve Small, 2000