Швейцария

Клей Регаццони

Regazzoni, Clay

Regazzoni, Gianclaudio Giuseppe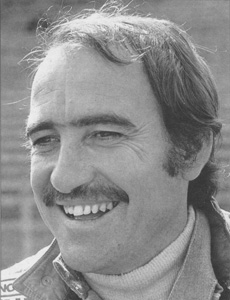 (c) 'Who is Who' by Steve Small, 2000
| | | |
| --- | --- | --- |
| Родился: | 05.09.1939 | Мендризио, Лугано |
| Умер: | 15.12.2006 | Фонтевиво, близ Пармы, Италия |
Сезонов в Ф1:

Лет в Ф1:

11

Гран При:

Старты:

132*

*не стартовал:

11

Победы:

- подряд:

Подиумы:

- подряд:

3

Поул-позиции:

- подряд:

Первый ряд:

- подряд:

3

Быстрые круги:

- подряд:

3

Лучший финиш:

Лучший старт:

1

Дубли:

Хет-трики:

1

Лидирование старт/финиш:

Большие шлемы:

1

Круги:

- лидирования:

360

Километры:

- лидирования:
Год

Команда

Шасси
1970
Scuderia Ferrari SpA SEFAC

Ferrari 312B
1971
Scuderia Ferrari SpA SEFAC

Ferrari 312B

Ferrari 312B2
1972
Scuderia Ferrari SpA SEFAC

Ferrari 312B2
1973
Marlboro BRM

BRM P160D

BRM P160E
1974
Scuderia Ferrari SpA SEFAC

Ferrari 312B3
1975
Scuderia Ferrari SpA SEFAC

Ferrari 312B3

Ferrari 312T
1976
Scuderia Ferrari SpA SEFAC

Ferrari 312T

Ferrari 312T2
1977
Team Tissol Ensign with Castrol

Ensign N177
1978
Shadow Racing Team

Shadow DN8

Shadow DN9
1979
Albilad-Saudia Racing Team

Williams FW06

Williams FW07
1980
Unipart Racing Team

Ensign N180
A driver right out of the old school, Regazzoni took no prisoners with his rough-and-ready approach to racing during his early days of Formula 3. And while he may have tempered his approach in the ensuing years, he was always liable to revert to type, leaving his competitors a little wary as they locked horns with the hard-racing Swiss.
After competing with a Healey Sprite, Clay joined forces with fellow countryman Silvio Moser to race F2 and F3 Brabhams in 1965-66 before switching to Tecnos. Regazzoni joined the works team in 1968 to compete in the European Formula 2 championship, where some of his driving tactics became a cause for concern. Things reached a low ebb in mid-season, when he was disqualified for overtaking at the site of an accident at Monza and then, in the next race at Zandvoort, was involved in Chris Lambert's fatal accident. The fall-out from this incident was to last for some considerable time, and though Regazzoni was absolved from blame some mud would always stick. The 1969 season brought an invitation from Ferrari to race their 166 Dino, but little of note was achieved, and he soon returned to the Tecno ranks. This proved a wise decision, for the team's F2 car really came good in 1970. Up to this point Clay had been regarded as something of a neanderthal, but wins at Hockenheim, Paul Ricard, Enna and Imola helped dispel this image and he jumped into the Ferrari F1 team with no qualms at all. Fourth place on his debut was a great effort, but better was to come when, after a splendid second at the Österreichring, he took the ultimate prize for a Ferrari driver, winning the Italian GP at Monza. His place was now secure, but over the next two seasons, apart from the Race of Champions in 1971, there were to be no more wins - some good performances to be sure, but too many incidents for the Scuderia's liking. Thus at the end of 1972 he was released, but soon found a seat with the Marlboro BRM squad.
Regazzoni took his change of circumstances with equanimity and started the season with a great drive in the Argentine GP, taking pole and leading the race for 30 laps before troubles dropped him back. His year was largely spent in midfield anonymity, however, before a surprise recall to Ferrari, who were restructuring after a terrible year. The 1974 season was probably the Swiss driver's finest. There were off-track excursions but he was a remarkably consistent finisher and took a superb win at the Nürburgring to get within touching distance of the World Championship. His value to Ferrari at this period was immense, Clay proving the ideal foil for Niki Lauda, quite capable of picking up the pieces if necessary, as in the non-title Swiss GP and then the Italian GP at Monza the following season. Unfortunately there was still the occasional brainstorm, and his tactics at Watkins Glen, where he blatantly blocked Fittipaldi, were a disgrace. In 1976 we saw the same cocktail - a brilliant win at Long Beach, and a crass first-corner manoeuvre at Paddock Bend in the infamous British GP. Certainly his form began to tail off towards the end of that year, and his services were no longer required.
Joining the little Ensign squad for 1977 was akin to leaving the Ritz to dine at Wimpy, but Regazzoni was happy just to be part of the scene. There were, of course, the inevitable crashes, but a couple of fifth places near the end of the season kept Mo Nunn happy enough. Clay was tempted by the lure of Indianapolis that year, and qualified in a Theodore McLaren, but retired the car in the race with a water leak. His Swiss connections helped him into the Shadow team for 1978, but apart from Anderstorp it was a pretty dismal year. It was difficult to see much future for Regazzoni by this stage, but Frank Williams was to take Clay on board. He reasoned that in a good car he had been almost as quick as Lauda, and his experience would be an asset in the team's expanded two-car operation. Frank's hunch was to prove correct, as Clay won at Silverstone to score the Williams team's first-ever Grand Prix win, and a special place in their history. Sentiment didn't cloud Williams' judgement when it came to his 1980 line-up, however, and when Carlos Reutemann became available Regazzoni was out.
Unperturbed, Clay counted his blessings and headed back to Ensign. The team now had a healthier budget and a new car, but the season was only four races old when disaster struck. In the Grand Prix at Long Beach, the brake pedal snapped, leaving his red, white and blue machine hurtling down the escape road into a parked Brabham. Poor Regazzoni sustained serious spinal damage, which has since confined him to a wheelchair, but despite this crippling injury Clay lost none of his enthusiasm for the sport, working regularly as a commentator for Swiss TV for more than a decade.
Regazzoni even started competing again in specially adapted saloon cars, and he is was fully involved in developing the hand control systems for these cars.
(c) 'Who is Who' by Steve Small, 2000