США

Эдди Чивер

Cheever, Eddie

Cheever Jhr., Edward McKay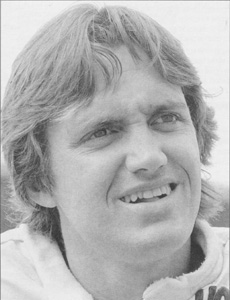 (c) 'Who is Who' by Steve Small, 2000
| | | |
| --- | --- | --- |
| Родился: | 10.01.1958 | Финикс, Аризона |
Сезонов в Ф1:

Лет в Ф1:

12

Гран При:

Старты:

132*

*не стартовал:

12

Победы:

- подряд:

Подиумы:

- подряд:

Поул-позиции:

- подряд:

Первый ряд:

- подряд:

Быстрые круги:

- подряд:

Лучший финиш:

Лучший старт:

2

Дубли:

Хет-трики:

Лидирование старт/финиш:

Большие шлемы:

Круги:

- лидирования:

Километры:

- лидирования:
Год

Команда

Шасси
1978
Olympus Cameras/Hesketh Racing

Hesketh 308E
Theodore Racing Hong Kong

Theodore TR1 (Ralt RT1)
1980
Osella Squadra Corse

Osella FA1
1981
Tyrrell Racing Team

Tyrrell 010

Tyrrell 011
1982
Equipe Talbot Gitanes

Talbot-Ligier JS17

Talbot-Ligier JS17B

Talbot-Ligier JS19
1983
Equipe Renault Elf

Renault RE30C

Renault RE40
1984
Benetton Team Alfa Romeo

Alfa Romeo 184T
1985
Benetton Team Alfa Romeo

Alfa Romeo 184T

Alfa Romeo 185T
1986
Team Haas (USA) Ltd

Lola THL2
1987
USF&G Arrows Megatron

Arrows A10
1988
USF&G Arrows Megatron

Arrows A10B
1989
Arrows Grand Prix International

Arrows A11
Eddie Cheever has enjoyed such a long innings in motor racing that it is perhaps easy to forget the startling impact he made on Formula 3 in 1975 when barely 18 years old, or the fact that two years later he had raced successfully for the Project Four team in Formula 2 (taking a superb win at Rouen in 1977) and the BMW Junior touring car team with their 320i in the German national series. The world was his oyster, or so it seemed, especially when a satisfactory test for Ferrari saw him lined up for a works F1 drive in 1978. But the best-laid plans don't always work out, and when Gilles Villeneuve was signed Eddie could see his chances of a regular ride were slim and backed away from the deal.
Cheever had his first stab at Grands Prix in 1978 when, after failing to qualify the hapless Theodore for the first two races, he switched to the Hesketh team, which at least enabled him to make the grid but had little else to recommend it. Then it was back to Formula 2 for the rest of the year and a series of morale-sapping incidents which seriously undermined his reputation, despite second-place finishes at Rouen and Enna.
Now no longer quite the hot property of just 12 months earlier, Eddie threw in his lot with Osella for another season of Formula 2 in 1979, and was to enjoy a happy year with the little Italian outfit, taking three wins (Silverstone, Pau and Zandvoort). When the team took the bold decision to enter Grand Prix racing the following year, naturally Cheever went with them. To say it was a character-building season would be an understatement, and Cheever certainly found out about life at the back of the grid. There was a little success to savour, however, for he joined the Lancia sports car team, winning a round of the World Championship of Makes at Mugello with Patrese, and taking second places at Brands Hatch and Watkins Glen with Alboreto.
A move to Tyrrell in 1981 found his career moving in the right direction, the American picking up points on no fewer than five occasions before being tempted to the Ligier team for 1982, where, when he managed to finish, it was usually in the points, including a second place at Detroit. Eddie was chosen to partner Alain Prost at Renault in 1983, a season which was to be his big opportunity to make the jump into the very front rank of driver talent. Although there were flashes of brilliance, he could not sustain them, and while he performed more than respectably, especially in qualifying, his performances were always judged against Prost's - a no-win situation. In the event, a switch to the Benetton Alfa team meant two seasons of disappointment and mechanical unreliability, but never did he ease his forceful driving style, or pay much attention to the subtle art of fuel economy. If the turbo engine lasted, all well and good; if not, then it was going out in a big way - and it usually did.
Out in the cold in 1986, save for a race for Lola at Detroit in place of the indisposed Tambay, Eddie drove the TWR Jaguar in endurance racing, winning at Silverstone and finishing well elsewhere, but the lure of Formula 1 was still great and he joined Arrows for three seasons during which his incredible enthusiasm sustained him through the frustrations of usually being no more than a midfield runner. There were occasional gems, such as his drives into third place at Monza in 1988 and Phoenix in 1989, where he hounded Patrese to the finish. But the down side was his increasing irritation with the team, which manifested itself on the track, particularly at Spa, where he was reprimanded for obstructive driving tactics.
Seeing no future in hanging on in Formula 1, Cheever joined the Indy Car trail in 1990, where in truth his form was something of a disappointment considering the abundant skill he possessed. A chance to build a solid platform for success with Chip Ganassi's team came and went, despite a second place at Phoenix and a fourth at Indianapolis in 1992. Subsequently Eddie teamed up with A J Foyt in a combustible partnership which came close to a win at Nazareth in 1995 but, predictably perhaps, failed to last out the season.
The ever-uncompromising Eddie then set his sights on the IRL with a win in the Indy 500 as his ultimate goal. After finishing 11th with John Menard's car in 1996, he decided to form his own team in 1997 and had the immediate bonus of a lucky win in the season opener at Wait Disney World. Mission was accomplished in 1998 when, starting from an unpromising 17th on the grid, Eddie sped to a superbly judged Indy 500 win. Driving beautifully, he led 76 of the 200 laps and even survived a collision with a back-marker.
Cheever has since been a mainstay of the IRL, but is apparently now setting his sights on NASCAR, planning to take in a few races in 2000 with a view to running his own team in the future.
(c) 'Who is Who' by Steve Small, 2000