Италия

Андреа де Чезарис

Cesaris, Andrea de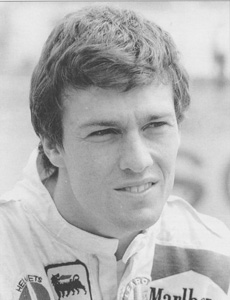 (c) 'Who is Who' by Steve Small, 2000
| | | |
| --- | --- | --- |
| Родился: | 31.05.1959 | Рим |
| Умер: | 05.10.2014 | Рим |
Сезонов в Ф1:

Лет в Ф1:

15

Гран При:

Старты:

208*

*не стартовал:

8

Победы:

- подряд:

Подиумы:

- подряд:

Поул-позиции:

- подряд:

Первый ряд:

- подряд:

Быстрые круги:

- подряд:

Лучший финиш:

Лучший старт:

1

Дубли:

Хет-трики:

Лидирование старт/финиш:

Большие шлемы:

Круги:

- лидирования:

32

Километры:

- лидирования:
Год

Команда

Шасси
1980
Marlboro Team Alfa Romeo

Alfa Romeo N179
1981
Marlboro McLaren International

McLaren M29F

McLaren MP4
1982
Marlboro Team Alfa Romeo
Alfa Romeo 182T

Alfa Romeo N179D

Alfa Romeo N182
1983
Marlboro Team Alfa Romeo

Alfa Romeo 183T
1984
Ligier Loto

Ligier JS23

Ligier JS23B
1985
Equipe Ligier

Ligier JS25
Equipe Ligier Gitanes

Ligier JS25
1986
Minardi Team

Minardi M185B

Minardi M186
1987
Motor Racing Developments

Brabham BT56
1988
Rial Racing

Rial ARC1
1989
Scuderia Italia

Dallara BMS-189
1990
Scuderia Italia SpA

Dallara BMS-190
1991
Team 7UP Jordan

Jordan 191
1992
Tyrrell Racing Organisation

Tyrrell 020B
1993
Tyrrell Racing Organisation

Tyrrell 020C

Tyrrell 021
1994
Sasol Jordan

Jordan 194
PP Sauber AG

Sauber C13
De Cesaris spent more than a decade trying to live down a reputation as a wild and erratic performer, who was only competing in the top echelon by virtue of his powerful sponsorship connections. As is usually the case, there was certainly more than a grain of truth in the snipings, though by the early nineties the enfant terrible had matured into a very professional performer.
A former world karting champion, Andrea was campaigning a Ralt run by Tiga's Tim Schenken in the 1978 British BP F3 championship at the age of 18. He continued in the formula the following year with Team Tiga's March, and though he won six rounds of the Vandervell series the silly mistakes which were to become a feature of his Formula 1 career were already apparent, spoiling his championship chances, and he finished second to Chico Serra at the season's end.
Joining Ron Dennis's Project Four outfit for the 1980 season, de Cesaris enjoyed a successful debut in the New Zealand Pacific series, winning both races at Pukekohe, before racing a March 802 in Formula 2. Though paired with Serra, it was the Italian who soon gained the upper hand and number one treatment in the team. His vast potential was there to be seen, and once a problematical tyre situation was eradicated Andrea looked a real prospect, winning the final race at Misano and a well-earned promotion to the McLaren team newly acquired by Dennis for 1981.
The season began badly when he crashed into Prost on the first lap at Long Beach, and roller-coastered downhill as the number of accidents mounted alarmingly. In most cases it would have been 'goodbye and thank you very much', but luckily for Andrea he was welcomed back by Alfa Romeo, for whom he had made his Grand Prix debut at the end of 1980. Although there were still many moments of desperation, in his two seasons with the team de Cesaris came up with some excellent performances, including a great drive at Spa in 1983, when he comfortably led the first half of the race before trouble hit. With the Alfa operation siphoned off to Pavanello's Euroracing in 1984, Andrea was found a place in the Ligier team, where all the bad traits and indiscipline which had been largely eradicated the previous year were soon to return. He was extremely lucky to emerge unharmed from a huge barrel-rolling crash in Austria in 1985, and after one more race Guy Ligier replaced him with Philippe Streiff.
Nothing if not a survivor, de Cesaris was back once more in 1986, this time leading the Minardi team, but it was to be an uncomfortable year in which he was overshadowed by team-mate Nannini despite first call on equipment. Team-hopping was an art at which de Cesaris was to become well-practiced. Fetching up at Brabham in 1987, he proved the talent was still there, with excellent performances at Spa, Estoril, Jerez and Mexico, but so were the equally lacklustre displays. It was the same sweet and sour cocktail at Rial in 1988, with an impressive drive at Detroit, where he showed remarkable restraint to finish fourth. Andrea then had a two-year tenure at Dallara, where the Jekyll and Hyde character was ever more in evidence, with Mr Hyde playing the dominant role.
Just when it seemed that the game was up and de Cesaris' chequered Grand Prix career could go no further, he was a shock choice for Jordan for 1991. If the new team was a revelation then so was Andrea, who drove better than ever before, coming very close to a second place at Spa before his engine failed at the death. Though not retained by Jordan, his performances brought him to Tyrrell for 1992, where his racecraft and new-found maturity helped bring the team much-needed points on four occasions. Sadly, 1993 found Tyrrell in deep trouble despite the promise shown by a new Yamaha engine, and there was little sign of the de Cesaris we had seen in the previous two years.
After 14 seasons and close on 200 starts he began the 1994 season without a drive but, with Jordan's Eddie Irvine suspended, Andrea was soon back in business, albeit for just two races. At Monaco he drove sensibly to take fourth place, which must have helped his cause no end as Sauber searched for a replacement for the injured Wendlinger. Apart from a sixth place in France, however, it was hardly an auspicious Grand Prix swansong, for there were to be no more Formula 1 comebacks.
(c) 'Who is Who' by Steve Small, 2000