Великобритания

Джим Кларк

Clark, Jim

Clark, James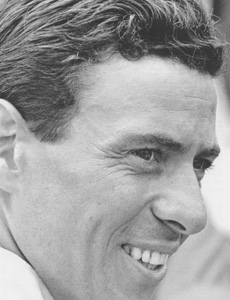 (c) 'Who is Who' by Steve Small, 2000
| | | |
| --- | --- | --- |
| Родился: | 04.03.1936 | Килмани, Файфшир, Шотландия |
| Умер: | 07.04.1968 | трасса Хокенхайм, Германия |
Сезонов в Ф1:

Лет в Ф1:

9

Гран При:

Старты:

72*

*не стартовал:

19

Победы:

- подряд:

5

Подиумы:

- подряд:

9

Поул-позиции:

- подряд:

4

Первый ряд:

- подряд:

9

Быстрые круги:

- подряд:

3

Лучший финиш:

Лучший старт:

1

Дубли:

Хет-трики:

11

Лидирование старт/финиш:

Большие шлемы:

8

Круги:

- лидирования:

1943

Километры:

- лидирования:
Год

Команда

Шасси
1960
Team Lotus

Lotus 18
1961
Team Lotus

Lotus 21
1962
Team Lotus

Lotus 24

Lotus 25
1963
Team Lotus

Lotus 24

Lotus 25
1964
Team Lotus

Lotus 25

Lotus 33
1965
Team Lotus

Lotus 25

Lotus 33
1966
Team Lotus

Lotus 33

Lotus 43
1967
Team Lotus

Lotus 33

Lotus 43

Lotus 49
1968
Team Lotus

Lotus 49
It really was a different era, the mid-sixties. There was no hype, the Grand Prix world was just a small close-knit community of rivals who were still friends, and the 'mega-buck' world of sponsorship was only just looming around the corner. Jim Clark's tragic death in a relatively meaningless Formula 2 race at Hockenheim on 7 April 1968 was a savage blow to everyone connected with the sport, which from that day seemed to change; suddenly it was more of a business. That Clark was not part of the new commercial order perversely seemed somehow fitting, yet in reality Clark was the supreme modern professional racing driver of his day, becoming a tax-exile to maximise his earnings, and employing a manager to run his farming affairs back home in Scotland.
It was this well-off agricultural environment that provided the background to his early motor racing activities -just minor rallies and trials to start with, before he graduated to the Porsche with which he began to make his name in 1958. Despite strong parental opposition, young Jimmy was soon racing for the Border Reivers in their Jaguar D-Type, a little Lotus Elite and the rather more potent Lister Jaguar with which he took 12 wins in the 1959 season. Clark agreed to drive for Aston Martin's Grand Prix team in 1960, but the project was delayed and he was released to Lotus for Formula 2 and Junior racing. However, once Colin Chapman had him under contract he lost no time in promoting him to the Grand Prix team, although the priority was the Junior championship, in which he tied for the title with Trevor Taylor. He was also committed to the Reivers sports car team, sharing the third-placed Aston Martin DBR1 with Salvadori in the Le Mans 24 Hours, a race he disliked so much that he refused to participate in it after the Lotus 23 failed to pass scrutineering in 1962.
The 1961 season saw the introduction of the new 1.5-litre formula and Clark could concentrate fully on the championship Grands Prix and the proliferation of lesser meetings which were organised. He took his first F1 win at Pau, but the year saw little luck come the Scotsman's way, culminating in the tragic collision with von Trips' Ferrari at Monza in September, from which he was fortunate indeed to emerge shocked but unscathed. However, the end-of-season sunshine races in South Africa provided instant and welcome rehabilitation, with Jimmy winning the non-championship Rand, Natal and South African GPs.
For 1962 Chapman built the magnificent monocoque Lotus 25, which, propelled by the Climax V8 engine and driven by Jimmy, simply became the standard-setter for the next three years. Much is made of the heartbreaking failure at East London which cost Clark the championship, but that is harsh indeed on Graham Hill, who suffered equal bad luck earlier in the season, and fully deserved the crown. There were no hiccoughs in 1963, though, as Jimmy scorched to the title, winning no fewer than seven championship Grands Prix and non-title races at Pau, Imola, Silverstone, Kalskoga and Oulton Park. Lotus also made their first assault on USAC racing, with Clark shaking Indianapolis to its roots with the funny little rear-engined car and taking second place on its first appearance. To prove it was no fluke, later in the season he won the Milwaukee 200. The revolution had truly begun.
Jimmy was still indisputably the man to beat in 1964, but unreliability, particularly with the new Lotus 33, saw the title pass to Surtees at the very last gasp in Mexico. However, Clark had thrilled the fans as never before, particularly those in Britain who were also lucky enough to watch him three-wheeling the Lotus Ford Cortina with such abandon. Having seen the championship lost, Clark and Chapman were in no mood to face a repeat of their misfortunes in 1965 and after a highly successful winter Tasman series, which yielded five wins, their World Championship rivals were subjected to the full onslaught of the car's performance and Jimmy's brilliance. Leaving aside Monaco (which Clark skipped in order to win the Indy 500), he won the first six Grands Prix of the season to put the outcome of the championship beyond doubt by August.
The new 3-litre formula for once found Chapman without a ready answer, Team Lotus having to make do with 2-litre Climax engines until the BRM H16s became available. Clark was now in the unusual position of an underdog, which made for a fascinating year, illuminated by superb drives at Zandvoort, where he used all his powers to bring a sick car into third place, and at Watkins Glen, where he took the BRM H16 engine to its only championship victory. But, untypically, there were rare moments when he let his frustrations show, such as when he slid off in the wet at the Nürburgring.
The following year saw the advent of the Lotus 49-Cosworth V8 and Clark gave us the full repertoire of his bounteous gifts. That Denny Hulme won the championship seemed almost unimportant (yes, it really was different in those days!), for all eyes were on Clark. A crushing win on the car's debut in the Dutch GP, one of Grand Prix racing's greatest-ever drives at Monza when he made up almost a whole lap on the opposition only to run short of fuel on the last lap having regained the lead, and his skill in bringing the car home at Watkins Glen with the rear suspension broken and the wheel angled drunkenly as he crossed the finish line live fresh in the memory to this day. The 1968 season began in typical Clark fashion, with an unruffled win in the South African GP to take his tally of World Championship Grand Prix victories to 25, overhauling the legendary Fangio's then record total. Little did the world suspect that he would never compete in a Grand Prix again. For after another enjoyable trip down-under during which he won four Tasman races from seven starts, and a Formula 2 race at Barcelona, came Hockenheim...
More than 25 years have passed since Clark's death, but he stands as one of the truly great drivers of any era. On the track only Ayrton Senna in modern-day racing could compare, for both drivers set the benchmark for their peers with performances that were often truly extraordinary. It is a shame that, while the brilliance of the Brazilian in the eighties and nineties has been captured for posterity, such were the times that the magnificence of Jimmy's career went largely unrecorded on moving film. Indeed interviews are also exceedingly rare, and thus those too young to have seen him race will sadly have to make do with very much second best by way of the written word.
(c) 'Who is Who' by Steve Small, 2000