Таиланд

Принц Бира

Bira, Prince

Birabongse Bhanudej Bhanubandh, Prince of Siam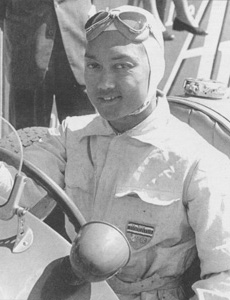 (c) 'Who is Who' by Steve Small, 2000
| | | |
| --- | --- | --- |
| Родился: | 15.07.1914 | Бангкок |
| Умер: | 23.12.1985 | Хаммерсмит (Баронс-Корт?), Лондон |
Сезонов в Ф1:

Лет в Ф1:

5

Гран При:

Старты:

19

Победы:

- подряд:

Подиумы:

- подряд:

Поул-позиции:

- подряд:

Первый ряд:

- подряд:

Быстрые круги:

- подряд:

Лучший финиш:

Лучший старт:

5

Дубли:

Хет-трики:

Лидирование старт/финиш:

Большие шлемы:

Круги:

- лидирования:

Километры:

- лидирования:

Очки:

- за один сезон:
Год

Команда

Шасси
1950
Enrico Platé

Maserati 4CLT/48
1951
Ecurie Siam

Maserati 4CLT/48
1952
Equipe Gordini

Gordini Type 16

Simca Gordini Type 15
1953
Connaught Engineering

Connaught A Type
Scuderia Milano

Maserati A6GCM
1954
Prince Bira

Maserati 250F
Officine Alfieri Maserati

Maserati A6GCM
Prince Birabongse Bhanuban of Siam (now Thailand) was the true title of this aristocrat, who was educated at Eton and Cambridge before studying sculpture. In the mid-thirties he lived in London under the care of his cousin Prince Chula and, after 'Bira' had tried his hand with a Riley Imp and an MG Magnette, Chula gave him an ERA for his 21st birthday. Establishing the endearingly titled 'White Mouse Stable', 'Bira' won many races in a trio of ERAs in the immediate pre-war years, becoming one of the marque's most famous exponents. He also raced the exWhitney Straight Maserati and, less successfully, the ex-Seaman Delage, and his outstanding performances were rewarded with the BRDC Road Racing Gold Star in 1936,1937 and 1938.
After the war 'Bira' was back in his ERA but soon switched to Maserati, winning the 1947 GP des Frontieres at Chimay. He was to continue to race in partnership with Chula until the end of the 1948 season, but had meanwhile ventured out in an F2 Simca Gordini, winning a race at Skarpnack, Sweden.
Taking his Maserati San Remo into the Enrico Plate stable, 'Bira' had a busy year in 1949, which started with two fifths at Buenos Aires and a second to Fangio at Mar del Plata. He then returned to Europe and produced a run of excellent performances which brought second places at the Albi, French, San Remo and Rousillon Grands Prix, and third places in the Italian and Zandvoort GPs.
When the World Championship was inaugurated in 1950, 'Bira' managed a fourth place at Bremgarten but little else, as the cars were really outclassed. The following year he put an OSCA V12 engine into the Maserati, winning only the five-lap Libre Richmond Trophy race at Goodwood. He continued to race the OSCA in Formula 1 races into 1952, but also handled the fast but fragile works Gordini. It was a frustrating time for the little prince, who seemed to lose interest after a long run of bad luck. Nevertheless he returned to the track occasionally in 1953 with the Connaught team until his own Maserati A6GCM was delivered late in the year. The acquisition of a true Maserati 250F early in 1954 seemed to whet 'Bira's' appetite for racing and, in non-championship races, he won at Chimay and took second places at Rouen and Pescara, while in the French GP at Reims he took his best championship placing for some years. Early in 1955 he scored his last win in the New Zealand GP at Ardmore, before returning to Europe to finish sixth at the Bordeaux GP and third in the International Trophy - his final race before his sudden decision to retire.
(c) 'Who is Who' by Steve Small, 2000