Франция

Жан Бера

Behra, Jean

Behra, Jean Marie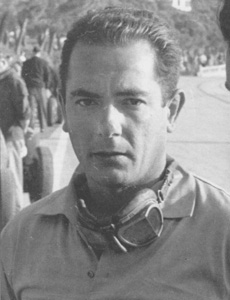 (c) 'Who is Who' by Steve Small, 2000
| | | |
| --- | --- | --- |
| Родился: | 16.02.1921 | Ницца |
| Умер: | 01.08.1959 | трасса АФУС, Берлин, Германия |
Сезонов в Ф1:

Лет в Ф1:

9

Гран При:

Старты:

53*

*не стартовал:

1

Победы:

- подряд:

Подиумы:

- подряд:

3

Поул-позиции:

- подряд:

Первый ряд:

- подряд:

3

Быстрые круги:

- подряд:

Лучший финиш:

Лучший старт:

2

Дубли:

Хет-трики:

Лидирование старт/финиш:

Большие шлемы:

Круги:

- лидирования:

107

Километры:

- лидирования:
Год

Команда

Шасси
1951
Equipe Gordini

Simca Gordini Type 15
1952
Equipe Gordini

Gordini Type 16
1953
Equipe Gordini

Gordini Type 16
1954
Equipe Gordini

Gordini Type 16
1955
Officine Alfieri Maserati

Maserati 250F

Maserati 250F str.
1956
Officine Alfieri Maserati

Maserati 250F
1957
Officine Alfieri Maserati

Maserati 250F
1958
Owen Racing Organisation

BRM P25
Ken Kavanagh

Maserati 250F
1959
Jean Behra

Behra Porsche
Scuderia Ferrari

Ferrari 256
How can a driver who never won a World Championship Grand Prix have left such a legacy? Even today those old enough to recall Behra remember the tiger, and those like me, too young to have seen him, are inspired by his mighty reputation and heroic deeds when, in the early fifties, he was cast as the perpetual underdog, battling for Gordini against the mighty works teams.
Behra took up the four-wheeled discipline after an immensely successful motor cycling career in which he was French champion three years running. Switching from his red bike to the French blue of Talbot, he placed sixth in the 1949 Coupe du Salon at Montlhéry, and then took part in the 1950 Monte Carlo Rally driving a Simca with Roger Lover, another ex-motor cyclist who was later to race Gordinis. A month later Jean won a hill-climb in a borrowed Maserati four-cylinder, bringing him to the attention of Amédée Gordini. A drive in the 1950 Bol d'Or at St Germain convinced le patron that here was a nugget that could be polished, and Behra was signed for the 1951 season, beginning his serious motor racing career at the age of 30. He finished third in his first race at Les Sables d'Olonne, and then did the same at Cadours.
It was 1952, however, when Behra became a national hero for his deeds not in championship Grands Prix, though he did superbly well to finish third at Bremgarten and fifth at the Nürburgring - circuits for the skilled and brave - but at the non-championship Reims GP. With Ascari hitherto virtually unbeatable, there was some surprise when Behra shot into an early lead, and this became mild consternation as the light-blue car held off the Ferrari challenge for lap after lap. Then came frenzied hysteria as the T500 suffered an engine failure, leaving Jean to cruise to a historic victory, much to the delight of the delirious French public. There were post-race mutterings about an oversize engine, but the result stood and Behra was for ever taken to the hearts of his countrymen.
He stayed with Gordini to the end of the 1954 season, suffering the heartbreaking succession of maladies that inevitably struck at the little underfinanced equipe, but when results were achieved the success was all the sweeter, as at Pau in 1954 when, after more than three hours' racing, Behra defeated the works Ferrari of Trintignant by a mere 60 yards.
After a test in a Maserati at Monza, where Ascari no less could only equal his time, Behra signed for the 1955 season and was immediately rewarded with non-championship wins at Pau and Bordeaux. Although he was out of luck in championship Grands Prix, Behra took sports car wins at Bari, Monza, the Nürburgring and Oporto in the 300TS, before a crash in the Tourist Trophy resulted in his ear being sliced off - Jean subsequently receiving a plastic replacement. For 1956 he was relegated to the number two slot with the arrival of Stirling Moss, but this did not dampen his spirit; he merely raised his game to enjoy his best-ever championship year, even if that much sought first Grand Prix win still eluded him.
In 1957 he was cast as number two to Fangio, but still had his moments, none more memorable than the British GP when he left them all - Fangio, Hawthorn, Moss and Collins - in his wake until his Maserati's clutch failed. Perversely in non-title events his luck would hold, and he won the Pau, Modena and Moroccan GPs for Maserati, and the Caen GP and the International Trophy for BRM.
The following season, driving for BRM in F1 and for Porsche in sports cars and Formula 2, Behra had little luck with the cars from Bourne but won sports car races at AVUS and Rouen and took the Formula 2 honours at AVUS and in the Coupe de Vitesse at Reims. An offer to drive for a Ferrari team now bereft of Hawthorn, Collins and Musso in 1959 was too good to turn down, and the signs were encouraging when he won the Aintree 200 and finished second in the Syracuse GP after a spirited battle with Moss ended in a spin. Two sports car races for the Scuderia yielded a second place at Sebring with Allison and a third in the Nürburgring 1000 Km with Brooks, while he finished second in the Auvergne Trophy at Clermont Ferrand in his own Porsche. In championship Grands Prix, a great drive at Reims ended with engine failure. On pulling his stricken Ferrari into the pits, the frustration was too much for the little Frenchman, who was involved in a scuffle with team manager Tavoni which ended with Behra being shown the door. Running his own Porsches, he was entered for both the Grand Prix and the sports car race at AVUS, but in the rain-soaked support race he was killed instantly when he lost control on the slippery banking, crashed and was flung out of the car into a flag pole.
(c) 'Who is Who' by Steve Small, 2000