Великобритания

Тони Брукс

Brooks, Tony

Brooks, Charles Anthony Standish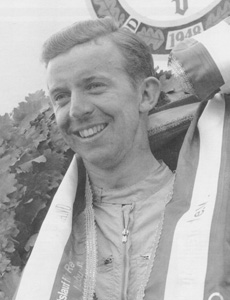 (c) 'Who is Who' by Steve Small, 2000
| | | |
| --- | --- | --- |
| Родился: | 25.02.1932 | Дакинфилд, Чешир |
Сезонов в Ф1:

Лет в Ф1:

6

Гран При:

Старты:

38*

*не стартовал:

1

Победы:

- подряд:

Подиумы:

- подряд:

Поул-позиции:

- подряд:

Первый ряд:

- подряд:

2

Быстрые круги:

- подряд:

Лучший финиш:

Лучший старт:

1

Дубли:

Хет-трики:

1

Лидирование старт/финиш:

Большие шлемы:

1

Круги:

- лидирования:

151

Километры:

- лидирования:
Год

Команда

Шасси
1956
Owen Racing Organisation

BRM P25
1957
Vandervell Products Ltd

Vanwall VW (57)
1958
Vandervell Products Ltd

Vanwall VW (58)
1959
Scuderia Ferrari

Ferrari 256
Vandervell Products Ltd

Vanwall VW (59)
1960
Yeoman Credit Racing Team

Cooper T51
Vandervell Products Ltd

Vanwall VW 11
1961
Owen Racing Organisation

BRM P48/57
Tony Brooks was still a dental student with little front-line experience when he shot to international prominence on the back of an absolutely stunning win at the Syracuse GP in the works Connaught in 1955. In only his second-ever race abroad, the slightly built and reserved youngster trounced the works Maserati and Gordini cars, three times breaking the lap record, and setting a best race lap some five seconds faster than his qualifying time. It had all seemed so easy, yet this was the first Continental win by a British car and driver since Henry Segrave won at San Sebastian in 1924, so the excitement it generated was naturally immense. Few guessed that the floodgates were soon to be opened, and that for British teams and drivers this was just the start.
After racing a Healey in 1952, Tony switched to a Frazer Nash, competing mainly in club events during the next two seasons - successfully, but largely unnoticed. It was the middle of the 1955 season that really saw Brooks' career take a step forward. Having raced Aston Martin's DB3S at Le Mans and Goodwood (where he shared third place with Peter Collins), he drove Riseley-Prichard's F2 Connaught in the Daily Telegraph Trophy at Aintree, finishing fourth behind the Formula 1 cars of Hawthorn, Schell and Salvadori. A win in the F2 class of the Avon Trophy at Castle Combe immediately preceded his momentous Syracuse victory, which of course made Brooks a very hot property indeed.
Signed by BRM for the 1956 season, he took second place in the Aintree 200 after being hampered by brake trouble, and then - the team having withdrawn after practice at Monaco - he prepared for his first championship Grand Prix start at Silverstone. It was nearly his last; when the throttle stuck at Abbey Curve, the car somersaulted, throwing out the driver, who was lucky to escape with a fractured jaw.
Joining Vanwall for 1957, Brooks soon displayed the smooth style and masterful car control that was to bring him so much success in the next three seasons. After finishing second to Fangio, no less, at Monaco, his season was hampered by the effects of a crash at Le Mans, which accounted for his handing his car to Moss at Aintree, where the British pair shared a momentous victory in their home Grand Prix. The following season saw Vanwall and Ferrari wage a ferocious battle for supremacy, and although Hawthorn took the drivers' championship Moss, Brooks and Lewis-Evans ensured the constructors' title came to Britain. Tony's three victories at the classic circuits of Spa, the Nürburgring and Monza spoke for themselves. Here was a driver of true championship pedigree.
Unfortunately Tony Vandervell withdrew from racing at the end of the year, and Brooks joined Ferrari to drive their front-engined 246 Dino. He again put in some superb performances, finishing second at Monaco despite physical sickness due to cockpit fumes, and giving wonderful demonstrations of high-speed artistry at Reims and AVUS. Ferrari did not enter his cars at Aintree, so Vandervell brought out one of his Vanwalls especially for Brooks, but he retired with ignition trouble. If it were not for a clutch failure at the start of the Italian GP, Tony may have been able to take the championship from Brabham's fleet little Cooper, but it was not to be.
With increasing business interests and recently married to an Italian girl, Pina, Tony stayed in England during 1960 and, after a Vanwall previously promised by Vandervell failed to materialise, took in a limited programme of events in the Yeoman Credit Cooper. The 1959 Type 51 car was certainly not particularly competitive, especially when Colin Chapman's Lotus 18 and then Cooper's works T53 'lowline' designs appeared and swamped the opposition. Nevertheless Tony continued to give of his best, driving harder than ever in a fruitless attempt to make up for the car's lack of performance.
In 1961 he joined BRM alongside Graham Hill and once again endured the frustration of having to campaign with an underpowered four-cylinder Climax engine against the might of Ferrari and their V6 'sharknose' cars. There were still glimpses of the Brooks of old (at Aintree, where he set the fastest lap in the rain, and a superb drive into third place in the US GP), after which he quietly retired to successfully develop his Weybridge garage business.
Having recently retired from the day-to-day running of this concern, Tony now has more time to give to the sport and he has been a welcome and popular celebrity guest at some of the many popular historic car events around the world.
(c) 'Who is Who' by Steve Small, 2000