Италия

Лоренцо Бандини

Bandini, Lorenzo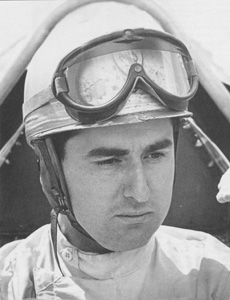 (c) 'Who is Who' by Steve Small, 2000
| | | |
| --- | --- | --- |
| Родился: | 21.12.1935 | Барcе, Cиренаика, Ливия |
| Умер: | 10.05.1967 | Монте-Карло, Монако |
Сезонов в Ф1:

Лет в Ф1:

7

Гран При:

Старты:

42*

*не стартовал:

5

Победы:

- подряд:

Подиумы:

- подряд:

3

Поул-позиции:

- подряд:

Первый ряд:

- подряд:

Быстрые круги:

- подряд:

Лучший финиш:

Лучший старт:

1

Дубли:

Хет-трики:

Лидирование старт/финиш:

Большие шлемы:

Круги:

- лидирования:

144

Километры:

- лидирования:
Год

Команда

Шасси
1961
Scuderia Centro Sud

Cooper T53
1962
Scuderia Ferrari SpA SEFAC

Ferrari 156
1963
Scuderia Centro Sud

BRM P57
Scuderia Ferrari SpA SEFAC

Ferrari 156

Ferrari 156 Aero
1964
North American Racing Team

Ferrari 1512
Scuderia Ferrari SpA SEFAC

Ferrari 1512
North American Racing Team

Ferrari 156
Scuderia Ferrari SpA SEFAC

Ferrari 156

Ferrari 156 Aero

Ferrari 158
1965
Scuderia Ferrari SpA SEFAC

Ferrari 1512

Ferrari 158
1966
Scuderia Ferrari SpA SEFAC

Ferrari 246T

Ferrari 312/66
1967
Scuderia Ferrari SpA SEFAC

Ferrari 312/67
With such a name, he just had to be an Italian racing driver, though as a personality he didn't fit the stereotype, being calm and possessed of an even temperament and a pleasant disposition. Bandini worked as a garage mechanic for a Signor Freedi, who was later to become
his father-in-law, before setting up on his own in Milan. Dreaming of nothing but racing, he worked assiduously, until beginning his racing career tentatively with Fiats and later a Lancia Appia Zagato, in which he won his class in the 1958 Mille Miglia Rally. Later that year he bought a Volpini Formula Junior and finished third on aggregate on his debut in the Sicilian Gold Cup at Syracuse.
Bandini began the 1959 season with his own machine, but was quickly taken into the works Stanguellini team where he was soon a leading runner, winning the Liberty GP in Cuba at the beginning of 1960, and later taking the Pescara GP ahead of Denny Hulme. Already yearning for more powerful machinery, Lorenzo was fortunate to come under the wing of Signor Mimmo Dei, of the Scuderia Centro Sud, who put him into his Formula 1 Cooper for 1961. An early-season third place at the Pau GP was a splendid start, but Bandini was soon in the shadow of Giancarlo Baghetti, who had been given the FISA-backed Ferrari in preference to Lorenzo, and was about to enjoy his brief spell of fame. Much was made in the press of the rivalry between the two young Italians, but in fact there was no friction, as they were good friends. Bandini raced on in the Cooper without much success, but took a superb win in the sports car Pescara GP before the season was out.
In 1962 Bandini was invited to join the Ferrari team at last, but it was a season of disarray at Maranello, with drivers chosen for races on a seemingly ad hoc basis. Nevertheless he finished a cool third at the Monaco GP, and in non-title races he took fifth place at Pau and second at Naples and won the Mediterranean GP at Enna. Amazingly he was dropped from the F1 team in favour of Mairesse for 1963, so it was back to Centro Sud to race their newly acquired BRM, while continuing in the Ferrari sports car squad. After a second place in the Targa Florio, Bandini then shared a Ferrari 250P with Scarfiotti to win Le Mans and later took second in the Reims 12 Hours with Surtees. This success stood him in good stead, and after Mairesse was injured Lorenzo returned to the fold.
Largely due to the efforts of Surtees, the team were on their way back, and in 1964 Bandini was the Englishman's number two, accepting his position stoically and scoring his first, and only, Grand Prix victory at the bumpy Zeltweg airfield circuit, when more fancied runners failed. The final 1.5-litre season in 1965 was relatively uneventful and, though Bandini's position in the team remained the same, he was increasingly unhappy with the status quo and relations with Surtees were becoming a little strained. In sports cars, Ferrari's programme was limited, but Lorenzo won the Targa Florio with Vaccarella. The friction in the team continued into 1966, and Bandini drove the 2.4-litre Dino into second place at Monaco, even though Surtees wanted to race the car. The situation could not last and when Surtees quit Maranello, Bandini suddenly found himself leading the team. A certain win in the French GP was lost when a throttle cable snapped, and Scarfiotti and Parkes took the honours at Monza when he encountered fuel feed problems.
The 1967 season started well with victories in the Daytona 24 Hours and Monza 1000 Km in a Ferrari 330P4 shared with newcomer Chris Amon, and then second place in the Race of Champions behind Gurney's Eagle. The next race in which he competed was his favourite, the Monaco Grand Prix. Qualifying second on the grid, Bandini led in the early stages before dropping behind Denny Hulme's Brabham. Late in the race, however, he made a charge in a bid for victory. On the 82nd lap he clipped the chicane entering the harbour front, rolling the Ferrari, which burst into flames upside down in the middle of the track. The rescue crew were terribly slow to react and the ill-fated driver, dreadfully burnt and injured, lay trapped for what seemed an eternity. Broken and charred, he was eventually dragged from the foam-covered wreck and rushed to hospital. There was no prospect of recovery for poor Bandini and, mercifully perhaps, he passed away after clinging on to life for three days.
(c) 'Who is Who' by Steve Small, 2000