Австрия

Герхард Бергер

Berger, Gerhard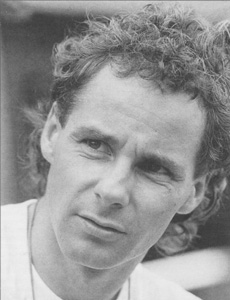 (c) 'Who is Who' by Steve Small, 2000
| | | |
| --- | --- | --- |
| Родился: | 27.08.1959 | Воргль, Инсбрук |
Сезонов в Ф1:

Лет в Ф1:

14

Гран При:

Старты:

210*

*не стартовал:

1

Победы:

- подряд:

2

Подиумы:

- подряд:

3

Поул-позиции:

- подряд:

2

Первый ряд:

- подряд:

4

Быстрые круги:

- подряд:

2

Лучший финиш:

Лучший старт:

1

Дубли:

Хет-трики:

2

Лидирование старт/финиш:

Большие шлемы:

1

Круги:

- лидирования:

692

Километры:

- лидирования:
Год

Команда

Шасси
1984
Team ATS

ATS D7
1985
Barclay Arrows BMW

Arrows A8
1986
Benetton Formula Ltd

Benetton B186
1987
Scuderia Ferrari SpA SEFAC

Ferrari F1-87
1988
Scuderia Ferrari SpA SEFAC

Ferrari F1-87/88C
1989
Scuderia Ferrari SpA SEFAC

Ferrari F1-89 (640)
1990
Honda Marlboro McLaren

McLaren MP4-5B
1991
Honda Marlboro McLaren

McLaren MP4-6
1992
Honda Marlboro McLaren

McLaren MP4-6B

McLaren MP4-7A
1993
Scuderia Ferrari SpA

Ferrari F93A (645)
1994
Scuderia Ferrari SpA

Ferrari 412T1 (646)

Ferrari 412T1B (646)
1995
Scuderia Ferrari SpA

Ferrari 412T2 (647)
1996
Mild Seven Benetton Renault

Benetton B196
1997
Mild Seven Benetton Renault

Benetton B197
When Gerhard Berger finally hung up his helmet at the end of the 1997 season, he was really the last of the generation of superstars whose F1 careers dated back to the turbo era of the mid-eighties. Indeed he was slightly unfortunate to have had to pit himself against such giants of the sport as Senna, Prost, Piquet and Mansell over an eight-season spell between 1986 and 1995, otherwise his tally of ten wins could easily have been doubled.
With a limited racing background firstly in Alfas and then in the German and European Formula 3 series, Berger had gained a reputation as a fast and safe driver who, above all, brought his car home to the finish when he breezed into the ATS team towards the end of 1984. His sixth place at Monza was sufficient indication that here was a rough diamond waiting to be polished, and a close-season accident which left him with broken vertebrae in his neck was not enough to prevent him from lining up at the start of the 1985 season in the Arrows-BMW team. At first Gerhard struggled somewhat alongside the quiet and talented Thierry Boutsen, but his aggressive driving style began to pay dividends in the second half of the season.
Benetton were running BMW engines in 1986 and Berger's connections with the German company helped him to a place in the team, but he was soon to prove the wisdom of his selection with some eye-catching drives, especially when the Pirelli tyres were working well. After disappointment in Austria came his first Grand Prix win in Mexico and, on the not-too-distant horizon, a contract with Ferrari for 1987.
Despite a hesitant beginning, Gerhard's natural ebullience was quickly apparent and, after throwing away a victory in the Portuguese GP, he won the end-of-season Japanese and Australian races. In 1988 McLaren-Honda were utterly dominant, but Berger never gave up and a lucky win at Monza was just reward for perhaps his best-ever year. However, his final season at Maranello was distinctly low-key. Psychologically outgunned by Nigel Mansell, and striving to shake off the effects of a horrendous crash at Imola, he picked up a win at Estoril almost unnoticed before joining McLaren on a three-year contract to partner Ayrton Senna.
Initially it was a morale-sapping experience, as he struggled in his stellar team-mate's trail. He had difficulty fitting into the cockpit and was sometimes guilty of over-taxing his tyres, but gradually he got to grips with the situation at McLaren to become a perfect foil for Senna both on and off the track. Grand Prix wins came here and there; some were lucky and others well earned, with his final race for the team being perhaps his best, when his finely judged tactics brought him victory in Adelaide.
Enticed by a reputedly massive retainer, Gerhard rejoined Ferrari for 1995, but endured a pretty torrid year adapting to 'active' suspension, which he obviously disliked. Worryingly, he was involved in a number of alarming on-track incidents and claimed but a single podium finish. If he thought he could write it off as just a bad dream, then the start of the following year was to become a nightmare. Second place in the Pacific GP showed that Ferrari were at last back on course towards winning again, but then came the deaths of his close friends Ratzenberger and Senna at Imola. It must have been utterly devastating for Gerhard, who could easily have decided not to continue racing. However, after a week of soul-searching, he carried on with the sport he loves so much. His subsequent win at Hockenheim ended a dry spell of nearly four years for Ferrari, and was welcomed by all followers of the sport.
As Ferrari continued their restructuring in search of the holy grail of the World Championship, Gerhard forged a good relationship with new team boss Jean Todt. He worked diligently and selflessly in Maranello's cause, and certainly the results achieved in 1995 did not reflect his true level of performance throughout the year. He could have won at Imola and Monza, but in the end had to be content with six third-place finishes. Gerhard has always been a team player, but could be excused for feeling unhappy at being pushed to the margins with the arrival of Michael Schumacher in 1996. Understandably the chance to partner Jean Alesi once more, this time at Benetton, seemed like his best option.
Berger was to face a testing start to his Benetton career as he adapted to the nervous-handling car, but typically he worked away tirelessly and was rewarded by a second place at Silverstone. It could have been even better at Hockenheim a fortnight later, when a blown engine robbed him of victory with only a couple of laps remaining. What proved to be Gerhard's final season was then blighted by a sinus problem which caused him to miss three races, followed by the death of his father in an air accident. That he came back to deliver a superb performance in winning the German Grand Prix showed his doubters that he could not yet be written off. However, at season's end he decided to call time on a career which had spanned 210 races to take up a position as head of motor sport with BMW as they prepared for a Grand Prix return in 2000.
(c) 'Who is Who' by Steve Small, 2000