Италия

Витторио Брамбилла

Brambilla, Vittorio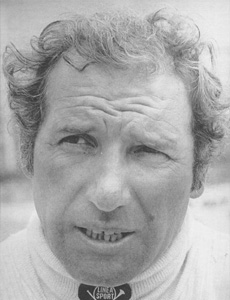 (c) 'Who is Who' by Steve Small, 2000
| | | |
| --- | --- | --- |
| Родился: | 11.11.1937 | Монца |
| Умер: | 26.05.2001 | Кампарада ди Лесмо, Брианца |
Сезонов в Ф1:

Лет в Ф1:

7

Гран При:

Старты:

73*

*не стартовал:

7

Победы:

- подряд:

Подиумы:

- подряд:

Поул-позиции:

- подряд:

Первый ряд:

- подряд:

Быстрые круги:

- подряд:

Лучший финиш:

Лучший старт:

1

Дубли:

Хет-трики:

Лидирование старт/финиш:

Большие шлемы:

Круги:

- лидирования:

32

Километры:

- лидирования:
Год

Команда

Шасси
1974
Beta Tools/March Engineering

March 741
1975
Beta Team March

March 741

March 751
1976
Beta Team March

March 761
1977
Beta Team Surtees

Surtees TS19
1978
Beta Team Surtees

Surtees TS19

Surtees TS20
1979
Autodelta

Alfa Romeo N177

Alfa Romeo N179
1980
Marlboro Team Alfa Romeo

Alfa Romeo N179
Vittorio began racing motor cycles as early as 1957, winning the 125 cc Italian championship before turning to karting. He temporarily forsook his racing activities to tend the cars of his elder brother Ernesto, before returning to two-wheel competition in 1968. The following year he burst upon the Italian national scene in his F3 Birel, and his forceful driving style soon found him dubbed 'the Monza Gorilla', partly due to his burly physique.
Still relatively unknown, he moved into Formula 2 in 1970 with a Brabham BT23, taking a second place at the Salzburgring, and he was to spend another two years jumping between F2 and F3, gaining numerous successes in the latter category. It was the 1973 season which provided his big breakthrough. Vittorio had calmed his frenetic driving approach somewhat and, at the wheel of a well-sponsored March, he became a serious challenger for honours, looking particularly impressive as the season wore on and taking wins at the Salzburgring and Albi.
Brambilla's sponsors, Beta Tools, were so delighted that they helped him secure a place in the March Grand Prix line-up for 1974. Joining the team two races into the season, he soon proved to be as quick as team-mate Stuck, but the propensity to crash was still there. The following year was to be his best; he was much more consistent, qualified well and raced his heart out. In Sweden he was stunningly fast in practice, and simply drove away from the field at the start until tyre trouble intervened, a driveshaft then failing. His moment came in Austria, however, when he scored the March factory team's first-ever championship Grand Prix win in pouring rain at the Österreichring. It made no difference to the exuberant Italian that he managed to dismantle the front of the car on the slowing-down lap - or that half-points were awarded as the race had been ended prematurely with the chequered flag rather than being stopped and then restarted as should have been the case. Max Mosley had read the rule book and nobody could argue against him!
Unfortunately 1976 saw a return to the bad habits of old as in an effort to stay on the pace Brambilla indulged in a spate of chassis-crunching which must have driven the factory to distraction, such was the replacement tally. He scored only one points finish, but claimed a second in the International Trophy and fourth in the Race of Champions. However, the situation was redressed in 1977 when Brambilla took his Beta money to Surtees as number one driver. He had a pretty good working relationship with his demanding employer, and an excellent reliability record, though the car was just not quick enough for anything like outright success.
Nevertheless the partnership continued into 1978, with the new TS20 a no more effective challenger than its predecessor. At Monza Vittorio was involved in the start crash which claimed the life of Peterson, suffering severe concussion which kept him out of the cockpit for almost a year, before Alfa Romeo (for whom he had won four rounds of the World Sports Car Championship in 1977 with their T33) brought him back for the last three races of the season. He made two more appearances for them in 1980, but it was painfully obvious that his days as a Grand Prix driver were over, though he did race the Osella sports car in a few rounds of the World Championship of Makes, before phasing himself out completely in 1981.
(c) 'Who is Who' by Steve Small, 2000