Япония

Агури Сузуки

Suzuki, Aguri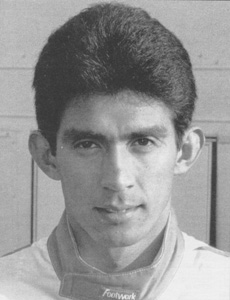 (c) 'Who is Who' by Steve Small, 2000
Сезонов в Ф1:

Лет в Ф1:

8

Гран При:

Старты:

63*

*не стартовал:

25

Победы:

- подряд:

Подиумы:

- подряд:

Поул-позиции:

- подряд:

Первый ряд:

- подряд:

Быстрые круги:

- подряд:

Лучший финиш:

Лучший старт:

6

Дубли:

Хет-трики:

Лидирование старт/финиш:

Большие шлемы:

Круги:

- лидирования:

Километры:

- лидирования:
Год

Команда

Шасси
1988
Larrousse Calmels

Lola LC88
1989
West Zakspeed Racing

Zakspeed 891
1990
Espo Larrousse F1
Lola LC89B

Lola LC90
1991
Larrousse F1

Larousse Lola L91
1992
Footwork Grand Prix International

Footwork FA13
1993
Footwork Mugen Honda

Footwork FA13B

Footwork FA14
1994
Sasol Jordan

Jordan 194
1995
Ligier Gitanes Blondes

Ligier JS41
To date Suzuki is Japan's most successful Grand Prix contender, and the only one to stand on the podium, courtesy of his excellent third place in the 1990 Japanese GP. His father was the founder of the Japanese karting association, and the young Suzuki naturally became involved in the sport, winning the title in 1981. He then moved into F3 and finished second in the 1983 championship, which brought an offer to race for Nissan in sports and touring cars, Aguri taking the 1986 Group A championship.
Single-seaters were still his first priority, and in 1987 Suzuki went into the All-Japan F3000 series, finishing runner-up, before finishing the job the following year by taking the title. His eyes were now on Grand Prix racing and he briefly came to Europe to race the Footwork-backed March in the F3000 series, before being given a race in the Japanese GP with the Larrousse team in place of the indisposed Dalmas. Having previously been associated with Yamaha, Aguri joined the Zakspeed team which was running the Japanese manufacturer's engines for 1989, but Suzuki drew a complete blank, failing even to pre-qualify the hopeless device at every one of the 16 Grands Prix.
This could have sunk many a driver's career, but luckily he was able to find a drive with Larrousse in 1990, when he became a points-scorer on three occasions, including his splendid drive at Suzuka, which cemented his future. Unfortunately the precarious financial position at Larrousse, and consequent lack of testing and development, blunted his progress the following year, and for 1992 Aguri joined the Footwork team, which was itself regrouping, but armed with the Mugen Honda V10. Suzuki's season was disappointing, his form not helped by the problems he had fitting into the cockpit, and he was completely overshadowed by team-mate Michele Alboreto. For 1993, he remained with the team, paired with Derek Warwick, but once again finishes in the points eluded him. The year was punctuated by a Worryingly high number of spins and collisions, and apart from sixth place on the grid at Spa, which seemed to suit the Footwork's active suspension system, there was precious little to cheer the Japanese driver, who lost his drive when the restructured Arrows team under Jack Oliver were no longer in receipt of finance from the Far East.
Aguri then returned home to race for Nissan, perhaps thinking his F1 career was behind him, but, with Eddie Irvine suspended, he was brought into the Jordan team at the Pacific GP. Suzuki was uneasy about this because of his lack of preparation and fitness and was to be proved right when he spun out. It did not hurt his long-term plans, however, and, with Mugen Honda's backing, he signed to race for Ligier in 1995 in a season shared with Martin Brundle. Sixth place at Hockenheim apart, the Japanese driver looked less than convincing when compared with his team-mates. Aguri had already decided to retire from Formula 1 after the Japanese GP, but a practice accident at Suzuka left him with cracked ribs and unable to take any further part in proceedings.
For 1996 Suzuki signed a contract with Nissan to return to the All-Japan GT championship to race their revised Skyline and he was a member of the crew of the TWR-run Nissan R390 which finished third at Le Mans in 1998. He has subsequently formed his own Formula Nippon team and continues to race with a Toyota Supra in the All-Japan GT series.
(c) 'Who is Who' by Steve Small, 2000