Швейцария

Йо Зифферт

Siffert, Jo

Siffert, Joseph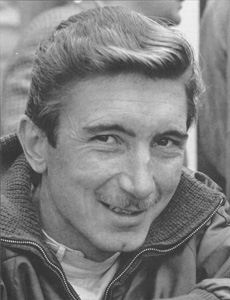 (c) 'Who is Who' by Steve Small, 2000
| | | |
| --- | --- | --- |
| Родился: | 07.07.1936 | Фрибур |
| Умер: | 24.10.1971 | трасса Брендс-Хетч, Кент, Англия |
Сезонов в Ф1:

Лет в Ф1:

10

Гран При:

Старты:

96*

*не стартовал:

5

Победы:

- подряд:

Подиумы:

- подряд:

2

Поул-позиции:

- подряд:

Первый ряд:

- подряд:

Быстрые круги:

- подряд:

Лучший финиш:

Лучший старт:

1

Дубли:

Хет-трики:

1

Лидирование старт/финиш:

Большие шлемы:

1

Круги:

- лидирования:

99

Километры:

- лидирования:
Год

Команда

Шасси
1962
Ecurie Filipinetti

Lotus 21
Ecurie Nationale Suisse

Lotus 21
Ecurie Filipinetti

Lotus 24
1963
Siffert Racing Team

Lotus 24
1964
RRC Walker Racing Team

Brabham BT11
Siffert Racing Team

Brabham BT11
Lotus 24
1965
RRC Walker Racing Team

Brabham BT11
1966
RRC Walker Racing Team

Brabham BT11

Cooper T81
1967
Rob Walker/Jack Durlacher Racing Team

Cooper T81
1968
Rob Walker/Jack Durlacher Racing Team

Cooper T81

Lotus 49

Lotus 49B
1969
Rob Walker/Jack Durlacher Racing Team

Lotus 49B
1970
March Engineering

March 701
1971
Yardley Team BRM

BRM P153

BRM P160
Siffert could be a wild and hairy driver, but how the fans loved him, perhaps because he was a man who chanced his arm a little more than most. Chiefly remembered for the 1968 British Grand Prix when, in Rob Walker's dark-blue Lotus 49, he withstood all Chris Amon's attempts to pass in the Ferrari to take a fairy-tale victory, 'Seppi' was a very underrated Grand Prix driver, having spent the bulk of his career uncomplainingly in second-rank equipment. He had the heart of a lion and, despite his frail appearance, was an immensely tough and doughty competitor - no doubt born of his motor cycling career, during which he won the 350 cc Swiss championship on a Gilera and passengered Edgar Strub in the 1959 sidecar World Championship.
Siffert's first competition on four wheels came in 1960 when he raced in Formula Junior, but he really came to prominence the following year when, driving a Lotus 21, he won the Eifelrennen race among others to emerge as joint European Formula Junior champion with Tony Maggs. For 1962, Siffert decided to step up to Formula 1 with Ecurie Filipinetti. No results of note were achieved but he plugged away into 1963, buying the Filipinetti Lotus 24-BRM to run as an independent. He finally took a championship point at Reims and also won a poorly supported Syracuse GP and took second in the Imola GP.
Purchasing a Brabham for 1964 increased his Grand Prix competitiveness and he scored a superb win in the Mediterranean GP, in which even the great Jim Clark had to take second best the final margin being a tenth of a second. Amazingly 'Seppi' was to repeat the victory in 1965 when he again saw off the great Scot, this time by the huge margin of three-tenths of a second! Jo had joined the Walker team at the beginning of the year and was to strike up a wonderful relationship with Rob which saw them through the many tough times that were to follow.
The 1966-67 seasons were a period of struggle when Siffert scraped the occasional point but top-three finishes were achieved only in non-title races. Hopes were high for 1968 when Walker persuaded Colin Chapman to provide him with a Lotus 49, and after the team's wonderful day at Brands Hatch 'Seppi' was a front-runner for the rest of the year and sometimes quicker than the works car of Graham Hill. He was to stay with Rob for one more season which, after a bright start, faded disappointingly. By this time Siffert had established himself as a star of the Porsche sports car team, having won five major races in the 1969 season alone. A tempting offer from Ferrari was dangled in front of him but Porsche, desperate not to lose his services, paid for him to join the STP March team for 1970. It was an absolutely disastrous Grand Prix year for 'Seppi', only partly salvaged by success in Formula 2 with the works BMW and in sports car racing with the Gulf Porsche team, for whom he won the Targa Florio, the Spa 1000 Km and the Österreichring 1000 Km, all with Brian Redman.
Siffert set out on a hectic racing programme in 1971. He joined the BRM Formula 1 team, purchased a Chevron to race in F2 and a Porsche 917 for Can-Am and continued to race the works Porsche with Gulf/John Wyer. The season was a very successful one for 'Seppi'. Apart from his dominant BRM triumph in the Austrian GP, he took plenty of top-three finishes in the other formulae and the popular Swiss had much to look forward to in 1972 when he arrived at Brands Hatch for the season's finale, the Rothmans Victory Race. However, during the race a suspension failure sent the BRM P160 hurtling into a bank, the car bursting into flames. Poor Siffert was trapped in the wreckage and when he was finally extricated was found to have died of asphyxia, having survived the initial impact with a broken leg. Coming so soon after the loss of Pedro Rodriguez, the death of another of the sport's great tigers' was hard to bear.
(c) 'Who is Who' by Steve Small, 2000