Германия

Михаэль Шумахер

Schumacher, Michael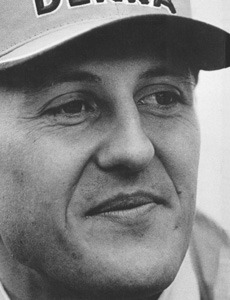 (c) 'Who is Who' by Steve Small, 2000
| | | |
| --- | --- | --- |
| Родился: | 03.01.1969 | Хоерт-Хермольцхайм |
Сезонов в Ф1:

Лет в Ф1:

22

Гран При:

Старты:

306*

*не стартовал:

2

Победы:

- подряд:

7

Подиумы:

- подряд:

19

Поул-позиции:

- подряд:

7

Первый ряд:

- подряд:

8

Быстрые круги:

- подряд:

5

Лучший финиш:

Лучший старт:

1

Дубли:

Хет-трики:

22

Лидирование старт/финиш:

Большие шлемы:

5

Круги:

- лидирования:

5112

Километры:

- лидирования:
Год

Команда

Шасси
1991
Camel Benetton Ford

Benetton B191
Team 7UP Jordan

Jordan 191
1992
Camel Benetton Ford

Benetton B191B

Benetton B192
1993
Camel Benetton Ford

Benetton B193A

Benetton B193B
1994
Mild Seven Benetton Ford

Benetton B194
1995
Mild Seven Benetton Renault

Benetton B195
1996
Scuderia Ferrari SpA

Ferrari F310 (648)
1997
Scuderia Ferrari Marlboro

Ferrari F310B (648/2)
1998
Scuderia Ferrari Marlboro

Ferrari F300 (649)
1999
Scuderia Ferrari Marlboro

Ferrari F399 (650)
2000
Scuderia Ferrari Marlboro

Ferrari F1-2000 (651)
2001
Scuderia Ferrari Marlboro

Ferrari F2001 (652)
2002
Scuderia Ferrari Marlboro

Ferrari F2001 (652/2)

Ferrari F2002 (653)
2003
Scuderia Ferrari Marlboro

Ferrari F2002 (653/2)

Ferrari F2003-GA (654)
2004
Scuderia Ferrari Marlboro

Ferrari F2004 (655)
2005
Scuderia Ferrari Marlboro

Ferrari F2004M (655)

Ferrari F2005 (656)
2006
Scuderia Ferrari Marlboro

Ferrari 248 F1 (657)
2010
Mercedes GP Petronas F1 Team

Mercedes-Benz W01
2011
Mercedes GP Petronas F1 Team

Mercedes-Benz W02
2012
Mercedes AMG Petronas Formula One Team

Mercedes-Benz MGP W03
When Michael Schumacher burst upon the Grand Prix stage with a sensational qualifying performance on his debut for Jordan at Spa, the Grand Prix hype-machine went into overdrive, billing this young 'unknown' as the next Senna. In truth Michael's racing career had been very carefully planned before he ever stepped into a Formula 1 car, and he had the comforting prospect of major manufacturer and commercial backing with which to develop his top-level career. However, he has since proved beyond doubt that he is the supreme driver of the current era, and the target for the others to aim at.
A former karting star with but a single season of Formula Ford 1600 and Formula König in 1988 behind him, Schumacher was signed by leading German F3 team OTS to support Heinz-Harald Frentzen in 1989. It was a closely contested season, with the pair both finishing just one point behind series winner Karl Wendlinger. It was then that Mercedes sporting director Jochen Neerpasch stepped in with his junior-driver scheme which placed all three drivers in the Sauber-Mercedes Group C programme for 1990. Under the wise tutelage of Jochen Mass, the trio were schooled in the art of handling big, powerful cars in a very disciplined and professional framework. In parallel to his sports car drives, Michael was back in German F3, and this time won the series comfortably. He also took in two end-of-season races at Fuji and Macau, and confirmed his talent by winning them both.
Most drivers would be wanting to try their hand at F3000 by this time, but Michael was happy to stay within the confines of the Mercedes team. This second season saw a change of emphasis with the young lions Schumacher and Wendlinger paired together and allowed their heads. Both did an excellent job, but the consensus was that Michael had the edge, the pair's reward after a trouble-strewn year being victory in the round at Autopolis. With a Formula 1 drive inevitable sooner (as it would turn out) or later, nothing was left to chance and Neerpasch arranged for Schumacher to race a Formula 3000 car at Sugo, well away from the glare of publicity. He finished second and enjoyed the different experience of racing a powerful single-seater.
A month later came the Jordan drive at Spa which, after his stirring deeds in practice, ended disappointingly when Michael's clutch failed at the start. Suddenly Schumacher was a hot property and after much legal wrangling the somewhat bemused driver was whisked off to join the Benetton team in time for the next race at Monza. Three points-scoring finishes in his first three races were more than enough evidence for Flavio Briatore to plan the team's future around the German star and he was not to disappoint. In his first full Grand Prix season Michael proved to be not only very quick but also remarkably consistent, rarely making costly mistakes and putting in some scintillating performances such as his second place to Mansell in the rain at Barcelona and his climb through the field to third at Monza after being left at the start. Of course, the supreme moment was his fully deserved, if slightly fortunate, win at Spa where he made his own luck - and reaped the rewards.
The 1993 season provided more evidence of Schumacher's increasing maturity. Only Williams' dominance stood between him and the top step of the podium on numerous occasions and he took a superbly thought-out win at Estoril. Much work was done over the winter months, and when the new Benetton B194, mated with the Ford Zetec-R V8 engine, was placed in Schumacher's hands he left Senna and Williams struggling in his wake in the opening two races. It seemed that the balance of power might be about to shift, and tragically it did so at Imola, leaving Michael with the prospect of chasing a World Championship which he felt would be much devalued by the loss of the Brazilian. From then on his season was to be surrounded by controversy. Amid rumblings that the team were running some form of traction control, Schumacher won six of the first seven Grands Prix, but he was excluded at Silverstone for ignoring the black flag, which was later to earn him a two-race ban, and this, together with the loss of his crushing win at Spa when he was disqualified for having an illegal skid-block, left the door open for Damon Hill to make a late challenge for the title. When the pair collided in Adelaide, Schumacher became Germany's first World Champion, but the manner of his triumph can have brought him little inner satisfaction.
The following season was to be a different matter entirely as Schumacher, given superb support by the whole Benetton squad, ruthlessly exposed the shortcomings of both the Williams team and their drivers. From the Spanish Grand Prix onwards Michael upped the stakes to put in a succession of brilliant performances. His dominant wins in Monaco, France and Germany looked almost routine, especially when compared with his extraordinary displays at Spa (where he drove through the field from a lowly 16th place on the grid) and in the European GP at the Nürburgring, where, quite frankly, the rest of the field, Alesi apart, were made to look like novices. It was fitting that Michael and Benetton had the opportunity to win the 1995 championship in a manner which reflected their talent and commitment.
It was natural that Ferrari, so long in the doldrums, should look to Schumacher to return them to the top and they were prepared to stump up a massive retainer to capture his signature. With a huge amount of restructuring needed, his immediate championship prospects for 1996 were not deemed bright, but the German still produced drives of genius, such as in the wet in Spain, and later in the season at Spa and Monza. It was much the same story the following year as Michael took the fight to the superior Williams of Jacques Villeneuve, brilliant wins in the wet at both Monaco and Spa and on slicks on a treacherous track at Magny Cours emphasising his mesmeric car control. His refusal to concede defeat was to lead to an inglorious end to his title challenge in a Jerez gravel trap after an outrageous manoeuvre on his title rival. Schumacher was subsequently stripped of his points and his second place in the championship.
With the slate wiped clean for 1998, Ferrari were still the underdog, as McLaren Mercedes now boasted the fastest machine on the track. Michael again ruthlessly took advantage of any weakness shown by his rivals and some of his drives (such as in Hungary, and at Spa before he ran into the back of Coulthard's ambling McLaren) were on a different plane from the rest. In the end stalling the Ferrari on the grid at Suzuka effectively stymied his title chances for the third time in as many years, but it would be churlish to criticise the German too harshly for his error, as it was only his brilliance that had extended the title fight to the end.
Schumacher and Ferrari were left facing a fourth attempt to clinch a championship which by now must have seemed like the holy grail. Dominant performances at Imola and in Monaco provided a satisfactory start, but a relatively low-speed shunt on the first lap of the British Grand Prix left the unlucky German with a broken leg. His title chances were gone but Michael still had a major part to play in the championship battle. Having seen Eddie Irvine take over Maranello's challenge and carry the fight to McLaren with tremendous effect, the German was back in action at the penultimate race in Malaysia to aid his number two driver. Not only did he claim pole position but he also dominated the race, allowing Irvine to win and at the same time blunting Häkkinen's challenge in a brilliant but controversial display of team tactics. At Suzuka he seemed unable to match the pace of the Finn, who duly took a well-deserved second title. For Michael, the dream of being the first Ferrari driver to win the World Championship since 1979 still remains. Providing he retains his motivation, and Ferrari can continue to give him the equipment, 2000 might be a 21st anniversary for them to celebrate.
(c) 'Who is Who' by Steve Small, 2000