Великобритания

Рой Сальвадори

Salvadori, Roy

Salvadori, Roy Francesco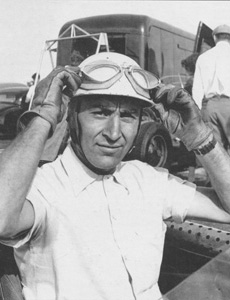 (c) 'Who is Who' by Steve Small, 2000
| | | |
| --- | --- | --- |
| Родился: | 12.05.1922 | Доуверкот, Эссекс |
| Умер: | 03.06.2012 | |
Сезонов в Ф1:

Лет в Ф1:

11

Гран При:

Старты:

47*

*не стартовал:

4

Победы:

- подряд:

Подиумы:

- подряд:

2

Поул-позиции:

- подряд:

Первый ряд:

- подряд:

Быстрые круги:

- подряд:

Лучший финиш:

Лучший старт:

2

Дубли:

Хет-трики:

Лидирование старт/финиш:

Большие шлемы:

Круги:

- лидирования:

Километры:

- лидирования:
Год

Команда

Шасси
1952
G Caprara

Ferrari 500
1953
Connaught Engineering

Connaught A Type
1954
Gilby Engineering Ltd

Maserati 250F
1955
Gilby Engineering Ltd

Maserati 250F
1956
Gilby Engineering Ltd

Maserati 250F
1957
Owen Racing Organisation

BRM P25
Cooper Car Co

Cooper T43
Vandervell Products Ltd

Vanwall VW (57)
1958
Cooper Car Co

Cooper T45
1959
David Brown Corporation

Aston Martin DBR4/250
High Efficiency Motors

Cooper T45
1960
David Brown Corporation

Aston Martin DBR4/250

Aston Martin DBR5/250
High Efficiency Motors

Cooper T51
1961
Yeoman Credit Racing Team

Cooper T53
1962
Bowmaker-Yeoman Racing Team

Lola Mk4
While not possessing the talent of his contemporaries Moss, Hawthorn, Collins and Brooks, Salvadori was a fine all-round driver, particularly in sports cars, who became a household name in Britain thanks to his many victories in races on home soil. Though born of Italian parentage, Salvadori was very much a Londoner at heart, and began racing for fun in 1946 before entering selected events the following year in an Alfa Romeo. Deciding to pursue a professional career, Roy sampled a variety of machines including a Healey, a Jaguar and a Frazer Nash on his way up the ladder.
In 1952 he campaigned a four-cylinder Ferrari in the British GP and a few other minor races in addition to racing Tony Crook's Frazer Nash, but his sights were by now set on Grand Prix racing and he joined Connaught for the 1953 season. While he drew a blank in the World Championship races, there were plenty of successful outings in national events. He was happy to compete in almost any type of machine and often took part in three or more races during a single race meeting.
Joining Syd Greene to race his potent Maserati 250F, Salvadori again concentrated on events at home during 1954-56, but by this time he was already a regular member of the Aston Martin sports car team, a role he was to fulfill right to the end of their programme, which finished on such a high note in 1959 when Roy shared the winning DBR1 at Le Mans with Carroll Shelby.
For 1957 Roy aligned himself with Cooper as they developed their rear-engined Formula 2 car in preparation for a full season of Grands Prix the following year. Fifth place in the British GP at Aintree put him among the championship points scorers for the first time, and in non-title races he took a second at Caen and a fourth at Reims. The 1958 season saw the Surbiton team's first sustained effort at the top level, and Brabham and Salvadori both scored some excellent results. Roy's second place to Brooks in the German GP may have been distant but it was a portent of even greater things to follow, but Roy was sadly not to be part of the great works Cooper triumph.
In 1959 Salvadori continued to drive Coopers in Formula 2, but for Tommy Atkins, his best result being a win in the London Trophy at Crystal Palace. Meanwhile Aston Martin had ambitiously decided to embark on a Grand Prix programme of their own and Roy was to be one of the drivers, but crucially they had opted to adopt the traditional front-engined layout which, of course, was soon doomed to oblivion. Their cars were superbly crafted and beautifully turned out, but after Salvadori had scored a totally misleading second place in the International Trophy early in 1959, they proved to be a major disappointment. The engine just didn't possess enough power and, despite major reworkings, the project was a hopeless failure which drifted on into 1960, by which time the writing was well and truly on the wall.
The following season Roy joined John Surtees in Reg Parnell's well-funded Yeoman Credit-backed team racing Coopers. However, the Surbiton-built cars had had their day, as Colin Chapman had devoured every lesson they had to offer and combined them with his own thinking to push his Lotus 18 and 21 models to the fore. Salvadori was as close as he ever would be to winning a Grand Prix at Watkins Glen that year when he was closing in on Innes Ireland's leading Lotus before the engine failed. The team had high hopes for 1962 with the new Lola chassis, but it was to be a desperately disappointing season for Salvadori, who was totally overshadowed by Surtees, almost being reduced to the role of hack driver. Wisely perhaps, he decided that Grand Prix success was now beyond his reach, and he returned to sports and touring car racing with Tommy Atkins' Cooper Monaco, Shelby Cobra and Jaguar E-Type cars. Although his front-line career was behind him, there was no easing up in his driving style, for Roy had never taken any prisoners and he wasn't going to change his approach in the twilight of his career!
By the time he retired early in 1965 Salvadori had driven on most of the world's circuits. He knew the risks attendant on them, for he had seen many of his peers perish over his long career, and indeed had come perilously close to joining them on more than one occasion. He also knew his own worth and the thought of racing without starting money was anathema to him. After his driving days were over, he became the team manager at Cooper in 1966-67, before retiring to Monaco in the late sixties, where he resides to this day. His apartment overlooking the Monte Carlo circuit still attracts many old friends from his racing days for a wonderful view of the Grand Prix each May.
(c) 'Who is Who' by Steve Small, 2000