Великобритания

Джеки Стюарт

Stewart, Jackie

Stewart, John Young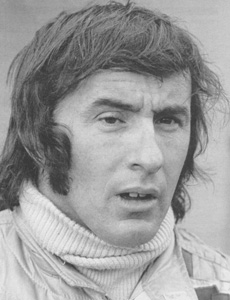 (c) 'Who is Who' by Steve Small, 2000
| | | |
| --- | --- | --- |
| Родился: | 11.06.1939 | Милтон, Дамбартоншир, Шотландия |
Сезонов в Ф1:

Лет в Ф1:

9

Гран При:

Старты:

99*

*не стартовал:

40

Победы:

- подряд:

3

Подиумы:

- подряд:

5

Поул-позиции:

- подряд:

2

Первый ряд:

- подряд:

6

Быстрые круги:

- подряд:

4

Лучший финиш:

Лучший старт:

1

Дубли:

Хет-трики:

4

Лидирование старт/финиш:

Большие шлемы:

4

Круги:

- лидирования:

1921

Километры:

- лидирования:
Год

Команда

Шасси
1965
Owen Racing Organisation

BRM P261
1966
Owen Racing Organisation

BRM P261

BRM P83
1967
Owen Racing Organisation

BRM P115

BRM P261

BRM P83
1968
Matra International

Matra MS10

Matra MS7

Matra MS9
1969
Matra International

Matra MS10

Matra MS80

Matra MS84 4WD
1970
Tyrrell Racing Organisation

March 701

Tyrrell 001
1971
Elf Team Tyrrell

Tyrrell 001

Tyrrell 002

Tyrrell 003
1972
Elf Team Tyrrell

Tyrrell 003

Tyrrell 004

Tyrrell 005

Tyrrell 006
1973
Elf Team Tyrrell

Tyrrell 005

Tyrrell 006
Jackie Stewart was the driving force behind the transformation of motor racing from a sport where death was almost routine. When Stewart began racing, the risks were blithely accepted with a shrug of the shoulders as an occupational hazard. But the determined little Scot who was to see many of his friends and colleagues perish, pursued his campaign with remarkable fervour long after his own retirement and he more than any other individual is responsible for the emergence of the highly organised and remarkably safe sport we know today. As if this weren't enough, Stewart was also a truly great racing driver, a triple World Champion who was a more than worthy successor to his great idol Jim Clark.
Motor racing was part of the family as the young Jackie was growing up, for his brother Jimmy - eight years his senior - was a driver for Ecurie Ecosse. However, young Jackie was more interested in clay pigeon shooting. He was an excellent shot, winning many tournaments at home and abroad, and was hoping to take part in the 1960 Rome Olympics, but missed the team when he had an 'off day' at the final trials. It was to be the biggest disappointment of his sporting life, worse than anything that he ever suffered during his racing days. Jackie's circuit career began in a casual way, at the wheel of a Healey Sprite and a Marcos, before he joined Ecurie Ecosse in 1963. Driving the team's GT and touring cars, Stewart virtually swept the board. While still racing for Ecosse, Jackie came under the guidance of Ken Tyrrell to race a Cooper-BMC in Formula 3, where he set about thrashing the opposition. Colin Chapman tried him in his Ron Harris Formula 2 team and liked what he saw, putting the Scot into a Formula 1 Lotus for the Rand GP at Kyalami, where he retired in the first heat but won the second.
Offered a seat alongside Jim Clark for 1965, Stewart wisely declined, preferring to join BRM, where he could learn his trade with Graham Hill and not face the pressure of being compared directly with his fellow Scot. A second place in the Race of Champions and a win in the International Trophy gave fair notice that here was a special talent, and his Grand Prix performances went from strength to strength, culminating in his first World Championship win at Monza. In the 1966 Tasman series Stewart took the BRM to four victories, and he then -won the opening Grand Prix of the year at Monaco in the 2-litre car. Then his luck changed. Victory seemed certain at the Indianapolis 500 until an engine failure close to the finish, and on his return to Europe he crashed the BRM in a rainstorm at Spa. Lying trapped in the car for some time soaked in petrol with a cracked collar-bone was an experience that the Scot would never forget and no doubt acted as a catalyst for his subsequent safety crusade.
Jackie stayed with BRM for a third season in 1967, but it was a disappointing year with the H16 car proving woefully unreliable. His second place with it in Belgium was a remarkable achievement, especially as he was obliged to hold it in gear for much of the race. The only compensation was a drive for Ferrari in the BOAC 500 at Brands Hatch, where he shared a P4 with Chris Amon, the pair taking second place and clinching the championship for Maranello. Of more importance, however, was his developing working partnership with Ken Tyrrell and Matra, Jackie taking the French Formula 2 car to victory in four of the last five races of the season as a prelude to a Formula 1 effort in 1968.
At last Stewart was in a competitive car, and following the death of Jim Clark he looked the favourite to take the title. Unfortunately his season was interrupted by a crash in a Formula 2 race which sidelined him with a wrist injury. Though he missed only two Grands Prix, it was enough to crucially blunt his title challenge. A feature of the year was his brilliant win in the German GP in the most appalling conditions, truly one of his greatest drives, and there was no stopping him in 1969 as he swept to his first championship with six Grand Prix wins in the Matra MS80, a car he loved to drive.
For the 1970 season Tyrrell was forced to resort to a March chassis, for Matra were running their own operation once more. However, despite a promising start with wins in the Race of Champions and the Spanish GP and a second place in the International Trophy, all was not well. The car was not up to the expectations of a World Champion, and therefore not of the required standard, and Tyrrell secretly set Derek Gardner to work building his own Grand Prix challenger at the greatest possible speed. The new car was unveiled at the Canadian GP where Stewart took pole position. The future was now clear and Tyrrell was henceforth to build his own cars. The 1971 season saw Jackie back at his brilliant best, using the new Tyrrell to devastating effect, winning six Grands Prix and easily taking his second World Championship. He was much in demand that year and undertook the ten-round Can-Am series for Carl Haas. Stewart won two rounds in the Lola, but the strain of trans-Atlantic travel was already taking its toll.
Jackie's health was to suffer in 1972 due to an ulcer which caused him to miss six weeks of the season, enough to see his title chances disappear as an ebullient Emerson Fittipaldi made the most of his opportunities with his Lotus 72. Not that Stewart was about to let his title slip away without a fight. He won the French GP on his return and finished the year on a winning note with back-to-back wins at Mosport and Watkins Glen to sound a warning that he would not be so easy to beat in 1973. And so it was to prove. By this time Stewart was the complete driver, mentally and physically prepared to cope with every eventuality. He won as he pleased at Kyalami, Monte Carlo, Zandvoort and the Nürburgring, thus passing the late Jim dark's number of wins to set a new record total of 27. His last race in Europe was one of his greatest. As he climbed through the field after a puncture at Monza to take fourth place, it was a stirring sight to see him forced to drive at the limit lap after lap, picking off one car after another.
Jackie had decided to retire after the US GP at Watkins Glen and what would have been his 100th Grand Prix start, but the weekend was to be clouded by tragedy as his team-mate Francois Cevert was killed in practice. The Tyrrell team withdrew their cars, and the wonderful career of John Young Stewart was over. Since then, of course, Jackie has worked harder than ever. He was seen regularly at the circuits, imparting his wisdom to a new generation of racers, and his son Paul, much against his parents' wishes, raced with some success, before setting up his own team, Paul Stewart Racing. The near-dominance of the operation in the junior formulae during the early nineties led to an ambitious move into Formula 1 in 1997. With a five-year engine deal from Ford, and Jackie's business acumen and vast experience, Stewart Grand Prix was clearly going to be a force to be reckoned with. Having the necessary funding to compete properly was a crucial factor in persuading Stewart to take the plunge. A second-place finish at Monaco in the organisation's first season was an early peak, to be followed by the inevitable troughs as the young team found their feet in the white-hot cauldron of Formula 1.
Without doubt, 1999 was a momentous year for Jackie, who reached his 60th birthday, saw Stewart Grand Prix achieve their maiden victory at the European Grand Prix, and took the decision to sell the Formula 1 team he had built up to Ford. Henceforth the organisation will race under the Jaguar banner, but Stewart maintains that the single victory he achieved as a constructor means more to him than any of the 27 wins he took when he was a driver.
(c) 'Who is Who' by Steve Small, 2000