Южная Африка

Джоди Шектер

Scheckter, Jody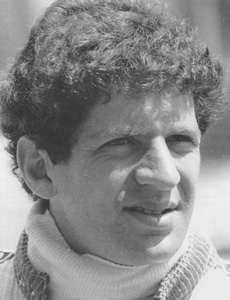 (c) 'Who is Who' by Steve Small, 2000
| | | |
| --- | --- | --- |
| Родился: | 29.01.1950 | Ист-Лондон |
Сезонов в Ф1:

Лет в Ф1:

9

Гран При:

Старты:

110*

*не стартовал:

17

Победы:

- подряд:

2

Подиумы:

- подряд:

4

Поул-позиции:

- подряд:

Первый ряд:

- подряд:

Быстрые круги:

- подряд:

Лучший финиш:

Лучший старт:

1

Дубли:

Хет-трики:

Лидирование старт/финиш:

Большие шлемы:

Круги:

- лидирования:

675

Километры:

- лидирования:
Год

Команда

Шасси
1972
Yardley Team McLaren

McLaren M19A
1973
Yardley Team McLaren

McLaren M19C

McLaren M23
1974
Elf Team Tyrrell

Tyrrell 006

Tyrrell 007
1975
Elf Team Tyrrell

Tyrrell 007
1976
Elf Team Tyrrell

Tyrrell 007

Tyrrell P34
1977
Walter Wolf Racing

Wolf WR1

Wolf WR2

Wolf WR3
1978
Walter Wolf Racing

Wolf WR1

Wolf WR3

Wolf WR4

Wolf WR5

Wolf WR6
1979
Scuderia Ferrari SpA SEFAC

Ferrari 312T3

Ferrari 312T4
1980
Scuderia Ferrari SpA SEFAC

Ferrari 312T5
Jody was a prodigy who burst upon the motor racing scene in much the same manner as Ricardo Rodriguez had done a decade earlier. Immensely talented, brave almost to the point of being foolhardy and blindingly quick in any car he chose to drive, Jody somehow managed to avoid the 'Grim Reaper' in those wild early days to become a dry-humoured, somewhat world-weary elder statesman who had got the risks under control and knew his destiny.
Jody started his racing early, running a go-kart at 12 before moving on to motor cycles and then saloons by the age of 18. His home-built Renault proved to be tremendously successful in the youngster's hands, and he scored numerous victories before his racing took a back seat to a spell of National Service. Towards the end of 1970, Team Lawson entrusted their Mazda to the youngster in the Springbok series, and he finished fifth in the Bulawayo 3 Hours and won his class in the Goldfields 9 Hours. His immediate ambition, though, was to do well in the Formula Ford Sunshine series and thus win the 'Driver to Europe' prize that went with it. Sure enough, young Jody in his Lola T200 Formula Ford did exactly that and was on his way to England early in 1971.
The headstrong Scheckter got himself into a Merlyn at Brands, and sensationally led the race until he spun. This set the pattern for his short Formula Ford career. Spin or win seemed to be the order of the day until, after a few races, he felt he needed the tougher challenge of Formula 3, jumping into the deep end with an EMC and then a works Merlyn. By the end of the year he was winning at this level, in addition to hustling a Ford Escort Mexico indecently quickly. McLaren were first in with their pen, and Jody was signed to race for their Formula 2 team in 1972.
Generally his luck was out with the McLaren M21, but he did manage one win in the Greater London Trophy at Crystal Palace. As a bonus the team gave him his Grand Prix debut at Watkins Glen, where he kept the lid on things and finished a creditable ninth. McLaren kept him on for the 1973 season, though with Revson and Hulme on board they didn't really have room to accommodate him. Perhaps they wished they hadn't when his 1973 Grand Prix season turned into a succession of accidents, the most serious incident being his infamous spin at the beginning of the British GP which not only halted the race but wiped out a good proportion of the field. Ever the paradox at this stage of his career, Jody also raced for Sid Taylor in America, winning the L & M F5000 series in a Trojan, and competed in Can-Am with a Porsche 917 -completely without mishap.
With McLaren unable to offer Jody a firm deal for 1974, Ken Tyrrell stepped in and signed the South African to head his team, newly shorn of the retired Jackie Stewart and deceased Francois Cevert. It was to prove an inspired choice as the still relatively inexperienced charger took two Grand Prix wins and finished third in the championship table. Jody found it hard to maintain his scintillating form the following season, but he did have the wonderful bonus of winning the South African GP. In 1976 Tyrrell launched the bizarre but effective six-wheel P34 car. In Scheckter's hands this became a serious machine, Jody taking it to a historic victory in Sweden and racking up the points regularly elsewhere to finish a creditable third in the World Championship behind Hunt and Lauda. It was also a year when Scheckter achieved another ambition by winning the Wynn's 1000 Km at Kyalami in a BMW with Nilsson and Grohs.
Out of sync with the Tyrrell philosophy, Jody took a big gamble in joining Wolf for 1977, but it paid off immediately when he gave the restructured team a winning debut in the Argentine GP. The car wasn't consistently good at every circuit, but Jody never let that become a problem. Two more wins were to follow and second place to Lauda in the championship was his reward. His 1978 season was not so productive, the new Wolf chassis being far more troublesome than the relatively straightforward machine of the previous year. An offer from Ferrari for 1979 was too good to refuse, and the wild man of the early days was now but a distant memory. Indeed, incredible though it may seem, he was now driving almost conservatively. Certainly he had everything weighed up and his performances were the model of economy, Scheckter doing just enough and no more, but he was able to clinch the World Championship in style, with a win at Monza.
His ambition realised, Jody planned just one more year. As it happened it was easily the worst of his career, leaving the South African frustrated and a little bemused. The ultimate humiliation came at Montreal where he failed to qualify; he knew it was just one of those things, that circumstances had conspired against him, but it hurt his pride none the less. Scheckter came in with a bang but went out with a whimper, but he walked away unhurt and there were a few people who didn't believe that possible in 1973.
Ever his own man, after retiring Jody settled in the United States and began a new life without even mentioning his achievements. Most of his new acquaintances knew nothing of Scheckter the Formula 1 World Champion, and that's exactly the way he wanted it as he built a highly successful business. However, Jody has now returned to Europe and over the past couple of years he has been much in evidence at races once more. His sons, Thomas and Toby, are making names for themselves in the junior single-seater formulae and 'dad' regularly casts his paternal eye over their upward progress.
(c) 'Who is Who' by Steve Small, 2000