Бразилия

Айртон Сенна

Senna, Ayrton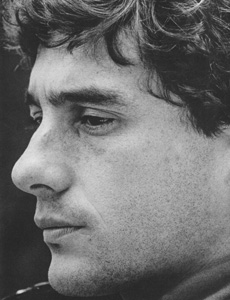 (c) 'Who is Who' by Steve Small, 2000
| | | |
| --- | --- | --- |
| Родился: | 21.03.1960 | Сан-Паулу |
| Умер: | 01.05.1994 | Болонья, Италия |
Сезонов в Ф1:

Лет в Ф1:

11

Гран При:

Старты:

161*

*не стартовал:

2

Победы:

- подряд:

4

Подиумы:

- подряд:

8

Поул-позиции:

- подряд:

8

Первый ряд:

- подряд:

24

Быстрые круги:

- подряд:

2

Лучший финиш:

Лучший старт:

1

Дубли:

Хет-трики:

7

Лидирование старт/финиш:

Большие шлемы:

4

Круги:

- лидирования:

2987

Километры:

- лидирования:
Год

Команда

Шасси
1984
Toleman Group Motorsport

Toleman TG183B

Toleman TG184
1985
John Player Special Team Lotus

Lotus 97T
1986
John Player Special Team Lotus

Lotus 98T
1987
Camel Team Lotus Honda

Lotus 99T
1988
Honda Marlboro McLaren

McLaren MP4-4
1989
Honda Marlboro McLaren

McLaren MP4-5
1990
Honda Marlboro McLaren

McLaren MP4-5B
1991
Honda Marlboro McLaren

McLaren MP4-6
1992
Honda Marlboro McLaren

McLaren MP4-6B

McLaren MP4-7A
1993
Marlboro McLaren

McLaren MP4-8
1994
Rothmans Williams Renault

Williams FW16
The wonder of the age, Senna's colossal talent bestrode Grand Prix racing for a decade. He had virtually made it his own personal fiefdom (in the widest sense) with a frightening intensity and commitment that could be viewed as bordering on arrogance. Yet Senna's creed was simplicity itself; his innate talent, just like that of a great musician, was to be continually developed day by day, year after year. To achieve this goal everything else must match his expectations: the machine and organisation at his disposal had to perform to his exacting standards or they served no useful purpose. Toleman, Lotus and then McLaren were blessed by his gifts, but immediately discarded when no longer of use. At the beginning of 1994 Ayrton, having finally landed the Williams-Renault drive he had long coveted, stood poised on the edge of another period of success. Then, with the new partnership having barely begun, came that blackest of weekends at Imola...
From a well-to-do Brazilian family, Ayrton was racing karts from a very early age and in fact had amassed eight seasons' experience before coming to Britain to make his Formula Ford debut in 1981. Twelve wins ensured the FF1600 title was won, and the Brazilian returned the following year to continue his climb to fame and fortune in the FF2000 series. A tally of 21 wins from 27 starts tells its own story. In 1983 Ayrton joined the West Surrey Racing F3 team and became embroiled in a fabulous tussle for the Marlboro championship with Martin Brundle. In the end Senna's early-season run of wins kept him in front when the title was decided, and after testing for both Williams and McLaren he agreed to drive for Toleman in Formula 1 in 1984.
The phenomenal talent was soon in evidence, with his drive in the wet at Monaco outstanding. Senna was poised to challenge Prost for the lead when the race was controversially stopped, but he had made his mark on an event he was to win for a staggering sixth time in 1993. When it became clear that Toleman were not able to provide Ayrton with the means to win, the Brazilian engineered his way out of his contract and joined Lotus. Almost immediately his first Grand Prix victory arrived, his skills in the wet at Estoril provoking memories of the great Jacky Ickx. Over the next three seasons Senna proved to be the fastest man around, certainly in qualifying, where he amassed 16 pole positions, but he scored only six wins, due in part to the fragility of the Lotus. It was crystal clear to Senna that to win the championship he needed a Honda engine, but definitely not a Lotus, and for 1988 he joined the McLaren team to partner Alain Prost.
Senna was supremely confident of his ability to outdrive the Frenchman, and was as good as his word. In a season which saw McLaren take victory in all bar one of the 16 races, Ayrton emerged triumphant in a manner more convincing than the eight-wins-to-seven margin suggests. Relationships between the two superstars were never more than cordial at best, and they broke down completely in 1989 as both drivers waged war within the confines of the team. This time the championship battle ended in Prost's favour after the Brazilian was deftly taken out by the Frenchman at the Suzuka chicane. By this time, of course, Prost had nothing to lose, having already decided to take his leave of McLaren, though he and Senna were to be embroiled in further controversy the following season. With Prost needing points at Suzuka to maintain Ferrari's challenge, Ayrton seemed to take his revenge, driving into the back of Prost's car at the first corner. It was an unworthy way for the title to be decided, wiping away the memory of some great performances earlier in the season.
In many ways 1991 was Senna's finest championship triumph. The new V12 Honda was not initially markedly superior to its lighter predecessor, despite the impression given by Ayrton's four straight wins from the start of the season. In fact these had been extremely hard-won triumphs that had demanded every ounce of the Brazilian's skill and guile. The following season found Senna in the unusual position of underdog, Williams and Renault finally having found the edge and the ability to sustain it. Ayrton predictably gave his all, winning at Monaco, Hungary and Monza, but perceived shortcomings at McLaren were already irking him and his frustration was probably not helped by his inability to muscle into a Williams drive alongside Prost in 1993.
During the winter months McLaren were having to come to terms with the loss of Honda power and hoping that the replacement Ford engine would be sufficiently promising to tempt the unhappy Brazilian to continue. In the event Senna deigned to drive - initially on a race-by-race basis for a reported fee of $1 million per race. Luckily for us lesser beings, he served up a number of superlative performances which can seldom have been bettered at any time in the history of motor racing. Brazil, Donington and Adelaide showed us all why he truly was one the sport's all-time greats.
When it was announced that Senna would be joining the all-conquering Williams-Renault team for 1994, it was difficult to see how anybody was going to beat him, Mansell and Prost having taken the previous two titles with comparative ease. Things did not start well for the Brazilian, with the latest FW16 car proving troublesome to sort, although Ayrton somehow managed to assert his authority in practice, exploring the outer edges of the car's performance to take pole position.
But in the first two races he struggled to match Schumacher's Benetton, and in the third at Imola his lead in the early stages of the restarted race was looking extremely tenuous. Then came disaster. Possibly the steering column on the Williams sheared or perhaps the car became unsettled on the bumpy track surface, but the Brazilian appeared helpless as it speared into the concrete wall at the Tamburello corner. As fate would have it, part of the suspension came back and struck poor Senna, who then stood no chance of survival, being officially pronounced dead in a Bologna hospital later that afternoon.
The aftermath of Senna's death caused shock waves to ripple through the sport. Additional safety measures, some sound and others less so, were introduced as Grand Prix racing tried to come to terms with the loss of its premier talent. For his legion of fans, he was irreplaceable and things would never be the same again. For the sport at large that awful day ushered in a new era but, although time would heal the wounds, the scars would always remain.
(c) 'Who is Who' by Steve Small, 2000